Machines & equipment for sale
Mass Finishing Equipment
We have over 1000 machines in stock. Please use the links on the below or on left to search our online catalogue.
Latest stock in each category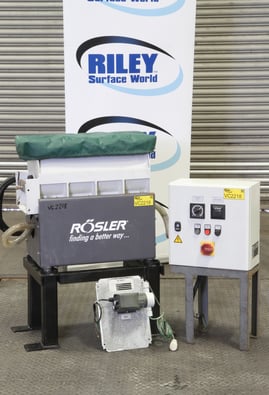 Machine shown:
Rosler R180/530 TE-30 'Super Speed' Minor Vibratory Trough
14 Machines for sale (view all)
Vibratory deburring & polishing equipment is for mass finishing a larger volume of components. Either in a round bowl or horizonal drum, components are placed with a media and solution to rub against each other and mixed by the vibration pulses from the machine.
As the most common machinery used for mass finishing, vibratory tumblers can clean, deburr, descale and polish multiple parts in one cycle. They are also able to remove imperfections and rust from metal components
Rileys frequently has a large stock of vibratory deburring & polishing machines made by manufacturers such as Rosler, Walther Trowal, Ceratex, Acton, Sharmic and Rollwasch.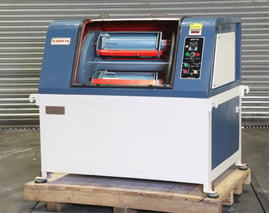 Machine shown:
S.M. Systems High Energy Horizontal Barrel Tumbling Machine
8 Machines for sale (view all)
Barrelling & rumbling machinery relies on the motion of a spinning barrel and friction to surface finish components. The barrel contains media similar to vibratory deburring with the addition of water & agents to assist with deburring and polishing of parts.
The rotation speed of the barrel required for optimal processing of the components depends on the size of the barrel, components and quality of finish required.. The type of media used, ratio of liquid to solid and type and material of the parts being tumbled all have an impact on the process. Due to this variation in requirements, the sizes & specifications of barrelling machines can be in a range of sizes, each most suitable for a different part.
Many of the quality manufacturers we stock and have previously sold include Almco, Dreher, Eurotec and Walther Trowal.
26 Machines for sale (view all)
To assist with the processes carried out by vibratory and barrelling machinery, we stock the additional equipment to make it the deburring and polishing a complete production. This can include:
Transfer Conveyors- To transport components to or from machinery
Sorting Screens- To filter the components from the media
Maize Dryers- To dry off the remaining water and cleaning agents from the parts
Pump Units- To supply the water/cleaning agent to the barrelling process
& More.
Machines & equipment for sale
Machine
Alert
Get the latest machines emailed directly to you as they become available to buy online sign up
Close Menu