Machines & equipment for sale
Polishing & Belt Linishing Machines
We have over 1000 machines in stock. Please use the links on the below or on left to search our online catalogue.
Latest stock in each category
3 Machines for sale (view all)
In high production polishing, many polishing methods cater to specific component shapes with centreless polishing being no different. Designed for polishing tubes or cylindrical components, the abrasive linishing band is effective for the long curved surface of the components, allowing the tubular parts through with ease.
Known for being user-friendly, these machines are capable of a diameter range of 6mm to 210mm. The setup of the polishing only taking seconds to adjust for a new size.
In comparison to the rest of our polishing range, centreless polishers are one of the more specialised with OEMs to match. Our warehouse stocking many of these machines from manufacturers such as W Canning, Loeser & RJH Engineering Ltd.
Machine shown:
Grindingmaster Ellesco MCSB 900 Flat Bed Belt Grinder
6 Machines for sale (view all)
Flat bed linishing and brushing machinery are primarily used for flat part deburring. They come in a range of options to cater for components factors such as materials and size.
From finishing simpler components like stainless steel sheeting to automotive such as clutches & valve plates these machines can grind away the excess inconsistencies that are left behind from processes such as punching & laser cutting.
The design of these machines can include linear rotating brushes and brush heads of various sizes; often combining multiple of these options for a more thorough process. The manufacturers of these machines frequently associated with specialising in one of the variations.
As recognised manufacturers in the industry, some regular OEMs we sell include Timesavers, Grindingmaster & Fladder.
2 Machines for sale (view all)
Able to finish components and sheet metal without the constant presence of an operator, automatic polishing and linishing machines are popular with large production lines. As most just require an operator to position the component and start the chosen finishing process.
Not as common as their manual alternative, these machines do have a larger footprint. Although they make up for that additional floor space with the range of processes they are able to carry out, allowing the user to finish more components for less labour.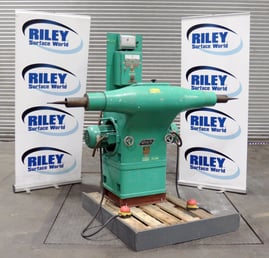 Machine shown:
Greif Dual Speed Independent Double Ended Polishing Lathe
17 Machines for sale (view all)
Not too different from the manual belt grinders, the compact polishing lathes are often double-ended to offer the operation more finishing options. A popular method frequently used with polishing lathes is to have two rotating brush heads of different hardness, one brush head to polish more intricate areas and the other as a general polish.
A machine that produces results as accurate as its user, round and simplistic forms components are the most compatible for this method where the finish isn't required to be too precise.
12 Machines for sale (view all)
The smaller version of our belt grinders, our belt linishing machines have a smaller footprint in comparison to the flat bed grinders we stock. Popular for smoothing the surface of rounded but simple parts or for the final finishing touches for metal components, these are great machines for manual finishing.
Available with single or twin grinding heads, the capabilities of these machines are achieved with abrasive belts or rotary tools. The belts are seen on the linishing machines while the rotary tools are on lathes. With a large universal range of belts and rotary tools compatible with this equipment, these machines are suitable for a variety of metalwork and woodwork processes.
Located in our warehouse, we stock recognised quality brands such as RJH Engineering Ltd, Marpol, Canning, Morrisflex & Colchester.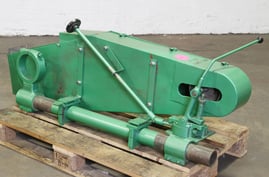 Machine shown:
W Canning Vertical Backstand Idler including Banjo Bracket
4 Machines for sale (view all)
With most of the machinery available for polishing, linishing and grinding in our warehouse all quite self-contained, not much additional equipment is needed to go with these machines. The associated equipment you may find in our range includes guards for manual machines and additional setups for different belts and rotatory tools.
Machines & equipment for sale
Machine
Alert
Get the latest machines emailed directly to you as they become available to buy online sign up
Close Menu