Machines & equipment for sale
Ecoclean EcoCwave Automatic Industrial Cleaning System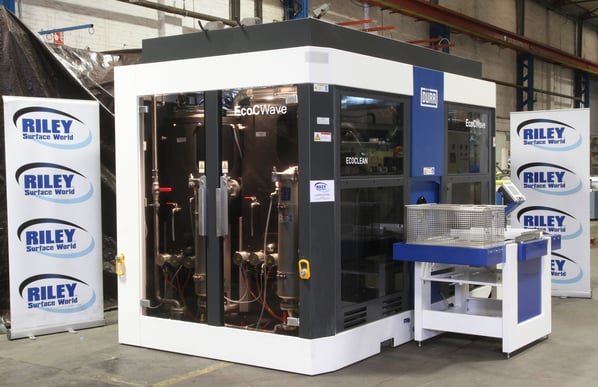 Stock No

DC1514

Manufacturer

Model

EcoCWave

Year of Manufacture

2017

Serial

16320

Condition

From a working environment, Excellent Condition, Current Model

Work Envelope (WxDxH mm)

[?]

670 x 480 x 300

Process Stages

3xclean/rinse/Ultrasonic/Hot air+vac dry

Other Info

Includes Baskets Manual Service history

Location

Our Central Warehouse, Aldridge, UK

Weight (kgs)

3200 kg // Load Weight Max - 150kg

External Dimensions (WxDxH mm)

[?]

3550 x 3000 x 2650

Delivery

Your delivery options
Description
EcoCWave – The all-round talent for aqueous parts cleaning
This machine is the largest and fully featured EcoCWave model from Ecoclean. It is a powerful spray flood cleaning system with a vacuum-tight work chamber that gives exceptional batch cleaning, time and time again with low maintenance and running costs.
Performance and efficiency are further boosted on this model by the Aquaclean system.
"When bought brand new this machine was the most expensive EcoCWave model but if offered a lower total cost of ownership via reduced running costs and repeatable cleaning performance. The benefits of buying this machine second hand, actually nearly new, are remarkable. I have been in this market for 30+ years and I can count on one hand the machinery that offered as much value to whoever wins the race to buy it."
Michael Riley, Managing Director
Performance Component Cleaning
Three tanks for clean, secondary clean and rinse - exceptional cleaning performance
Each tank has its own pump and filter - reduces cross contamination and improves efficiency
Isolated, sealed cleaning stages - repeatable cleaning quality
2 x 3kW 25kHz Ultrasonics in a round chamber - full high frequency ultrasonic coverage of components
100% drying - post processing and component down time reduced
High Efficiency
Separate tanks and secondary clean reduce cleaning chemical use - lower per unit cleaning costs
Efficient tank heating - reduced electricity use
Recycles heat from drying phase in tank 1 & Aquaclean system - further reduces electricity use
No steam vented when emptying - retains heat and liquids for efficiency
Low Maintenance
Aquaclean package included - solution/tank maintenance reduced from weekly to monthly schedule
Oil separators - maintains tank performance over the long term
Ultrasonics enclosed - does not corrode work chamber
Excellent providence and future support
Only 5,000 baskets processed - very light use with machine in exceptional condition
Owned in the German medical industry, moved within group to the UK in 2019, commissioned pre-covid and not used since
UK OEM fully supports machinery and backed up by Ecoclean's worldwide network
Full Service and parts replacement - Nov 2023
This machine is connected to power, water and air services at Riley Surface World's facility in the UK and is available for viewing by appointment [contact us to arrange]. A full OEM maintenance service is to be carried out in Nov 2023 by Ecoclean UK including:
Check-up of leak-tightness of all relevant components

Measuring and recording of all relevant motor and heating currents

Check up of the machine functions during operation

Inspection of the washing programmes

Functional control and check of the rotation unit (including bearings)

Functional control of the heating

Check up of the safety devices
Oil change of the vacuum pump(s) including oil and exhaust filters
Oil change of the flood pump(s)
Exchange of the door-sealing for the work chamber
Operational Cycles
This system offers the user an infinitely variable set up for the cleaning and drying of a wide range of components, using a combination of flood washing, spray washing, ultrasonic cleaning, fixed, rotating or swivelling basket movement. Hot air and vacuum drying.
Washing Operations
There are several options for the movement of the basket during the process, full rotation, swivelling, interval rotation or zero movement.
On full rotation, the parts are turned at a speed of 4 Rev/min
The interval rotation allows the parts to be moved at a pre-selected speed and to rest for a pre-selected time.
Swivelling is pre-selected with the rotation angle and speed, the basked then goes backwards and forwards in a rocking action. Speeds can be selected between 1 and 30 rev/min.
Ultrasonic Cleaning is achieved through the two vibrating rods or transducers. For the best results, the ultrasonics should be used with the flood wash or during the filtering cycle. Ultrasonics see all faces of product due to orientation and basket rotation for better cleaning.
Injection flood Washing
The flood pump is used to flood the work chamber with a cleaning solution. During this process, the spray jets are below the surface of the cleaning solution and thus create a high flow of cleaning solution which will flush out any particles and debris that are then captured with the filters.
Spray Washing
This process is like the flood washing above but the level of the cleaning solution is kept well below the spray jets so effectively the jets spray wash the components. Any chip or debris is washed away and is captured in the filters.
Flood intermittent wash
The work chamber is filled with the cleaning solution and then it is drained out back to the tank. The chamber is then refilled and the process is repeated; each time the solution is filtered to remove any debris.
Emptying
After the cleaning process is completed the work chamber is emptied of solution through the pumps and the filters. An air blow off is activated to remove any excess moisture on the jets and the components.
Intermediate Drying
Water is drawn from the capillary openings to reduce mixing and enable the rinsing of the capillary zone. The emptied work chamber is isolated from the rest of the system and a vacuum is created; this vaporizes any remaining water which is removed and vented to the atmosphere.
Hot Air Drying
This is a recirculating hot air drying system in which air is removed from the work chamber and is then heated and returned to the chamber being blown over the components via the supply nozzles. Thanks to the increased temperature the air can absorb moisture from the components as it passes over them and the steam loaded air is discharged via roof vents into the atmosphere.
Vacuum Drying
To enable the vacuum drying to be efficient the components must be at temperature so as they 'store' energy to facilitate the moisture removal. This can be achieved through the hot air drying cycle or in some cases through the temperature gained from the flood wash cycle. The vacuum causes the moisture to be evaporated from the components and removed through the airflow and is vented to the atmosphere.
After the cycle is complete the chamber is vented with ambient air via a filter.
Aquaclean Features & Heat Recovery
Any suspended dirt and oil are skimmed off the cleaning solution and is transferred into the Aquaclean unit.
All heat recovered is transferred back to the cleaning medium.
All waste oil, condensates and debris are gathered in the Aquaclean waste tank for disposal.
Cleaned recycled water is returned to the system thus minimising losses, the unit uses an automatic filling system to maintain the correct operating fluid levels.
User Benefits
Universal versatility for diverse applications: in wet chemical part cleaning and surface treatment due to three-tank configuration capability.
Innovative equipment technology requiring minimum floor space: Only 6.1m x 4.75m including safety working zone.
Reduced per-unit product costs: up to 30 % savings through volumetrically optimized batch make-up.
Optimized fluid management: upright cylindrical flood tanks, superior to rectangular tanks in preventing the formation of dirt traps, are backed by full-flow filtration and cleaning fluid treatment.
100 % drying: achieved through a combination of hot air and vacuum drying.
User-friendly operation: advanced HMI operator panel for real-time monitoring of all system states, fault diagnostics and service intervals notification
The use of upright cylindrical flood tanks, which have been developed for fine cleaning applications, ensure optimized fluid management, a high flexibility and improved process quality.
Specifications for this machine
3 tank Ecoclean system
Cleaning Unit
Work Basket (max) - 670mm x 480mm x 400mm
Work baskets - 3 x the following supplied 650mm x 470mm x 290mm
Throughput - 5 to 8 loads per hour
Flood Tank
Pumping unit with filtration
Oil separator
Pumping/emptying unit
Pneumatic unit
Control cabinet / PLC control
16 Programme inputs in PLC, Multiple Events possible
Design casing
Fully Bunded design to hold the volume of a tank stage
Total volume - 1650 Litres
Load - 70kW
3 phase, 400Volt, 50 Hz
Total heating capacity - 41kW
Customer specified additional features
Hot air drying
Vacuum drying
Vacuum pump - 290m³/h
Aquaclean system
Ultrasonic system
Ultrasonics 2x3kW units, 25kHz frequency
Leakage warning system for floor tray
Demineraliszation unit
Manual loading - 3 positions
Conveyor height - 860mm
Who is EcoClean? The SBS Ecoclean Group, formerly part of Dürr AG

Formerly part of Dürr AG, the SBS Ecoclean Group now unifies the Ecoclean, UCM and Mhitraa brands and employs a workforce of around 900 in nine countries. It has 12 sites around the globe that develop and produce machinery for industrial parts cleaning and degreasing, ultrasonic precision parts cleaning, high-pressure water jet deburring, surface preparation and surface treatment.
EcoClean UK is based in Alcester, right in the middle of the UK and have been supporting this machine since it was imported to the UK and will carry out a full service at the Riley Surface World facility in November 2023. Matt Cooper and the team at Ecoclean UK are available to support the machine and buyer. Ecoclean support around the world is also available.

Print / Download Ecoclean EcoCwave Automatic Industrial Cleaning System Datasheet
Additional files
Photographs taken prior refurbishment. Our refurbishment service is not available on all machines.
Machines & equipment for sale
Machine
Alert
Get the latest machines emailed directly to you as they become available to buy online sign up
Close Menu