Machines & equipment for sale
Vixen Surface Treatments Phoswash FL150, 3 Stage Front Loading Spraywash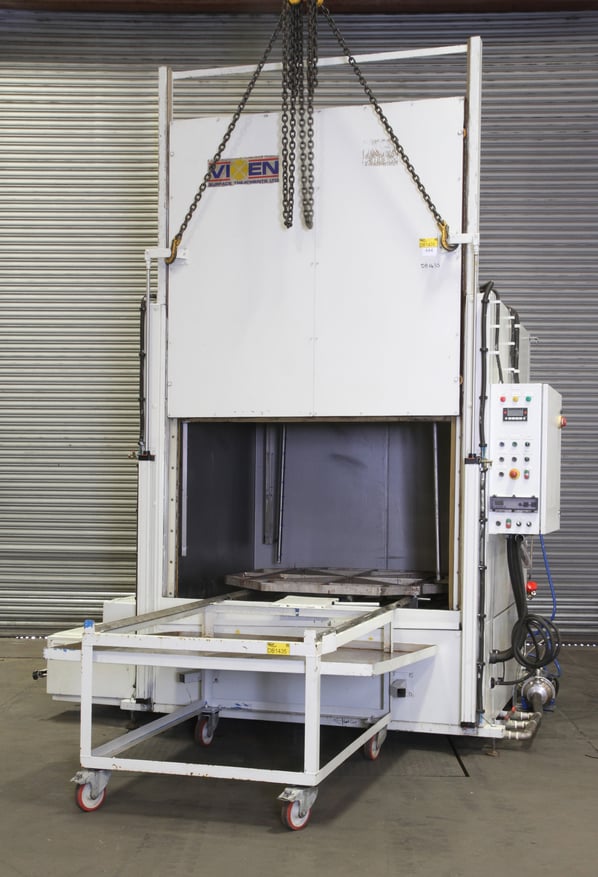 Stock No

DB1435

Manufacturer

Model

FL150

Year of Manufacture

2007

Serial

2081

Condition

From a working environment, Good Condition

Work Envelope (WxDxH mm)

[?]

Ø1500mm x 1500

Process Stages

3

Location

Our Central Warehouse, Aldridge, UK

External Dimensions (WxDxH mm)

[?]

3090 x 2130 x 3820

Delivery

Your delivery options
Description
Vixen FL150 Phoswash Machine with load trolley dimension of 1440mm x 1440mm.
Flexible spray treatment plant is currently configured to Phosphate, rinse and passivate, it could be configured to wash, rinse and phospate and other three stage wet spraywash surface treatment processes.
The Phoswash machine is front loading with an external loading trolley 1400mm x 1400mm. The work remains static and the boom rotates around this during phosphate washing. A further benefit of Vixen's phosphating machines is that they eradicate chlorinated solvent-related health and safety issues, with the added bonus of better paint adhesion.
Designed to run on electric heating.
The FL150 is a front-loading wash and coatings machine with an uprising guillotine door which is operated by a pneumatic cylinder and two handed safety control unit, preventing any entrapment risks to the operator.
Process controls can be set via a digital timer and temperature controls through a LCD display linked to a PCB touch sensitive keypad.

Although primarily designed as a phosphate coating machine the 3 stage wash could as readily be used for other types of coatings and surface finishes such as chromates or simply as a hot wash, hot rinse and secondary final rinse (de-ionised water for a stain free finish.)
Vixen's FL150 phosphating machine can be configured to consists of a 3 stages hot washing, hot rinsing and then hot phosphate solution to provide optimum paint and coatings adhesive properties to manufactured components.
Overall Footprint (wxdxh): 3090mm x 2130mm x 3820mm
Benefits
Eradication of health and safety issues associated with chlorinated solvents.
Reduction/elimination of etch prime processes.
Excellent paint adhesion (salt spray tests indicate 260 hours).
Fast and flexible processing of metals.
Low running costs.
Ease of handling larger components.
Full technical back-up regarding phosphate solution/processes available.
Touchscreen controls for easy operation.
300 to 400 litres per minute cleaning capacity.
Features
3 Stage plus option for spray lance manual pre-wash = 4 stages
Water quality monitor.
HMI display.
External pump for adding a spray lance for pre-washing if required.
Two-handed door controls.
Large capacity.
Wheeled load cart with drip tray and lockable wheels.
Low level sensors.
Immersed electric heaters.
Insulated body.
Auto water make up.
Roof mounted steam extraction fan.
Lance: up to 500PSI

Total heating load 54kW
Phosphating
The front loading 3 stage wash machines can be used with a phosphate wash solution whereby the machine washes and phosphates simultaneously. Phosphating is an etching process which produces very good paint adhesion and often eliminates the need for priming or etch priming.
A phosphate wash plant is a 3-stage washing process. The first stage is a wash and phosphating solution which would be added to tank 1. This wash solution will be running through the rotary booms within the wash plant. Tanks 2 and 3 run through the fixed booms in the wash chamber and tank 2 contains a rinse (recycled) and tank 3 would contain a passivate solution.
Option for pre-wash with a manual spray lance.
Stage One:- Phosphating - Phosphating and washing solution is sprayed from the large tank through the rotating booms at the components placed in the basket. The phosphating wash process is usually between 3 and 10 minutes maximum and following this process passivation/rinsing is essential.
Stage Two:- Rinsing – Following the phosphate wash the components will be rinsed for a short period to remove residual phosphating solution from the components being cleaned. The rinse can be cold with some components but is more normally warm or hot to assist the components maintaining temperature so that after the final rinse/passivate stage they will flash dry.
Stage Three:- Passivation - The passivation solution is added to de-mineralised water. De-mineralised water which is water from the mains which is filtered through a disposable filter normally sited at the back of the machine. Most passivation solutions will only operate with de-mineralised water. Passivation solution is added at the inspection hatch above the debris filters on tank 3. This is also the sampling point as this solution has to be maintained to the manufacturer's levels of dose etc. Once set at the correct level part of the wash cycle automatically activates the rinse/passivation after the wash cycle is complete.
The flexible spray treatment plant can be configured to wash, rinse and phosphate - see below
Washing & Rinsing
During the wash cycle, a battery of spray jets mounted on rotating booms fed by the wash pump, provides high intensity all round washing coverage of the basket load of parts. With a secondary rinsing option, the purpose of this is to remove the detergents and soaps within the wash solution to minimise staining. The rinse jets are mounted to a fixed manifold to which solid cone jets are attached. These jets when operating project a solid cone of water by way of a spray pattern giving excellent coverage to the components situated in the wash basket and thus removing the detergent in order to minimise the staining of the components being washed. Some rinse applications require that the rinse water is filtered also as a precaution that any coarse debris removed from the component when rinsed is not recycled. A rinse filter is either a 125-micron filter unit which is cleanable or a replaceable filter or filters in a cartridge unit
Water Washing Principle
Connected to the tank is a large wash pump with between 4-8 bar outlet pressure which delivers hot cleaning liquid at an approximate flow rate of typically 300 - 400 litres per minute depending on the size of the machine. The wash water is delivered to a rotary boom or booms which wash all the contents from all sides of the component basket. These wash booms are normally water driven and the returning water from the booms is controlled by the valves described above.
Rinse Water
The rinse water is filtered in the same way as the wash tank using the debris filter with additional pressure filters if required. The rinse water can be simply tap water or if required demineralised water which has the minerals and salts within the tap water removed. In most cases demineralised water is not necessary and a water filter unit can be fitted between the mains water feed to the wash machine which will remove 90% of the solids/minerals in the water giving an excellent result for a fraction of the cost. These filter units can be ordered through Vixen and can be retrofitted if required also. Detergent Dosing The optional auto dose feature operates on a venturi principle with liquid detergents only. When mains water is required to top up the water levels the siphoning of detergent is automatic with fresh mains water.
Return Tank Valves
In the case of a multi-stage wash machine where there are 2 or more water tanks the returning water is controlled/managed by way of a pneumatic valve which opens or closes to ensure that the water returns to the correct tank, i.e. when washing is in operation the return valve above the wash tank is open and the valve above the rinse tank remains closed. At the end of the wash cycle there is a drain time which ensures that residual water from a particular washing stage drains fully into the correct tank before a further wash stage commences.
Filtration
The returning liquid is controlled firstly by the return tank valves and from this it is filtered through a coarse debris filter before entering the relevant tank. This ensures that any water returning to the tank which is heavily contaminated is sieved or filtered to ensure that no particles could be large enough to damage the pump.
Vapour Extraction
The machine has as standard a vapour vent mounted on the roof. This can be attached to an existing extraction system or fan using PVC piping and connections with rubber seals available from Vixen if required. Where further extraction is required Vixen supply simple extraction fans for connection to plastic ductwork or alternatively a vapour condenser unit. The vapour condenser unit is normally activated at the end of the wash cycle and sometimes this operates through a PLC which opens the door slightly to aid extraction of the wash chamber before the door is fully opened.

Print / Download Vixen Surface Treatments Phoswash FL150, 3 Stage Front Loading Spraywash Datasheet
Additional files
Photographs taken prior refurbishment. Our refurbishment service is not available on all machines.
Machines & equipment for sale
Machine
Alert
Get the latest machines emailed directly to you as they become available to buy online sign up
Close Menu