Machines & equipment for sale
Fibrex Heat Treatment Plants Endothermic Gas Generator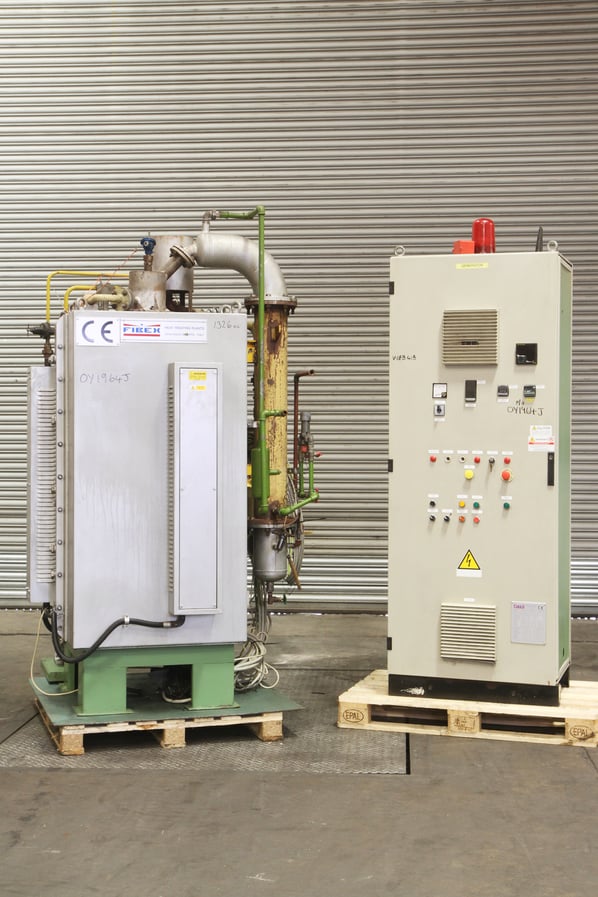 Stock No

OY1964J

Model

ENDO 100-55E

Year of Manufacture

1998

Serial

2988

Condition

From a working environment

Other Info

20 m3/hr Output

Location

Our Central Warehouse, Aldridge, UK

Delivery

Your delivery options
Description
The Endothermic gas generator produces the protective gas that is used in some heat treating processes and furnaces. The atmosphere is prepared by the mixing of hydrocarbon natural town gas, with air.

Endogas is a gas mixture of 40% hydrogen 20% carbon monoxide and 40% nitrogen as well as small fractions of carbon dioxide, water and methane.

The mixed gas is passed through a heated vertical inconel retort that is filled with a catalyst. Heating the mixed gas in the presence of a catalyst causes it to "crack"— that is, break down into several simpler gases, primarily hydrogen, nitrogen, and carbon monoxide.

This "cracked" gas is then cooled rapidly through a two stage gas cooler to prevent sooting and the formation of carbon dioxide.

Carburizing, carbonitriding, bright hardening and carburization-free bright annealing is performed with carbon-controlled atmospheres. These are produced using low-energy processes that operate to high safety standards.

Endothermic gas, or endogas, can be used in a number of ways: together with added hydrocarbons for C level-controlled carburisation as a protective atmosphere for bright annealing and bright tempering with added ammonia for nitrocarburising. This broad range of applications with high and low-temperature chamber furnaces is the main advantage of Endogas use.

Operating Cycle for an Endothermic Gas Generator
The air and gas are brought into the generator through a mixing valve, or carburetor. The mixing valve can be controlled automatically or manually to adjust the air/gas ratio.
The mixture of gas and air goes through a positive-displacement pump with a pressure-regulating bypass so that the pressure is maintained at 1 to 2 psig.
After going through a fire check, the gas enters the reaction chamber, which is filled with a catalyst. The most common type of catalyst is a porous refractory impregnated with nickel oxide.
After cracking is complete, the gas is rapidly cooled by passing it through a heat exchanger at the top of the retort. Rapid cooling prevents the reversal of the reaction and results in a dry, soot-free gas.
Control

To Super Systems AC20 controls the composition of an endothermic atmosphere, a control system measure the carbon potential content of the atmosphere. This is accomplished indirectly by measuring the dew point or the carbon dioxide levels on a regular basis.

The carbon content is checked directly with an oxygen probe. These measurements are done automatically. Once the atmosphere is inside the furnace, variations in loading, cycle time, and door open time have a definite effect on the carbon content of the atmosphere.

Automatic Control

The Super Systems AC20 automatic control system is far more dependable than manual control. Corrective adjustment is constant, and it occurs almost instantly at the moment needed. For example, a critical factor is the heat content of the natural gas that is fed into the generator. If there is any change in temperature, the automatic system will immediately correct it. The controls also adjusts the atmospheres that are used within the furnace.
The AC20 controller is designed to control both endothermic generators and atmosphere furnaces. To accomplish both, the AC20 can display and control % Carbon, Dew Point or probe millivolts. In addition, Probe resistance, probe temperature, COF, H2F and probe recovery can all be displayed.
Feature of the Endogas Generator
Gas heated
Proportional temperature control
Over and undertemperature control
Constant air gas mixer
Split design catalyst chamber for ease of maintenance.
Automated regeneration
Two stage heat exchanger
Completely safeguarded
Simple operation.

Print / Download Fibrex Heat Treatment Plants Endothermic Gas Generator Datasheet
Additional files
Photographs taken prior refurbishment. Our refurbishment service is not available on all machines.
Machines & equipment for sale
Machine
Alert
Get the latest machines emailed directly to you as they become available to buy online sign up
Close Menu