Machines & equipment for sale
Newsmith Stainless Ltd. Silver Series S4 Multi-Lane Heavy Duty Industrial Component/Mould/Box/Tray Washer Machine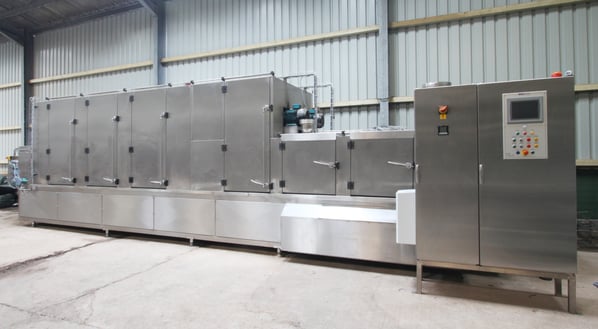 Stock No

DC1511

Manufacturer

Model

Silver Series S4

Year of Manufacture

2019

Serial

KM3119

Condition

Seen working by RSW, Excellent Condition, Current Model

Work Envelope (WxDxH mm)

[?]

2 Tracks Max 820w x 550h Upto 4 x Lanes

Process Stages

4 - Wash, Rinse, Blow off & Heated Dry

Other Info

Unique Opportunity at Fraction New Price

Location

Rolls Royce Stores Nr Derby UK

Weight (kgs)

5000kg Delivered Assembled

External Dimensions (WxDxH mm)

[?]

2450 x 10,500 x 2500

Delivery

Your delivery options
Description
The Continuous Galaxy Silver Series S4
is designed to attain the highest possible standards of cleaning and drying. The machine's flexibility, high output and compactness make the machine popular with large and small manufacturers alike.
The Newsmith Silver Series Spray Wash & Dry system is designed to ensure that the items to be washed and dried are subject to a sustained, heavy deluge jetting process with the detergent/water medium to attain the best possible cleaning result at the lowest economical cost and with minimal environmental impact.
Twin Mesh Belt Flat Bed Tracks Providing Triple/Quadruple Lane System
Twin heavy duty conveyor belts travel in the same direction (and speed) from infeed to outfeed. They then return underneath the body of the machine back to the start. Two tracks allow high volumes of product to be processed and also accommodate differing sizes of boxes. The third narrow track is designed for cleaning and drying box lids, hanging in the vertical.
This machine has been professionally disconnected & prepared for storage by the Original Equipment Manufacturer (OEM), Newsmith.
The OEM is available for ongoing service, support, and spares for this machine.
The component washer is now professionally stored at Riley Surface World's facilities for the convenience of sale
and is available to transport to your facility with no lead time.

Please make an appointment to view or contact the Riley team to secure this machine.
Photographs and videos are a mix of this machine in storage and in-situ, before disconnection.
Overview
Very Flexible‐ The machine can be arranged to handle all sizes and types of industrial products/polycarbonate and vac‐form moulds as well as plaques, containers and general utensils.
Easy to use‐ Having loaded the products/moulds, containers or other items onto the machine belts the wash programme selected. A recirculated hot detergent wash is followed by a freshwater rinse. A drying cycle follows and the dry clean moulds and containers are available at the unload end.
Compact‐ The machine requires only a minimum of floor space yet is capable of achieving an output that only much larger machines are able to replicate.
Low Operating Costs‐ Only one operator is required for the Batch Galaxy. Water, energy and detergent consumption is minimal.
Optional Extras Fitted to This Unit
PLC/HMI control

Detergent wash section

Fresh rinse section from integral heated booster tank.

Air knife blow off prior to the drying section

Heated drying section

Steam extract fan

Inverter on main drive

Oil separator

Steam extract fan
Special work racks
Large quantities of gas and steam exhaust flew /stacks
Track A
Heavy duty flat bed mash belt conveyor max 820mm x 530 mm ( w x h) or Two lane A1) 280w x 530h. A2) 540w x 4350h
Additional lane option:
Track B
Lane 3 - 75mm x 435 mm (w x h)
Lane 4 - 125mm x 435 mm (w x h)
Silver Series S4
Designed for the volume manufacturer, the Newsmith Silver Series S4 Inline Washing & Drying systems are available in multi‐lane versions. They are most commonly used on high speed, continuous lines to clean pans, plaques, plastic trays, moulds and packaging.
Standard Features
Jetting system to maximise cleaning performance
Rigid stainless steel construction
Jet pipes are easily removed for inspection or cleaning – no tools are required
Conveyor width to suit items to be cleaned
Simple access for cleaning and maintenance
Unnimersed filtration
Cleaning solution temperature and drying temperature are thermostatically controlled to be suitable for e moulds and other delicate items.
The monorail mould and plaque washing machine is designed for high and medium throughput applications where space is at a premium or one person operation is desirable.
The machine contains all the processing sequences of equipment twice this length (including prewash, main wash, recirculating rinse, fresh rinse, blow off and heated drying) but contained within a compact floor space.
Detergent Wash
Wash with a heated detergent solution. Internal and external surfaces are subject to high volume jetting. Temperature is thermostatically controlled to suit trays/inserts. Section fitted with an automatic detergent dispenser as an option. The nominal operating temperature is 60°C.
Final Fresh Water Rinse
The standard machine includes a jetting system fed from an integral heated booster tank designed for final crate sanitation. Temperature is thermostatically controlled. Nominal temperature 80°C. Water recovered to wash tank for reuse.
Blow Off
Blow off section by high pressure knife edge blowing fans delivering air via a smooth free flow ducting system to an air knife system specifically designed to blow excess moisture from all surfaces.
Heated Dryer
Drying using a high volume steam heated plenum system to dry the items before exiting from the machine. NB dryness is to be confirmed after tests.
Jetting Systems
All valve controlled jetting assemblies eject the machine body for unimpaired outside inspection through hinged access doors designed to facilitate rapid and unimpeded access for cleaning and maintenance. Stainless steel jet pipes are quickly removable, and no tools at all are required. Leads to very low downtime for routine inspections.
Filtration
Machine is supplied with the Newsmith standard line tray filters.
Tanks
The machine is built on a heavy gauge all stainless steel section frame. The tanks within are designed for easy visual inspection with tank access doors for deep cleaning. Tank floors are steeply sloped to facilitate rapid clean down.
The tanks are lagged and panelled with stainless steel for heat retention, where practical.
NOTE: The above tanks are constructed in stainless steel and all fittings welded to the tanks are also in stainless steel.
Conveying Section
Crates are conveyed in a horizontal orientation. Delrin chain conveys pallets through the wash and dry zones.
All guide work is stainless steel with no requirement for adjustment to accommodate boxes listed.
Within the high volume sections, there is no requirement for guide adjustment for different box heights. Boxes are held in place by the volume of water impinging upon them.
Pipework
All pipework on the machine is of stainless steel manufacture with water feed valves mounted on a common manifold.
Machine Body
Constructed in stainless steel polished to DPI standard. The structure is designed to minimise the opportunity for dirt traps and provide a strong, robust construction. The entire machine top is accessible through quickly removable access doors designed to give rapid access to all areas for cleaning and maintenance.
Access Doors
Manufactured from stainless Steel – all doors are hinged and interlocked.
Conveyor Drive
The conveyor drives are geared to the headshaft of the machine.
Conveyor Bearings
These are positioned outside the body of the machine for a long life and are easy to remove, easy to lubricate and unaffected by detergents and water etc.
Extract Fan
This bifurcated unit is constructed in stainless steel. They are fitted with a fully adjustable damper plate set at commissioning time to suit the facility environment.
Air Knife Drying Section
Air is blown onto the work through stainless steel pipework and stainless steel nozzles. The pipework is adjustable to allow the blow off section to be set to the optimum angle on site. This also allows control of the atmosphere, providing a stabilizing air curtain, which can be adjusted to influence the direction of the airflow inside the machine.
Air knife nozzling is of airfoil section leading to very high air tip velocity, ideal for rapid drying and stripping of liquid films. The system is designed to maximize drying performance at a minimal energy cost and at low noise levels.
Air knife impellors are manufactured from stainless steel and mounted within plastic cases.
Dryer Section
Recirculated hot air is blown onto the items to be dried from above and below through stainless steel ductwork and plenum chambers. The plenum chambers extend for the full length across the table and due to the unique air distribution system a highly efficient drying operation can take place.
Note: The air return path is into the top of the machine thus eliminating the transfer of debris in the heater battery face and water leaks from ductwork. There are no return air ducts in our design of machine leasing to clean the dryer area and draining board easily.
Dryer Fans
The case is constructed in stainless steel, and fan wheels are constructed in stainless steel.
Control
System fitted with audible and visual alarms.
The control cabinet is constructed in stainless steel housing components. The cabinet door is sealed and protected with an interlocked isolator switch.
The panel front will have protected start/stop buttons as per the agreed facia layout. Machine wiring in cable trays.
Pump Units
All pumps will be of Lowara manufacture.
Safety
All access doors are secured by interlocked switches. Remote conveyor stops fitted at each end of the machine on both sides of the track.
Additional Features
Halves the space needed by conventional washing systems.
Designed to attain the highest possible standard of cleanliness and dryness.
Manufactured from Stainless Steel.
Capable of accommodating a wide range of products/moulds and containers.
Particularly appropriate for tall, narrow moulds.
A robust construction ensures a long working life.
Manufactured to ensure easy access for cleaning and maintenance.
One person operation.
Fully automated.
Technical Data
Wash Tank Capacity: 540Ltr
Fresh Rinse Tank Capacity: 120Ltr
Water Consumption: 100 Ltr/hr
Total Electrical load: 52kw (100amp @ 400 Volt / 3 Phase /50kw)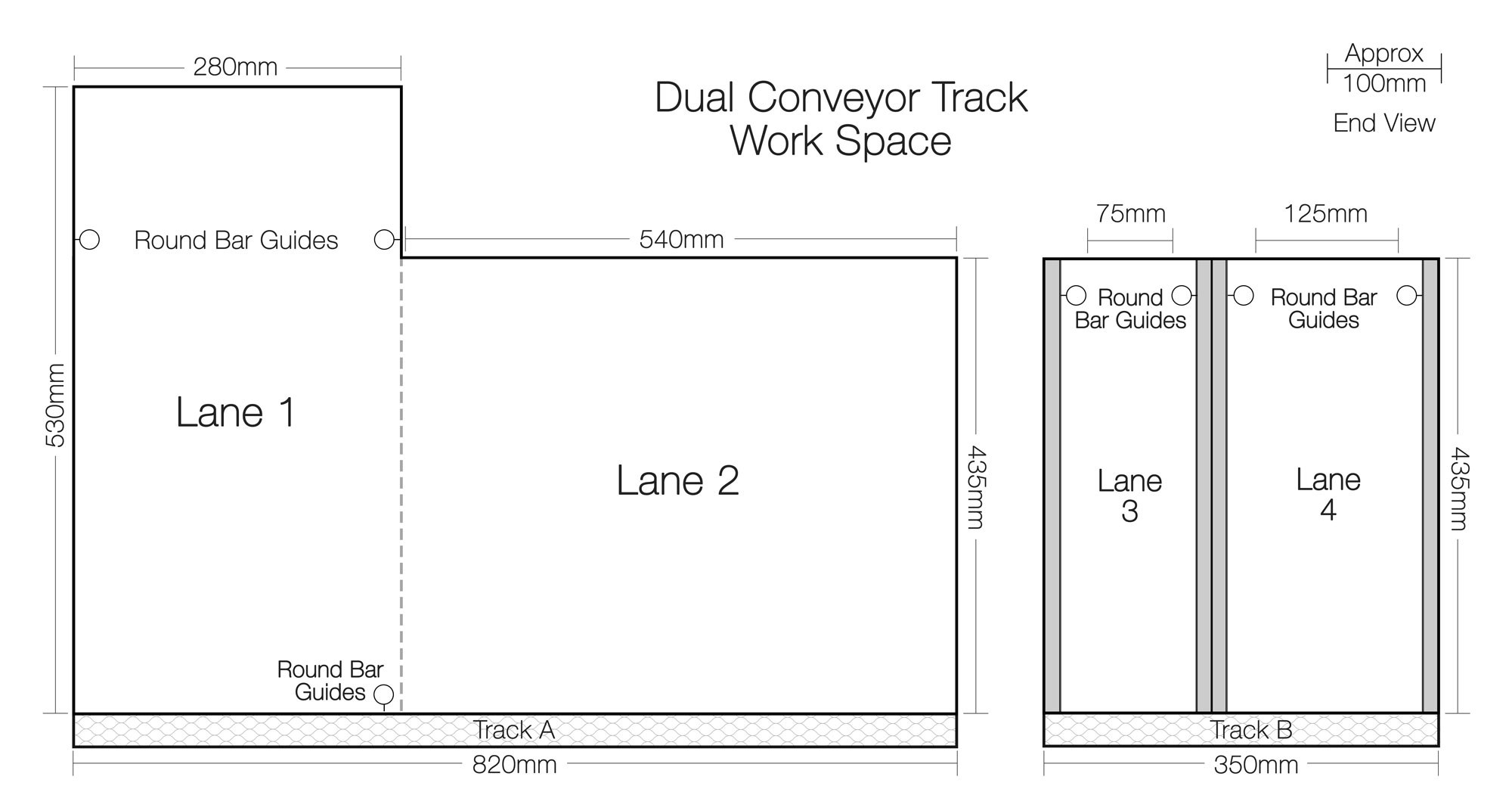 Equipment
Wash Gas Burner

Wash Pump 5.5kw
Fresh Rinse Pump 0.5kw
Blow Off Fan 5.5kw x 2
Dryer Fan 5.5kw x 4
Fresh Rinse Booster Heater 12kw
Machine Drive 0.55kw x 2
Extract Fan 0.37kw
Drain Connection 3" O/D
Gas Exhaust Flue x 2 Ø 200mm
Water Feed Connection 3/4"
Dryer Gas Burner
Electrical Control Panel
Gas Supply 3/4" BSP (2 off)
** Also includes significant quantities of professionally dismantled high quality ductwork, for steam and gas fume exhaust **
Manufactured and supported by

Available for ongoing service, support, spares and enquiries for new equipment.

Print / Download Newsmith Stainless Ltd. Silver Series S4 Multi-Lane Heavy Duty Industrial Component/Mould/Box/Tray Washer Machine Datasheet
Additional files
Photographs taken prior refurbishment. Our refurbishment service is not available on all machines.
Machines & equipment for sale
Machine
Alert
Get the latest machines emailed directly to you as they become available to buy online sign up
Close Menu