Machines & equipment for sale
SNOL Custom Build Furnaces & Ovens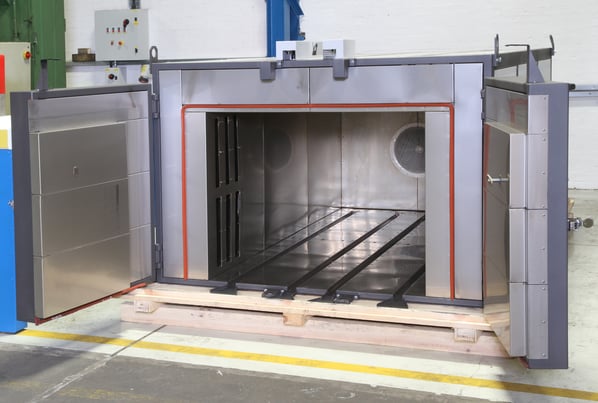 New
Price

[?]

Please call on +44 (0) 1922 45 8000

Guarantee

1 year manufacturer guarantee

Availability:

Available subject to build time

Condition

Brand New
Stock No

NEW079

Manufacturer

Condition

Brand New

Delivery

Your delivery options
Description
Custom Build Furnaces & Ovens
The combination of Riley's and SNOL's experience has unlocked heat treatment solutions for a wide range of UK manufacturers. The temperature range includes 200°C to 750°C for ovens & up to 1600°C for furnaces, the possibilities are endless for your perfect heat treatment.
Outlined below are a range of custom build projects that have delivered to specification at excellent value. Please contact us if you would like to discuss a project.
SNOL - a leading thermal engineering manufacturer

SNOL is one of the leading industrial oven and furnace manufacturers in the world. The company is based in Lithuania with subsidiaries in Germany and Ukraine. Founded in 1960 SNOL and is part of the Baltic State's largest metal processing group, employing over 700 people. 90% of production is exported from Lithuania into 40 countries in Europe and worldwide.
Riley Surface World and SNOL is a unique partnership. It combines Europe's finest industrial and laboratory oven manufacturer with a UK company renowned for its high levels of industry knowledge, service and technical support.
The combination of Riley's industry knowledge and SNOL's design and manufacturing capabilities have delivered successful oven and furnace projects that meet the customer's requirements up to AMS Aerospace standards.
650°C 12,800 Litre Bogie Hearth Oven
A detailed research and analysis process led to the specification of a high quality custom built oven to be manufactured by RSW's partner SNOL based in Lithuania. SNOL has a proven history of manufacturing heat treatment ovens to this high specification.
12,800 Litre capacity
620°C operating temperature
AMS2750E Class 4 Standard
± 5°C temperature uniformity
Electric heating with minimum kW rating possible
Forced air circulation including controlled cool down
Vertical uprising front opening door
Powered trolley/bogie, 6000kg product load
225°C 1.2m x 0.95m x 2.3m Electric Oven Custom Built for Tier 1 Automotive Manufacturer for Coil Heat Treatment
Having seen the quality of SNOL ovens a regular customer, one of the oldest names in British engineering, chose Riley Surface World to build a custom sized electric oven for one of their automotive production facilities.
1.2m x 0.95m x 2.3m internal size
225°C operating temperature
4x floor rails for custom trolley
Custom door and control panel locks
250°C 2m x 2m x 2m (8000 litre) Electric Oven - Performance Automotive with High Tolerances required
The flexibility of Riley Surface World's supplier roster ensures we can find a solution for you. In this case the customer needed an oven that was close in specification to our Romer 225°C 8000 litre ovens but during the specification process it was clear that higher tolerances and control mechanisms were required than fitted as standard on the Romer ovens. SNOL were able to provide an oven on specification as follows.
2m x 2m x 2m internal size
Max 250°C operating temperature; process at 150°C
Tightly controller Ramp Up & Ramp Down balanced for material mass and configuration
Nanodac Programmable Controller & Data Logger
Flying Lead Thermocouples for monitoring each batch
4x 200°C 80 litre Electric Ovens for Medical Ceramics Manufacturer
These 4 ovens mounted with one control panel provide several benefits beyond the reduced footprint. For this customer parts could be batched by cure time and left in the chambers without having to repeatedly open one door. This improved quality and safety.
4 chambers
Up to 200°C operating temperature
Omron E5CC-T programmable controllers
Eurotherm Nanodac temperature recorder
Individual fan speed controller for each chamber
individual delay start time for each chamber
350°C 1408 Litre Stainless Steel Electric Oven
One the UK's best known aerospace sub contract companies has specified and purchased a custom build electric oven.
1.6m x 0.8m x 1.1m internal size (wxdxh)
350°C operating temperature
+/- 5°C uniformity
250°C 216 Litre Electric Oven with Lift up Door
A innovating company providing post processing for additive manufacturing (3D Printing) needed an oven they can automate with a conveyor system and robotics for their ongoing product development. Rileys worked in partnership to design an oven with the correct ergonomics and features to keep this customer at the forefront of their industry. Watch the Video
0.6m x 0.6m x 0.6m internal size (wxdxh)
250°C operating temperature

Lift Up Door

Omron E5CC Controller
250°C 1500 Litre Electric Oven with fully Welded Chamber
A leading Nickel Zinc battery manufacturer with a specialist background in submarine technology needed an oven to perform at high accuracy. Given the processes used this oven needed to be gas tight with no fumes escaping into their facility during treatment. SNOL and Rileys designed them an oven to achieve this with a welded chamber, double silicon seals and connection to an in house extraction system.
1m x 10m x 1.5m internal size (wxdxh)
250°C operating temperature
Stainless Steel Chamber
Double Silicon Seal
Floor Rails

Chimney connected to in-factory exhaust system

Omron E5CC programmable controller
250°C 1800 Litre Fully Stainless Steel Cleaning Room Oven
Designed for a regular customer with many years experience delivering precision cleaning services for semiconductor equipment this oven was placed in a hi-specification cleaning room. Fully Stainless Steel with and enclosed fan the features of this oven allow it to be placed in a controlled cleaning room and maintain the environmental conditions.
1200mm x 750mm x 2050mm internal size (wxdxh)
250°C operating temperature
Outside casing in stainless steel sheets and frame from stainless steel tubes
Ventilation motor on the top
External adjustable air inlet and outlet
Controller Eurotherm 3208

Print / Download SNOL Custom Build Furnaces & Ovens Datasheet
Additional files
Photographs taken prior refurbishment. Our refurbishment service is not available on all machines.
Machines & equipment for sale
Machine
Alert
Get the latest machines emailed directly to you as they become available to buy online sign up
Close Menu