Machines & equipment for sale
SNOL 350°C Industrial Oven Range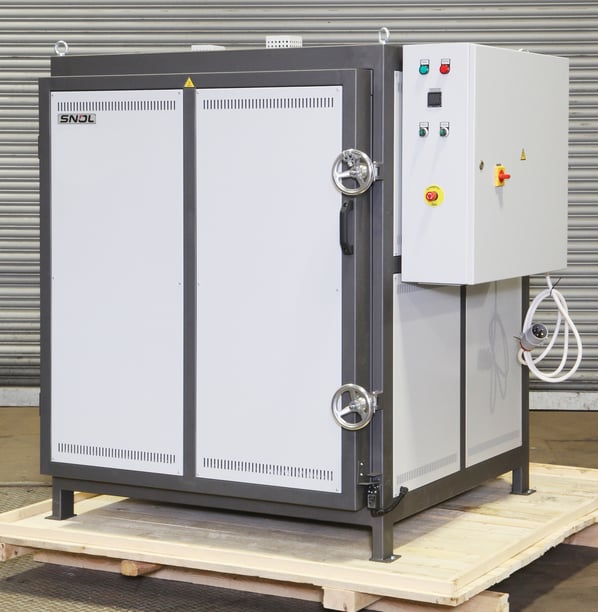 New
Price

[?]

Please call on +44 (0) 1922 45 8000

Guarantee

1 year manufacturer guarantee

Availability:

Available subject to build time

Condition

Brand New
Stock No

NEW070

Manufacturer

Condition

Brand New

Internal Size (WxDxH mm)

[?]

Various

Max Temp

350°C

Delivery

Your delivery options
Description
SNOL 350°C High Temperature Oven Range
These industrial batch ovens are ideal for thermal processing, drying, where tighter temperature tolerances or quicker heat-up times are required.
Designed to operate up to 350°C these ovens have excellent performance and reliability. Well insulated and with good airflow these ovens offer temperature stability and uniformity suitable for a wide range of manufacturing processes.
Control of temperature is achieved via an Omron programmable controller coupled with a Solid State Relay and Eurotherm Over Temperature protection.
SNOL - a leading thermal engineering manufacturer

SNOL is one of the leading industrial oven manufacturers in the world. The company is based in Lithuania with subsidiaries in Germany and Ukraine. Founded in 1960 SNOL and is part of the Baltic State's largest metal processing group, employing over 700 people. 90% of production is exported from Lithuania into 40 countries in Europe and worldwide.
Riley Surface World and SNOL is a unique partnership. It combines Europe's finest industrial and laboratory oven manufacturer with a UK company renowned for its high levels of industry knowledge, service and technical support.
SNOL industrial ovens are available from stock or by special order, depending on requirements for temperature, size and metal treatment process.
Applications
The industrial batch oven is ideal for thermal processing, drying, where tighter temperature tolerances or quicker heat-up times are required. In addition to finishing applications the industrial batch oven can be used for the following applications:
Adhesive curing
Baking
Bonding
Drying
Epoxy curing
Metal finishing
Preheating
Varnish curing
Wet paint curing
Standard Features
The industrial batch oven is manufactured with all the same quality features as SNOL's other larger and higher temperature batch ovens (650°C High Temperature Oven Range) and is competitively priced with quick delivery times.
350°C maximum temperature rating
High volume airflow for excellent uniformity & heating rates
Excellent performance and reliability (steady state without charge ± 2°C with charge ±5°C)
Temperature stability in the working chamber at rated temperature in thermal steady state, without charge, not more than ± 1°C
Temperature uniformity in working space at rated temperature in thermal steady state, without charge, not more than ± 5°C
Adjustable pattern return air ductwork for consistent heat distribution
Combination airflow through the work chamber
Rear mounted recirculation fan
3 phase + Neutral power
Mineral insulated metal sheathed elements
Fresh air and exhaust vents
Micro processor Omron E5CC Programable Temperature controller
Solid State Relay (SSR) heating power control for close control of the heating profile
Eurotherm 3216I Over Temperature Protection
Heavy duty adjustable door hinges
The external construction is clad in mild steel sections, with a powder coated exterior
Interior construction Mild Steel
Twin shelves supplied with 5 shelf runners
Good temperature uniformity
Door limit switch to shut heat off when door opens to protect the operator
1 year manufacturer warranty
Available Options
Digital process timer with auto-shutdown feature
Programmable controller to store multiple recipes with multiple ramp/soak segments
Temperature recorder or data logger
Available Sizes
Model
Temp °C
Size
Internal (WxDxH)
SNOL 125/350
350
125 litres
500mm x 500mm x 500mm
SNOL 250/350
350
250 litres
500mm x 500mm x 1000mm
SNOL 420/350
350
420 litres
700mm x 600mm x 1000mm
SNOL 500/350
350
500 litres
700mm x 700mm x 1000mm
SNOL 600/350
350
600 litres
800mm x 800mm x 1000mm
SNOL 700/350
350
700 litres
800mm x 900mm x 1000mm
SNOL 800/350
350
800 litres
900mm x 900mm x 1000mm
SNOL 970/350
350
970 litres
900mm x 900mm x 1200mm
SNOL 1500/350
350
1500 litres
900mm x 900mm x 1500mm
Custom
350
To suit your requirements
Combination Horizontal Airflow Benefits
As a standard, industrial batch ovens are designed to provide a combination horizontal air flow pattern through the work chamber. These include fully adjustable return vents to ensure even airflow distribution throughout the work chamber. With combination air flow, the return ducts located on both side walls (running from the very front to the very back of the work chamber). This allows uniformity to be maintained whatever the combination and shape of the work placed within it. The air is then returned to the heating plenum through a return duct located behind the work chamber where it is reheated and returned to the chamber.
Fully Factory Assembled and Tested
The equipment is, fully factory tested and adjusted prior to shipment from the manufacturer. All safety interlocks are checked for proper operation and the equipment is operated at its maximum operating temperature for a test period. If a temperature uniformity profile test and certification is purchased, the profile test will be performed and documented prior to shipment.
Technical Specifications:
Temperature range max 350ºC
Chamber Material Stainless steel
Why are Ovens Essential for Powder Coating?
A popular process in surface finishing, powder coating is made up of three fundamental steps of preparation, application and curing.
The importance of the curing stage is what sets the layer to produce the durable qualities powder coating is known for. To cure the powder coating layer, a heat element is required to melt the layer initially, allowing the layer to flow & bond to form a solid coating. To cater for sizes of the components to reach temperatures of 160°C to 240°C, industrial ovens are essential as they offer the size & temperature requirements needed.

Print / Download SNOL 350°C Industrial Oven Range Datasheet
Additional files
Photographs taken prior refurbishment. Our refurbishment service is not available on all machines.
Machines & equipment for sale
Machine
Alert
Get the latest machines emailed directly to you as they become available to buy online sign up
Close Menu