Machines & equipment for sale
Gema Auto Reciprocating Roll-On/Roll-Off Powder Coating Booth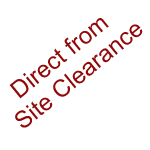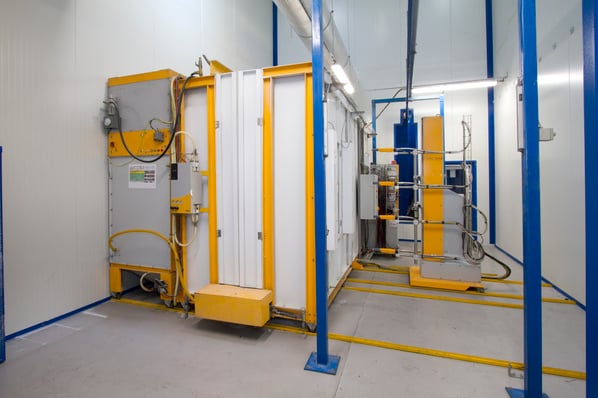 Direct From Site Clearance
Direct Site Clearance Price

[?]

Clearance ends

30 November 2023 15:00 GMT while stocks last

Part of a Direct Site Clearance

Condition

From a working environment, Seen working by RSW, Excellent Condition, Current Model

Location

Gloucester, UK
Stock No

HYD900

Manufacturer

Model

ZA06

Year of Manufacture

2013

Condition

From a working environment, Seen working by RSW, Excellent Condition, Current Model

Other Info

Use to build your own Paint line

Location

Gloucester, UK

Delivery

Your delivery options
Description
Gema Reciprocating Automatic Powder Coating Booth includes:
ZA06 Reciprocator
OptiGun 2-A(X) Automatic powder gun
OptiFeed PP06 powder pump
OptiFlex A1 Control system (AS03 type)
OptiStar CG06 Automatic gun control unit
OptiMove CR06 Axes control unit
Powder Hopper HF02-100/150/200
Includes Landmarks Burners (2), Overhead track system and Unicoil boiler, making the equipment suitable for building your own paint line.
Plant Specification
OptiGun 2-A(X) Automatic Powder Gun - Overview
The extremely light OptiGun 2-A(X) Automatic powder gun with integrated high voltage generation offers you optimal penetrating ability and high charging. The vented central electrode allows a high, constant transfer efficiency and a high coating efficiency by symmetrical coating structure.
The OptiGun 2-A(X) Automatic powder gun is intended exclusively for the electrostatic coating with organic powders. Any other use is considered non-conform. The manufacturer is not responsible for any damage resulting from this; the risk for this is assumed by the user alone.
Typical Characteristics
The OptiGun 2-A(X) Automatic powder gun can be easily dismantled and is therefore maintenance and repair-friendly.
Continuous, tightly sealed gun body with separate channels for cascade and rinsing air
Continuous guided powder tube, self-sealing
Quickly dismantlable SuperCorona ring
Powder tube coupling with quick-release fastener
Covered hose and cable ducting
Excellent access to the connections due to snap lock
Simple conversion to a quick colour change gun (powder tube and gun fixture tube)
Same nozzles and extensions as EasySelect manual gun
Easily dismantlable by a few hand movements, therefore very easy to service

Few wear parts (powder tube, nozzle and SuperCorona)

Self-sealing powder tube (housing tube seat)
Easily removable cascade because free of grease, with integrated current limiting resistors
Spring loaded contact between cascade and contact pin
ZA06 Reciprocator
The ZA06 Reciprocator (moving axis) was designed for automatic coating with powder guns. The reciprocator carriage oscillates vertically on the column. The movement sequences (stroke and stroke speed) are controlled by the reciprocator control unit.
Special Characteristics
The ZA06 Reciprocator is conspicuous because of its rugged construction, a new drive system and an improved Z-axis carriage design.
Further characteristics:
50 kg load capacity for automatic gun and gun holders
Built-in holding brake
Quiet running
High speed, maximum acceleration and braking action
Safe operation and simple maintenance
High efficiency due to low energy consumption
Designed for continuous operation
Mobile version available
IP54 protection type
4 standard stroke heights available: 1.3m/1.8m/2.3m/2.8m

Intermediate and larger sizes available in steps of 250mm
OptiFeed PP06 Powder Pump
The OptiFeed PP06 Powder pump is intended for conveying coating powder (also enamel powder). Any other use is considered non-compliant. The manufacturer shall not be liable for damage resulting from such use; the user bears sole responsibility for such actions.
The OptiFeed PP06 Powder pump is suitable both for conveying fresh powder to automatic coating equipment and for general conveying of coating powders from powder hoppers.
Utilization
The OptiFeed PP06 type power pump is designed to gently transport large quantities of powder, even over relatively large distances.
Conveyance
Gentle conveyance of coating powders
Cleaning
Powder hose emptying - prevents unintentional clogging
Powder hose rinsing (two different programs) and filter element cleaning - make the colour change process more effective
Control
Reception and processing of signals by the higher-level control (a PLC, for example)
Processing of signals from a level sensor
Control of a single-phase vibration motor (with the external power supply unit only)
Maintenance interval monitoring - indicates upcoming maintenance
Keyboard lock - prevents an unintentional manual intervention.
Fluidization connection
Connection for electric conveyance pressure monitoring
Cyclical conveyance
OptiFlex A1 Control System (AS03 Type)
The OptiFlex A1 Control system was specially designed to meet the requirements of production, and also the custom electrostatic coating requirements.
The flexible, modular structure of the OptiFlex A1 is readily adaptable to any modifications in the installation.
OptiFlex A1 Control System - Components
OptiFlex A1 Control Cabinet

Function

- Equipment main switch

- Key switch for switching on/off the guns

- Interlocks on the mounting plate

- Max. 12 places for gun or axes control units

- Pneumatic functions by OptiAir CA04 or CA05

- Option: connectable LM02 Level sensor

OptiStar CG06 Gun Control Unit

Function

- OptiStar CG06 standard gun control unit

- Max. 250 stored programs possible

- DVC (Digital Valve Control)

OptiMove CR06 Axes Control Unit

Function

- Axes control unit for ZA04 Reciprocator

- Pendulum operating mode or sequence programs

- Max. 250 stored programs possible

OptiAir CA04 Pneumatic Unit

Function

- Air distribution for OptiFlex A1 and gun control units

OptiAir CA05 Pneumatic-fluidizing Unit

Function

- Air distribution for OptiFlex A1 and gun control units

- Airmover control unit

- Fluidization in the powder hopper

- Manual pre-fluidization

Level Sensor LM02

Function

- Level detection in the powder hopper
OptiStar CG06 Automatic Gun Control Unit
The OptiStar CG06 Automatic gun control unit is designed exclusively for controlling the Gema powder coating guns.
Typical Characteristics
The OptiStar CG06 Automatic gun control unit is used for automatic electrostatic powder coating equipment.
The OptiStar CG06 Automatic gun control unit allows the configuration of process parameters (air settings, high voltage settings), system parameters, process data, status information and the powder hose correction values. All air volumes can be controlled centrally by the unit.

The handling is simple and self-explanatory. The coating personnel can save individual settings, based on previous settings, in 250 different programs.

All settings for efficient powder coating are simple to operate and repeatable. The control unit electronics permit the exact amount of powder delivery and the adjusted values can be read on the digital displays.

Optional bus connections by CAN bus and DigitalBus allow a simple, super

coordinated

control.

A shaping air option is available, in combination with a flow control for all four air types.
The OptiStar CG06 unit can be connected to all mains volt- ages between 100-240VAC, 50-60 Hz, single phase.
Basic Functions
Intuitive operation
Setting and display of the values on two levels
Saving/recalling of process parameters in the form of programs
Remote control option on the manual powder gun
Additional Functions
Spray current regulation with high voltage limitation

Control of the air volumes

Status indications and error diagnosis
Several input air pressures are definable with parameterization
Flow control for total air (conveying air plus supplementary air), electrode rinsing air and shaping air (optional)
Bus connections by CAN bus or DigitalBus (optional)
OptiStar CG06 Functions - Overview
Setting Possibilities
Setting possibilities for powder rate, total air, spray current, high voltage, electrode rinsing air and shaping air (option)
Correction Values
Correction values for powder offset, powder hose correction value and daily correction values.
Request Values
Request values for software version and trigger hours counter.
Features
Keyboard lock, Preset mode, 250 programs, error display and remote control on manual gun.
OptiMove CR06 Axes Control Unit
The OptiMove CR06 Axes control unit is designed exclusively for operating electrically driven reciprocators/axes in electrostatic powder coating plants.
The OptiMove CR06 Axes control unit is used in axis control systems. A complete axis control system consists of an OptiMove control unit, a frequency converter and a reciprocator with AC motor. The frequency converter receives the supply voltage and control signal directly from the OptiMove Axes control unit.
The OptiMove CR06 Axes control unit, which contains the regulation, visualization and input unit, is responsible for the exact positioning adjustment of the carriage by evaluating the signal from the reciprocator incremental pulse generator in the reciprocator.
The drive motor is equipped with an electrical holding brake. When the axis control unit holds an axis position (axis standstill), the holding brake will be activated and the frequency transformer released with a time delay (motor without current).
Powder Hopper HF02-100/150/200
The HF02 Powder Hopper contains the powder used for coating and the recovered powder. The injectors for the powder feed and the level sensor for the monitoring of the powder level are attached to the cover of the powder container.

Print / Download Gema Auto Reciprocating Roll-On/Roll-Off Powder Coating Booth Datasheet
Additional files
Photographs taken prior refurbishment. Our refurbishment service is not available on all machines.
Machines & equipment for sale
Machine
Alert
Get the latest machines emailed directly to you as they become available to buy online sign up
Close Menu