Machines & equipment for sale
Bricesco Post Weld 1100°C Heavy Duty Gas Fired Heat Treatment Furnace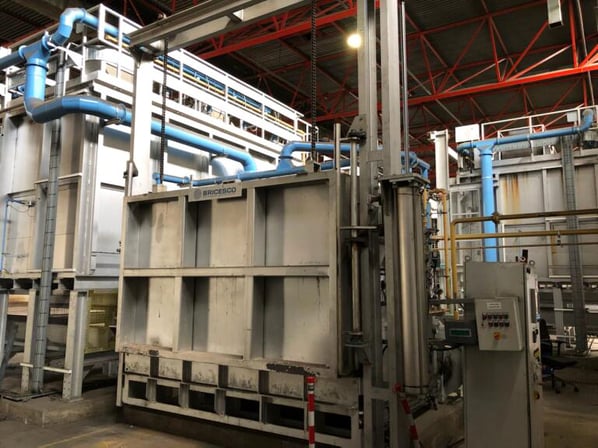 Stock No

OB2321

Manufacturer

Model

Post Weld Vertical Door

Year of Manufacture

2015

Serial

F2141

Condition

From a working environment, Excellent Condition, Current Model

Internal Size (WxDxH mm)

[?]

2600 x 1700 x 1600

Max Temp

1100°C (Twin Thermjet 220kw Burners )

Other Info

Load Capacity 2000kg

Location

Our Central Warehouse, Aldridge, UK

Weight (kgs)

Approx. 8 Tonnes when assembled

External Dimensions (WxDxH mm)

[?]

3240 x 3200 x 4800
Description
Solid Hearth two tonne charge, twin burner gas fired furnace originally designed for the post weld heat treatment of various products to the calibrated design temperature of 750°C (able to operate to 1100°C).
Internal survey setting dimensions are 2000mm x 1000mm x 1200mm (WxDxH) with an actual wall to wall internal size of 2600mm x 1700mm x 1600mm, natural gas fired solid hearth post weld heat treatment furnace and ancillary equipment.
Equipment Description
The furnace is equipped with high velocity burners, having high turn-down capability for good, even heat distribution, designed for temperature uniformity +/-5°C and very good low furnace temperature control. A recent survey, (attached below, Sep 2021) shows +/-8°C uniformity achieved for an hour long soak process without any optimisation carried out which was within the requirements of the owner.
The technical design features of the equipment incorporated in the furnace and associated plant are such that a high degree of flexibility has been provided.

The design ensures highest product quality; with low levels of energy consumption being achieved.
The furnace is based on a durable, low maintenance design that will assure continuity of production.
Fuel Design
To minimise fuel consumption the furnace incorporates the following well-proven concepts:- Lightweight Insulation Furnace Lining
This reduces total heat storage in the furnace structure during the firing cycle.
Combustion System
The furnace is heated with 2 high-velocity burners, mounted through the furnace side walls, along two sides of the load setting. A single downdraught exhaust flues is provided in the rear wall of the furnace.
Furnace Specification - as designed in 215
Type of furnace: Solid Hearth Heat Treatment Furnace.
Type of lining: High quality ceramic fibre lining to walls, roof and door, 180mm total thickness, 1260°C grade, 150kg/m3 convoluted 'Fast Fit' modules 13mm back-up blanket insulation.
Furnace Internal dimensions: 2300 wide x 1700 long x 1600 high.
Furnace capacities: 2 Tonnes
Original design operating temperature: 750°C. ( See surveys attached )
Maximum temperature: 1,100°C.
Fuel: Natural Gas.
Temperature distribution: Furnace uniformity to minimum ASTM A991 and API6A, Annexe M. Survey temperatures +/- 5°C @ 550°C, 750°C uniformity Below 750°C ± 5°C Exceptional uniformity across full working range up to 1100°C
No. & type of burners: 2, Eclipse TJ075, burner complete with spark ignition and flame probes, alloy flame tube, and semi-automatic flame failure controls.
Type of door: Single, manually operated vertical lifting, powered by pneumatic ram.
Door travel: 1620mm vertically when powered up.
Control system: Automatic single zone control.
Exhaust system: Downdraught via separate offtake flues in the furnace rear wall.
Operational Safety devices: N.B. The fuel supply to the furnace is automatically shut off if any of the following conditions occur: -
1. High fuel pressure.
2. Low fuel pressure.
3. Low air pressure.
4. Over temperature.
5. Loss of electrical power supply to the furnace.
Furnace Structure
Fibre Board
The furnace insulation materials are contained in a substantial mild steel framed and plated structure, which is both rigid and durable.
The furnace walls are lined with high quality ceramic fibre, 180mm total thickness, comprising 1260°C grade, 150kg/m3 convoluted 'Fast Fit' modules with 13mm thickness backup blanket.
The furnace hearth comprises a hot face layer of 42% alumina firebrick, dry-set onto two layers of insulation brickwork, with a base layer of ceramic

A single vertical lift access door will be constructed using a substantial welded steel frame
structure to contain the refractory insulation materials. The door will be designed to provide a compression seal when closed, minimising the possibility of heat leakage from the furnace.

The door is manually operated and clamped when closed.

The furnace is designed and constructed to ensure rapid installation using components that are pre-fabricated to exact design detail. All major components are pre-assembled.
Firing System
A total of 2 Eclipse TJ075, high velocity burners are provided, the burners' fire horizontally through the furnace walls. The hot gas stream from the burners is directed around the load setting before exhausting through the rear flue offtake. Burners are arranged to form single temperature control zones.

The burners are designed to operate in excess air firing mode and are complete with spark ignition and flame probes, and semi-automatic flame failure equipment.
Exhaust System
The furnace is exhausted through a single offtake situated at low level in the furnace rear wall. The positioning of the offtake is designed to encourage the flow of the hot gases around the load setting for improved temperature distribution. Furnace pressure is set at commissioning by a manual damper.
Furnace Atmosphere
The furnace is designed to operate with an oxidising atmosphere. The burners are set up to fire 'excess air' mode.
Temperature Control System
A single zone control system, based on Eurotherm instrumentation is provided to control all aspects of the furnace firing cycle. All safety systems are controlled by hard-wired equipment, including furnace over temperature control.
Measurement of furnace temperature and adjustment of fuel input to maintain the correct heating rate is controlled by the Eurotherm controller, which receives its signal from the relevant controlling thermocouple.
When firing 'excess-air', combustion air to the burners is fixed at commissioning and temperature control is achieved by modulation of a motorised valve in the burner gas feed.
At the completion of the firing cycle, the gas supply to the burners is automatically shut off at the individual solenoid valves fitted to each burner.
Instrumentation
Control System Instruments are supplied in a free standing panel, the panel is fully wired and tested prior to delivery.
The panel is supplied with an electrical isolator and is dust sealed. The panel contains all relays, pilot lamps and switches to control the firing and cooling of the furnace. All items are labelled to facilitate furnace operation and maintenance.
Ducting and Piping
The ductwork supplying air into the furnace is fabricated using Zintec sheet metal. All pipe-work supplying air or gas to the furnace is specified as medium gauge black bore pipework.
Operational Safety Devices
The furnace is equipped with a number of operational safety devices that are designed to ensure the safe operation of the equipment at all times. The function of the safety devices is to ensure that gas is only available at the burners when all safe operating criteria have been met. The principal devices are listed below:
1. Leak tightness and pressure proving system.
2. High gas pressure switch.
3. Low gas pressure switch.
4. Low combustion air pressure switch.
5. Furnace over-temperature policemen.

Should any of these devices be activated, or a loss of electrical power occurs, then the safety shut-off valves will automatically close, shutting off the gas supply to the furnace, and an alarm will sound if the electrical supply is present.
1 - Eclipse TJ075 burners' c/w spark ignition and flame probes.
2 - Sets semi-automatic flame failure comprising flame controller and gas solenoid valves.
3 - Motorised gas control valve. Sets gas and air hand valves.
Scope of Supply
Furnace Structure, comprising: Pre-fabricated substantial mild steel furnace casing sections containing the insulation lining of the furnace, comprising: High quality ceramic fibre lining to walls, roof and door, comprising 180mm, 1260°C, convoluted 'Fast Fit' modules installed to 150kg/m3 density, and 13mm back-up blanket insulation.
Solid hearth lining comprising various grades of alumina firebrick and insulation materials.
Combustion Equipment for Natural Gas comprising:
Combustion safety equipment for gas and air supplies
Main gas manual isolation valve.
Main incoming gas filter
Main gas pressure governor.
High gas pressure switch.
Low gas pressure switch.
Combustion air pressure switch.
Burner equipment, comprising: -
2 Sets of gas and air flexible connections.
1 - Set pipe-work and fittings for gas and air from the combustion controls to the furnace. Colour coded in accordance with regulations
1 - Range Combustion Air Sheet metal ducting.
Furnace Door
1 Fabricated Vertical Lift furnace door complete with manual drive system and clamps and insulation materials.
Steelwork Inherent to the Furnace, comprising:
1 - Set furnace structural framework.
1 - Set furnace structural roof frames.
1 - Set furnace hearth steelwork.
1 - Set furnace door frame and support gantry.
Instrumentation and Electrical Control Equipment, comprising:
Prewired control panel suites containing:
Suitably rated door interlocked isolator.

24VDC Power supply.

Panel cooling fan and filter.

Combustion air fan starter.

Eurotherm 3504 program controller

Eurotherm 3216i over temperature policeman.

Eurotherm 6100E 6 point graphic recorder.

3 - Type 'K' simplex thermocouples and compensating cable.

Circuit breakers, controls relays etc.

Terminals.

All necessary indicator lamps push buttons and switches.

Alarm siren and beacon
Fans, Comprising
1 Combustion air fan and motor.
Exhaust Flue
One steel fabricated rear exhaust flue complete with ceramic fibre insulation lining and motorised control damper.




Print / Download Bricesco Post Weld 1100°C Heavy Duty Gas Fired Heat Treatment Furnace Datasheet
Additional files
Furnace Survey and Calibration Report
Photographs taken prior refurbishment. Our refurbishment service is not available on all machines.
Machines & equipment for sale
Machine
Alert
Get the latest machines emailed directly to you as they become available to buy online sign up
Close Menu