Machines & equipment for sale
RDM Engineering 250°C 4.2m x 2m x 2.2m Electric Oven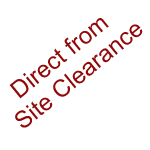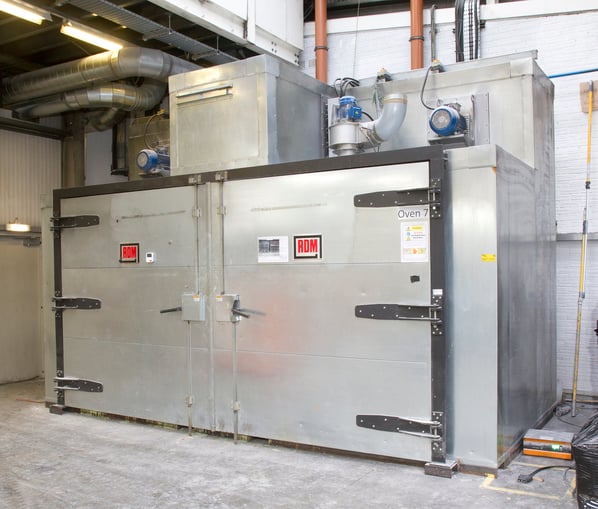 Direct From Site Clearance
Direct Site Clearance Price

[?]

Clearance ends

28 July 2022 15:00 GMT while stocks last

Part of a Direct Site Clearance

Condition

From a working environment, Seen working by RSW, Excellent Condition, Current Model

Location

Rochdale, UK
Stock No

OB2303JS

Manufacturer

Model

RDM 250°C 4.2 x 2 x 2.2 Electric Oven

Year of Manufacture

2016

Serial

62126

Condition

From a working environment, Seen working by RSW, Excellent Condition, Current Model

Internal Size (WxDxH mm)

[?]

4200 x 2000 x 2200

Max Temp

250°C

Other Info

75kw

Location

Rochdale, UK

External Dimensions (WxDxH mm)

[?]

5000 x 2400 x 3300
Description
RDM
ovens have been carefully designed, utilising
the very latest computer optimisation and drawing
techniques, to represent the current 'State of the
Art' in curing, heating and drying oven design.
All RDM'MODULAIR' Ovens are of the hot air recirculation type. With this design, the oven interior is heated by a fan assisted convection process. The heated air is constantly recycled around the oven's interior to maintain superb temperature consistency.
Fuel consumption is considerably lower than would be expected with the other types of oven (such as radiant or infra red). This is because in normal use, the oven operates at considerably reduced power to simply maintain its internal temperature.
RDM Oven systems offer simple and very accurate digital temperature control. The ovens are exceptionally fuel efficient and responsive due largely to our utilisation of the latest burner or heater technology as well as the oven's fully integrated, insulated construction.
RDM Ovens incorporate electronic over temperature protection, electronic fan sensors, a powered fume exhaust system, an internal safety handle to prevent operator entrapment, a disintegration type explosion relief system and an automatic fume purge system.
Applications:
Paint stoving

® Epoxy/Polyester powder curing
Moisture removal
Plastic curing
Lacquer drying
Rubber softening
Hydrosetting
Battery processing
Metal annealing
Spring stress relieving
Excellent Heat Distribution
A good distribution of heat is vital for successful process Oven design. Indeed, RDM Ovens are often specified in the most critical aerospace applications requiring superb temperature profile stability. To ensure good performance, all RDM Ovens incorporate medium pressure multi vane centrifugal fans complete with scroll casings to provide a very positive and well controlled air movement. This is usually at least four complete air recycles per minute. Large duct work ensures that the high air volume will not disturb the product.
Fully Insulated Heated Box and Recirculation Fans
The oven's heat exchanger enclosure incorporates integrated, internal, plug type centrifugal air recirculation fans with external motors. With this design none of the hot fan components are in any way exposed to colder air. Not only does this design offer a clean and smooth appearance to the oven, but also heat losses from the fans are virtually eliminated. Furthermore, a fully insulated heater box prevents radiated heat from being projected into the oven in any uncontrolled manner, as would be the case if the oven's interior were not properly isolated from the heater box.
Door Safety System
RDM Box Ovens incorporate an internal safety door handle to prevent operator entrapment.
Cool Exterior Surfaces
Great care has been taken in the design and construction of RDM ovens to minimise heat transfer through the walls and doors, For example, the inner and outer skins are connected by narrow strips of steel and oven doors are mounted to the oven faces with external door frames. On tunnel type ovens, a minimum amount of duct work is mounted to the internal walls.
Explosion Relief System
The majority of the oven roof area comprises of special panel work which is specifically designed to harmlessly disintegrate and vent off to atmosphere should an explosion occur within the oven. This system far exceeds the recommended requirements under British or C.E. legislation
Electronic Over Temperature Protection
As a totally independent module to the master oven control system, RDM Ovens also incorporate a thermal sensor mounted within the air heater box, this sensor is connected to an independent electronic temperature controller mounted inside the control panel. In the unlikely event that the heater box temperature should exceed the Oven's design parameters, the heaters are shut down and the Oven automatically switches to fast cool down mode.
Electronic Fan and Pressure Protection
Sensors constantly monitor recirculation fan performance. If for any reason the recirculation fans are not drawing sufficient air volume or air pressure, the heaters are shut down. If the fans should become electrically overloaded, the entire oven is immediately shut down.
All Insulated Galvanised or Stainless Steel Construction
To ensure a very long service life the oven panel work is made up either from high grade galvanised or stainless steels with high density mineral wool slab insulation filling. This is usually either of 100mm or 150mm thickness dependent on the design temperature.
Air Seal System
Efficient air seals are crucial to efficient tunnel oven design. The air seals minimise the otherwise inevitable heat losses that would be generated by the apertures that must allow the product to enter and exit conveyorized ovens. The superb RDM 'Air surround' system has been continuously improved and upgraded on the basis of more than 20 years of on site experience with this industry standard design. In simple terms, hot air is drawn off, just before escaping the oven by an oversized, slow running multi vane fan system which is plugged into a multi-chamber air box above the apertures. This air is then blown back into the oven by carefully designed duct nozzles, a short way behind the apertures. The air is blown back all around the product at high volumes and low velocity to prevent disturbing the product.
Fume Exhaust System
RDM Ovens incorporate a powerful and positive, fan assisted, fume and solvent evaporation and exhaust duct system as standard. The exhaust system never relies merely on convection evaporation and it can be adjusted to suit different applications.
Constant Air/Fuel Ratio
To ensure superb oven efficiency at all temperatures, all RDM gas fired ovens now incorporate this recently available feature. The output from an oven burner must vary constantly to suit the heat load or to allow warming up. This feature ensures that the combustion air volume is automatically adjusted and balanced to the gas consumption by an electronic damper motor.
Purge and Cool Timers
To ensure a safe start up and shut down sequences all RDM ovens include an electronic sequence control system. This system ensures that the heater(s) will only switch on once the fans have safely evacuated any solvent or gas fumes that may have accumulated. At the end of a shift, a simple press button initiates the controlled shut down cooling sequence, allowing the fans to cool the heaters properly prior to shutting down fully.
Feature Check List:
• Digital temperature controller
• Accurate and stable heat control
• All bolted construction - easily modified or moved galvanised and stainless steel construction
• High density mineral wool insulation
• Fully insulated heater chambers and fans
• Ample explosion relief panel work
• Air surround air seal system
• Internal door release
• Safe and adaptable control systems
• Electronic over temperature protection device
• External mounted fabricated steel doors
• Infinite range of sizes and options
• Full compliance with safety and environmental legislature
• C.E. marked and approved




Print / Download RDM Engineering 250°C 4.2m x 2m x 2.2m Electric Oven Datasheet
Additional files
Photographs taken prior refurbishment. Our refurbishment service is not available on all machines.
Machines & equipment for sale
Machine
Alert
Get the latest machines emailed directly to you as they become available to buy online sign up
Close Menu