Machines & equipment for sale
Plating Engineering Ltd Manual 35 Station Electroplating Plant for Copper, Nickel & Bright Chrome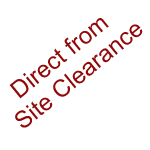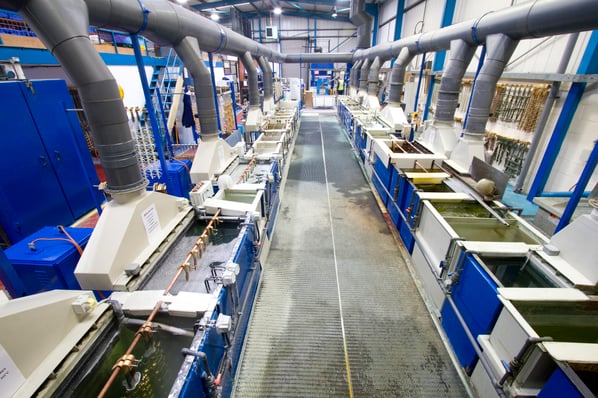 Direct From Site Clearance
Direct Site Clearance Price

[?]

Part of a Direct Site Clearance

Condition

Seen working by RSW, Good Condition

Location

Blackburn, Lancashire, UK
Stock No

AQU500

Manufacturer

Model

Manual Twin Plating Line

Year of Manufacture

2001

Serial

1201/1

Condition

Seen working by RSW, Good Condition

Work Envelope (WxDxH mm)

[?]

See Process Schedule (below & attached)

Process Stages

35

Other Info

Matching Effluent Treatment Plant Inc.

Location

Blackburn, Lancashire, UK

External Dimensions (WxDxH mm)

[?]

915 x 25,900 x 915
Description
Plating Engineering Systems Limited, Manual Electroplating Plant for Copper, Nickel & Bright Chrome - A Complete Nickel & Chrome Plating Shop. Also suitable for Satin Nickel & Bright Chrome - Electroless Nickel & Black Chrome - Electroless Nickel
Introduction
An ideal opportunity to acquire a fully equipped nickel and chrome plating shop complete with effluent treatment plant and fume extraction system.

This will be of particular interest to those companies looking to take control of their supply chains by establishing their own in house plating facility or perhaps those wishing to increase production capacity of existing facilities.
The plant is fully operational and can currently be viewed working by prospective buyers.
Apeks Marine, located in Blackburn, Lancashire are a world leading manufacturer of high quality diving equipment, regulators, and valves, which are used worldwide by both recreational and professional divers including military and emergency services.
The parent company Aqua Lung has designated the Blackburn site as its "centre of excellence" for the manufacture and surface treatment of these items and has embarked on a major capital investment programme to increase production capacity. This includes replacing the existing plating shop with a new fully automatic facility.
The existing plating shop will remain in full production until May 2022 when it will be professionally chemically cleaned and decontaminated and carefully dismantled for reuse by specialist contractors under the supervision of Riley Industries. The site will then be prepared by Apeks Marine for the installation of the new automatic plating line.
General Description
A manual plating shop manufactured by Plating Engineering Systems Limited circa 20 years ago which is still in full production and is only being replaced to facilitate increased production capacity.
Designed for the application of Bright Nickel, Satin Nickel, Electroless Nickel, Bright and Black Chrome on machined valve and regulator components. Copper plating is included as a base layer to give a good substrate for subsequent processes, the nickel plating processes provide corrosion resistance and surface levelling and are the ideal undercoat for decorative deposits due to the ease with which chromium may be applied to give the final finish.
The equipment is arranged into two process lines with the work is carried through the line manually by the operators.
There is a full fume extraction system and purpose designed effluent treatment plant.
Technical Specification
Plant Design: Twin Line Manual Plant.
Process: Nickel and Chrome Plating
Base Metal of Components: Brass
Components: Regulators and Valves
Operation: Manual
Plant Output: Variable: The plant is currently run on a single day shift with approximately two hours overtime per day so typically Apeks Marine plate for 48 hours per week. In the first quarter of 2021 a total of 501,470 components were processed in 62 days running which gives an average of 8,088 per working day.
A statement of plating plant output capacity from the seller. Below are the sizes of our smallest and largest component, we do have some components that fall in between these sizes.
Smallest = 673.78 mm²
Largest = 20719.39 mm²
Last quarter of 2021 we produced 501,470 components from 62 days which gives an average of 8088 per working day
Average number of Jigs per hour. Average 48 jigs per hour
Typical number of parts per jig. Anything between 6 parts and at most 200
The plating quality standard that you work to. We test our parts in our inhouse salt spray booth all exceed 1000hrs salt spray.
Confirmation of the working hours/shift pattern for the line. Average 48 hrs per week (Day shift with a couple of hours overtime)
The number of jigs you are including in the sale of the plan. Will need confirming at a later date.
Heating: Electric
Electrical Supply: 415v 50hz 3ph with neutral
Approx. Plant Dimensions:
Length: 18.0 Metres (Including Ancillary Equipment)
Width: 6.3 Metres
Height: 2.9 Metres (to centre line of extraction ductwork)
Principle of Operation
Components are loaded onto the plating jigs and carried from process to process by an operator.

The plating shop comprises two lines of tanks facing each other with a central two metre wide operator walkway.
The first line contains the pre-treatment processes and the second line the final finishes.
Rinsing and drag out tanks are positioned adjacent to their respective process tanks.
The effluent plant is located at the end of the shop and segregated rinse water and process dumps flow by gravity through pipes located in floor gullies to pumping sumps from where they are transferred onwards for treatment.
Technical Specification
Tanks
Line 1, Tank 1 - Hot Soak Cleaner
Line 1, Tank 2 - Hot Cathodic Cleaner with 250Amp 8VDC rectifier unit
Line 1, Tank 3 - Cold Water Rinse
Line 1, Tank 4 - Hot Anodic Cleaner with 250Amp 8VDC rectifier unit
Line 1, Tank 5 - Cold Water Rinse
Line 1, Tank 6 - Dry Acid Salts
Line 1, Tank 7 - Counterflow Cold Water Rinse
Line 1, Tank 8 - Counterflow Cold Water Rinse
Line 1, Tank 9 - Copper Plating with 250Amp 8VDC rectifier unit
Line 1, Tank 10 - Counterflow Cold Water Rinse
Line 1, Tank 11 - Counterflow Cold Water Rinse
Line 1, Tank 12 - Electroless Nickel Plating
Line 1, Tank 13 - Electroless Nickel Plating
Line 1, Tank 14 - Counterflow Cold Water Rinse
Line 1, Tank 15 - Counterflow Cold Water Rinse
Line 2, Tank 16 - Cold Water Rinse
Line 2, Tank 17 - Component Stripping Tank with 750Amp 8VDC rectifier unit
Line 2, Tank 18 - Jig Stripping Tank
Line 2, Tank 19 - Chrome Stripping Tank
Line 2, Tank 20 - Spare Satin Nickel Plating
Line 2, Tank 21 - Satin Nickel Plating with 250Amp 8VDC rectifier unit
Line 2, Tank 22 - Counterflow Cold Water Rinse
Line 2, Tank 23 - Counterflow Cold Water Rinse
Line 2, Tank 24 - Bright Nickel Plating with 250Amp 8VDC rectifier unit
Line 2, Tank 25 - Counterflow Cold Water Rinse
Line 2, Tank 26 - Counterflow Cold Water Rinse
Line 2, Tank 27 - Bright Chrome Plating
Line 2, Tank 28 - Chrome Dragout
Line 2, Tank 29 - Chrome Dragout
Line 2, Tank 30 - Counterflow Cold Water Rinse
Line 2, Tank 31 - Hot Water Rinse
Line 2, Tank 32 - Cold Water Rinse
Line 2, Tank 33 - Black Chrome Dragout
Line 2, Tank 34 - Black Chrome Dragout
Line 2, Tank 35 - Black Chrome Plating
A full tank schedule with photographs and details of each tank is available
There is a complete extraction system serving the on line process tanks fitted with rear lip extraction hoods.
Support Tanks - Line One
500 litre polyethylene nitric acid storage tanks located adjacent to the line for cleaning of electroless nickel plating stations.
1 off spare used electroless nickel plating tank is included (supplied loose).
Support Tanks - Line Two
2 Off freestanding chrome neutralisation tanks manufactured in polypropylene with nominal dimensions 915mm long x 450mm wide x 915mm deep complete with lift off lids. Manual drain valve to effluent dump pipework.
Rectification
Air and oil cooled Rectifiers (each with motorised control) as follows:-
1 off - 100 Amp 8 Volt Rectifier for Copper Plate

4 off - 250 Amp 8 Volt Rectifiers for Cleaning, Satin and Bright Nickel
1 off - 500 Amp 8 Volt Rectifier for Chrome
Air Blow - off Station
1 Off Air blow off station manufactured in polypropylene 690mm wide x 1825mm high with integral drip catchment tray and 100mm return lips. Fitted with work hanging bar and manual air gun.
Drip Shields
Adjoining tanks are fitted with polypropylene drip shields in between to stop solution spillage.
Tank Lids
Plating tanks are provisioned with a set of polypropylene lift off lids.
Air Blower
Oil free air for solution agitation purposes is generated by a motor driven BVC air blower floor mounted at one end of the line.
Ancillary Equipment
The following ancillary items are available.
1 Set Plating Jigs (number and type to be confirmed).
2 Off Motorised plating barrels with cylinder 250mm long x 140mm A/F.
2 Off Spare Filter Units
3 Off Stainless steel dipping baskets 250mm diameter x 250mm high.
5 Off Stainless steel dipping baskets 200mm diameter x 200mm high.
1 Off Polypropylene dipping basket 250mm diameter x 250mm high.
4 Off Stainless steel dipping baskets 200mm diameter x 200mm high.
Walkway
The full length of the process line is served by an operator walkway of nominal dimensions 17500mm long x 2000mm wide with 50mm side lips manufactured in polypropylene and covered with anti-slip rubber matting.
Fume Exhaust System
Scope of supply
A single fume exhaust system is installed for the in-line processes as indicated below and on the tank schedule.
The extraction system includes the following major items of equipment: -
Fume exhaust hoods
Interconnecting trunking
Exhaust Fan
Outlet stack
Item 1
-
Lip Extract Hoods - 16 Off
Rear lip extraction ducts fitted above tank rim with full width slots fitted with plenum chamber and offtake connections.
Material of Construction: - Polypropylene
Item 2 - Ductwork
15 off vertical riser ducts fitted with volume control dampers connecting into the main manifolds. Two down shop manifolds and one cross shop interconnector running at a centre line of 2900mm above factory floor level.
Material of construction: Grey PVC.
The manifolds are supported from the factory floor by painted mild steel support stanchions.
All ductwork supplied complete with supports, hangers, brackets, fasteners and fixings.
Item 3 - Extraction Fan
Centrifugal fume exhaust fan, vee driven from three phase 15kW motor complete with base frame and drain socket.
Fan casing fabricated in PVC/ GRP
Impeller fabricated in PVC.
Duty: Total air flow 5 cubic metres per second (10,595 CFM).
Support frame 1800mm long x 1000mm wide x 2000 mm high, fabricated in mild steel channel sections with painted finish.
Item 4 - Discharge Stack
Fume discharge stack rising vertically through the building roof from the fan discharge terminating with a high velocity efflux cone.
Fabricated in welded sections of grey PVC supplied with all brackets, gaskets and fixings.
Control Console
Two heating control consoles are provided, one to serve each process line. They are wall mounted and contain, door interlocking isolator, electronic temperature controllers, contactors, circuit breakers and rail mounted terminal blocks.
Electrical Wiring
All electrical wiring between the central control console and field electrical items is installed in corrosion resistant PVC or galvanised-steel cable tray suitably supported.
Mechanical Services
One set mechanical services serving the previously described plant complete with all necessary supports and brackets. Note if some pipework cannot be chemically cleaned and decontaminated to the standard necessary it will not be shipped and will need replacement on reinstallation.
What are Benefits of Hard Chrome Plating?
Hard chrome plating is an electroplating process that involves applying a layer of chromium to a surface by submerging it in a chromic acid solution.
Hard chrome increases durability, hardness, wear and corrosion resistance of metal components in order to have more effective use in machinery and equipment.
Additional benefits of hard chrome plating include:
Low deposition temperature: applying hard chrome at low temperatures ensures the properties of the substrate remain unaffected during the process.
Excellent adhesion: hard chrome has very good adherence to many metal bases and almost no risk of flaking. In order to improve adhesion, parts have to be cleaned very well.
Can be used in many base metals: hard chrome plating is applied to stainless steel and other high-alloyed steels as well as copper, aluminum, titanium, bronze, brass, and nickel.
Low friction: hard chrome plating creates very little friction when in contact with metals, graphites, carbons, and polymers. Lower friction and reduced operating temperatures prevents parts from seizing and extends the lifespan of essential equipment components.
Easy re-plating: easy to remove with stripping chemicals and replace with fresh plating.
Why Line Your Steel Tanks with Plastic?
Steel tanks are known for their high temperature ratings and mechanical strength, but many times, they cannot be used to contain plating solutions. Corrosive solutions attack steel, and lead to leaks and tank failure. The common alternatives to steel tanks are using plastics, both as liners and free-standing structures. The chemical properties of these materials protect the solution from contamination and the steel from corrosion.
These plastics can include flexible polyvinyl chloride (PVC-P) and polypropylene (PP) which are also common alternatives to steel tanks. Despite some of their preferable properties being resistant to weather, chemical rotting, corrosion, shock & abrasion, they are not resistant to all chemical applications such as more aggressive plating mixtures. PP tanks have a high fire risk if there is an elevated temperature and electric immersion heathers while polypropylene tanks are quickly combustible and difficult to extinguish.
For a guaranteed lifetime, high quality tanks lined with plastics like Polyvinylidene fluoride (PVDF), known for its robust properties, can greatly reduce the cost of the tanks over the years when the initial investment is made upfront.

Print / Download Plating Engineering Ltd Manual 35 Station Electroplating Plant for Copper, Nickel & Bright Chrome Datasheet
Additional files
Tank Process Schedule (Spreadsheet)
Photographs taken prior refurbishment. Our refurbishment service is not available on all machines.
Machines & equipment for sale
Machine
Alert
Get the latest machines emailed directly to you as they become available to buy online sign up
Close Menu