Machines & equipment for sale
Wheelabrator HB 16/22 Overhead Rail Shotblast Machine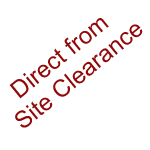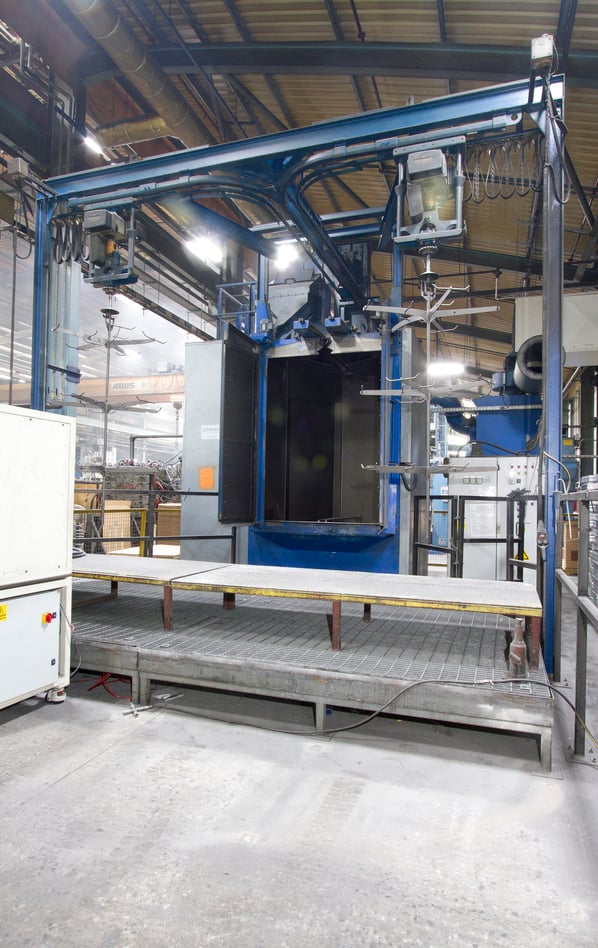 Direct From Site Clearance
Price

[?]

Please call on +44 (0) 1922 45 8000

Part of a Direct Site Clearance

Condition

Seen working by RSW, Excellent Condition

Location

Welshpool, Wales, UK
Stock No

CAS400

Manufacturer

Model

HB 16/22

Year of Manufacture

2010

Serial

601460

Condition

Seen working by RSW, Excellent Condition

Work Envelope (WxDxH mm)

[?]

1600 x 1600 x 2200

Work Handling Method

Manual Load Auto Blast

Other Info

C/W Donaldson TDS 6-R Dust Collector

Location

Welshpool, Wales, UK

External Dimensions (WxDxH mm)

[?]

5450 x 5650 x 6100
Description
Wheelabrator HB 16/22 Overhead Rail Shotblast machine
Wheelabrator overhead rail shot blast machines can be used for a wide spectrum of applications and workpiece shapes and sizes.
Applications include blast cleaning welded steel fabrications, deburring and homogenising diecast parts, and peening dynamically stressed components. Batches of small components or singular large, heavy workpieces can be treated.
This flexibility is achieved by several special features:

Blast wheels
TITAN blast wheels provide a very efficient abrasive pre-acceleration, which allows for short treatment times, high performance
and a superior blast process.
Rotation and oscillation
To achieve complete coverage, the workpiece carrying hooks rotate and stop automatically at three different points in the blast cabinet.
This rotation and oscillation process means that even highly complex workpieces, with hard to reach surfaces, can be safely and accurately treated. (See picture of rotation and oscillation on the right).
Characteristics
• Versatile transport technology
• Highly efficient blast wheels
• Multiple machine sizes and variations available
Applications
• Removal of mill and forge scale as well as rust
• Removal of burrs and scales
• Increase of surface roughness
• Shot peening to increase fatigue strength
Workpiece Dimensions
Max. Ø: 1,600 mm
Max. height: 2,200 mm
Max. workpiece-/hanger weight: 800 kg
Method of operation
The workpieces are directly hung on the rotating hooks or on support hangers. These are pushed to the drag unit just in front of the blast chamber. From here, the rotation hook is automatically dragged into the blast chamber.
After the hook is in the chamber, the door is closed by an electric motor and locked electro- pneumatically so that an unauthorised opening during the blast cycle is prevented (Alternatively, the machine can be supplied with manual door operation).
The blast cycle is running according to the pre-selected blast time and the blast cycle's ending is optically indicated.
After the standstill of the turbines the door is opened so that the workpieces can be dragged in resp. out; the blasted hanger will be dragged out automatically.
The dust produced during the blast process is exhausted by a filter unit and then separated.
Blast chamber
in welded construction, made of manganese steel. In the zone of direct impact the chamber is exclusively lined with replaceable scaly arranged wearing plates from manganese steel. Hung in at the side wall and the bottom, screwed below the top.
A motor-driven double swinging door is installed at the front of the chamber. This door is made of steel plate and protected by rubber against wear.
Incl. electro-pneumatic safety locking.
Due to the operation of the door by motor drive the following automatic process is given:
Drag in, doors close, blast, doors open, drag out.
The blast chamber roof is slotted for the movement of the rotating hook and is sealed by a combination of a rubber gasket and brushes as well as a manganese hard steel labyrinth. The overhead rail system and the device for rotating and dragging the hanger are held by a support steel construction which is mounted on the roof of the blast chamber.
Abrasive collection hopper
made as well of manganese steel, mounted directly below the blast chamber with screw conveyor, protected by a grid cover. The screw conveyor is driven by the gear motor of the bucket conveyor.
Bucket elevator unit
with upper and lower roller stations in dust-proof bearings, bucket elevator belt of synthetic fibre with buckets retained by special screws, upper belt tensioning unit and a geared motor as drive with brake unit. Including rotating control in order to avoid a flooding of the abrasive flow.
Abrasive reclamation unit and silo
designed as cascade wind sifter with adjustable retaining flap for achieving a constant thin veil of abrasive as well as an air regulating flap for the regulation of the air washing intensity with mounted deflecting separator for separation of coarse blown off particles.
The particles which are carried of by the air flow and being separated by the deflector fall through a hose with lip-type valve at its end into a customer-provided container.
The abrasive falls down into a silo which is covered by a perforated sheet for separation of bigger particles. This silo forms the bottom part of the reclamation unit, and its level can be checked through a vision window.
Maintenance platform
as an access to the abrasive recycling. Execution according to UVV with cover plate. Rail made of square pipes, falling protection and ladder.
Abrasive control units
Dosing units for the ROTO-JET turbines. Executed as closed steel housing with lockable inspection opening. The control unit which interrupts the abrasive flow is manufactured of hardened manganese steel and is equipped with two bearings. The abrasive quantity is being controlled by a manually adjustable stop screw and is indicated at the ammeter at the electrical switch and control box. In order to be able to dismount the abrasive control unit from the silo for repair works and to avoid any abrasive outflow for each unit one manual slide is installed in front of the abrasive control unit.
ROTO-JET Turbines type 15.3
in double disk design, equipped with 8 insertable throwing blades each and central mechanical abrasive pre-acceleration. The high quality welded housing is completely wear resistant lined and equipped with robust bearings in well proportioned dimensions.
The faces are protected with hardened plates produced of tool steel. The blast wheel can easily be dismounted on the side of the feeding pipe without detaching the motor.
Overhead rail system
in Y-shape according to the offer drawing. With point switch changing automatically, rail profile, steel- and support construction which is designed for a load of max. 800 kg for each hook.
Rotation hooks
with two easy running bogies, connected by traverses, with loading hook and sealing cap in manganese hard steel as protection against wear.
Loading capacity: each max. 800 kg
Hook drag and rotation unit
mounted on the roof of the blast chamber. For dragging in and -out and for an equal rotation of the hooks in front of the turbines.
Oscillation device
The rotating hanger moves into the first blast position, then into the central position and after that into the third blast position. The positions can be modified up to 2 x 150 mm by means of flexible limit switches in a C-rail.
Electric and pneumatic switch and control unit
for the central control of the machine via a PLC type Siemens S7-300 with a
CPU 313C. With Automatic Star-Delta switching for all motors exceeding 7.5 kW power with all the contactors and protection for the direct switching of all other motors installed as well as ammeters for controlling and adjusting the ROTO-JET turbines.
The control of the machine is made by means of a Siemens Touch Panel KTP 600 and by means of push buttons for actuations which are required for every operating cycle. All fault and operating notifications are indicated at the KTP 600.
20 blasting programs can be stored and directly selected.
The control can be switched from automatic to manual mode. In automatic mode all aggregates are starting successively by pushing one button. In manual mode all relevant aggregates can be operated individually in short operation (tip-switch) for checking and adjusting work.
Technical Data
Characteristics of the installed turbines:
Number: 3 pcs
Type: 15.3
Number of blades: 8 pcs, pluggable
Width of blades: 65 mm
Abrasive pre-acceleration: centrally mechanically by impeller
Abrasive throwing speed: approx. 75 m/s
Installed electrical power:
3 turbine drives each 7.50 kW 22.50 kW
2 hook rotation drives each 0.12 kW 0.24 kW
1 bucket elevator 3.00 kW
1 filter ventilator (dry filter) 5.50 kW
Total approx. 32.00 kW
Dimensions and other additional Information
Stated work envelope: Diameter 1600 x 2200
Actual Internal: 2200 deep 1700 wide door opening 2300 max drop.
Ø1300 x 2200 drop
Double front door
Loading platform
3 wheels left hand each 7.5kw
Left hand access door/acoustic over blast wheel.
External Dimensions Approx.
4 metres wide plus Dusty @ 2m = 6m
5 metres deep + load platform 4m = 9m
+ Y Track loading 6.5m high (when assembled)
Donaldson Torit DCE TDS 6R Dust Collector
The Donaldson Torit DCE TDS reverse jet cartridge filter plant is robustly constructed from 3mm mild steel plate fully welded, and designed to operate in heavy or light duty applications.

Filter cartridges are vertically located within the filter cell. Compressed air is fed from a blow tube and compressed air tank located on the clean side of the filter, directly down each cartridge offering an efficient method of removing the dust cake built up on the filter media surface.

Various cartridge media types can be applied from Ultraweb, Spun Bonded Polyester to Hemi-Pleat elements with dust carry over levels as low as 1mg/m3 being achievable.

Dust which has either been separated by the pre-settlement chamber or from the filter cell following pulse cleaning is channelled via a hopper section with support steelwork to a single flanged outlet with reed discharge valve

The Discharge valves can be applied to basic collection bins with bin liner option or to the customers own catchment bins.

Key Features:

• Heavy duty welded construction
• Nominal extraction rate 4000cfm
• Filter areas up to 126 m²
• Various filter media's available: UltraWeb, Spun Bonded Polyester, Hemipleat, Tetratex etc, to suit a wide range of applications.
• Compressed air cleaning 24 hour per day operation
• Pulse on demand air saver technology
• Clean side accessible filter removal
• Integral fan-set options
• Acoustic diffuser silencer
• Indoor/outdoor location suitable
• Hopper and support steelwork
• Dust collection bucket

Technical specifications:
6 Pleated cartridges fitted
7.5kW Fan
Dimensions- W x D x H main unit - 1800 x 1450 x 3250 mm

Print / Download Wheelabrator HB 16/22 Overhead Rail Shotblast Machine Datasheet
Additional files
Photographs taken prior refurbishment. Our refurbishment service is not available on all machines.
Machines & equipment for sale
Machine
Alert
Get the latest machines emailed directly to you as they become available to buy online sign up
Close Menu