Machines & equipment for sale
Surface Finishing Equipment Ltd. Twin 55kW Centrifugal Fans and Control Panel Originally from Vertical Fume Scrubber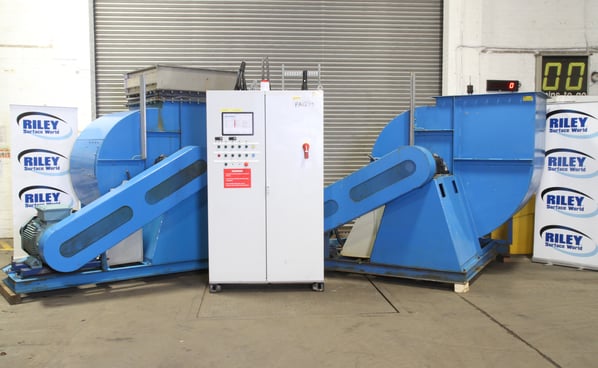 Stock No

FA127S

Manufacturer

Model

Parts of Rolls Royce Packed Tower Fume Scrubber

Year of Manufacture

2015/16

Serial

AAC15/2478

Condition

From a working environment, Seen working by RSW, Excellent Condition

Approx Duty CFM / M³/Hr

35,000 CFM // 59500M3h each

Filter Area ft² / m²

To customer design

Other Info

Valuable part build into fume extraction

Location

Our Central Warehouse, Aldridge, UK

Weight (kgs)

1900

External Dimensions (WxDxH mm)

[?]

3230 x 2210 x 2500
Description
55kW Fans to suit fume scrubber or large dust extraction system
Fan Detail
TWIN FANS - CAPACITY OF EACH DETAILED BELOW
Manufacturer: Gas & Industrial Fans Limited
Serial no: AAC15/2478
Customer ref: 2273/KD/1273
Fan size: 11100 BL100
Fan duty: Volume: 35,000 CFM
Pressure: 6" SWG
Fan Speed: 1080 RPM
Fan Weight. 1900kgs
Manufactured. August 2015 - Commissioned 2016
Originally Supplying
The details below are of the fume scrubber these fans were
originally

supplying. This information is provided as context for the use and capacity of these fans

35,000 CFM Capacity Fume Scrubber Unit with Horizontal Eliminator

** ALL DIMENSIONS AND DUTIES ARE APPROXIMATE AND NOT FOR THE PURPOSES OF CONSTRUCTION DESIGN **
This unit was originally supplied to service four process lines with over 60 stations, for the cleaning of aircraft engine components, turbine blades and auxiliary parts.
The unit design was to neutralise fumes based on Hydrofluoric acid/Nitric acid and other noxious fumes from the cleaning processes.
This unit may be used to recycle and treat fumes in a multiple range of finishing processes including the neutralisation of Cyanic gases and fumes.
The scrubber TOWER is 4,750 Ø x 9,850mm overall height, supplied in (5) flanged sections
Fume INLET velocity of 1,150 ft/pm,
TOWER velocity of 45 ft/pm, with 1,000 ft/pm
OUTLET velocity through the double bank eliminator blades, the internals probably comprise of a bed (2m) deep of random packed "Raschig" rings sprayed from above with neutralising solution, probably in the ratio of 350 to 500 gallons per minute. All control system supplied and installed by PDS- Coventry.
TOWER VELOCITY
The TOWER VELOCITY of this unit is set to 45 ft/min. This is less than half the rate of air movement, of a typical Fume Scrubber design which operates more typically at 100 ft/min.
The half speed operation of this unit is hugely advantageous and can only be of real benefit.
The slower speed of the air moving through the scrubber is created by manufacturing a TOWER that is generally twice the diameter of a standard TOWER, with a similar CFM capacity. This significant increase in size results in giving the contaminated air being treated within the TOWER, twice the exposure to the neutralizing/cleaning solutions.
Even problematic gases such as Cyanic, are able to be converted /neutralised to discharge standards, due to this elongated digestion/ process time.
FUME INLET & OUTLET VELOCITY
The fume INLET velocity of this unit is set to 1,150 ft/min. The normal rate of a standard size unit would be 1,500/2,000 ft/min.
The depth of packing of the "Raschig" rings at 2,000 mm deep (normally 1,000 – 1,500mm) results in greatly increased wetted area within theTOWER.
The chosen neutralising solution is sprayed against the contaminated air flow.
The contaminated air within the chamber is drawn through the contorted path and wetted by the opposing neutralising spray. Resulting in greatly improved conversion to cleaned/neutralised air.
The packing is essentially being sprayed from above by a suitable identified neutralising solution.
In summary half the speed plus double the packing results in significant improvement in the air scrubbing action.
Fans and Solution Pumps
There are twin fans within the system which deliver a duty and standby process.
There are constructed with Stainless Steel shafts and Impellors with mild steel externally painted bodies.
Each pump delivering neutralising spray are both A) and B) @ 7.5kw each.
The system also has a back up pump C) in case of failure.
Control panel
The control panel was manufactured by Process Development Services Limited.
The company is no longer operational; however, we have the relevant digital documentation, including a full set of electrical drawings.
We also have the contact details of the original control panel design engineer - Paul Stuart – who is UK based, formerly employed by Process Development Services Limited.
** ALL DIMENSIONS AND DUTIES ARE APPROXIMATE AND NOT FOR THE PURPOSES OF CONSTRUCTION DESIGN **
TOWER external Ø 4750mm
TOWER is made up of 5 sections plus top
Section A) Base Ø 4750 x 1850mm High
Section B) Next Ø 4750 x 2000mm High
Section C) Base Ø 4750 x 2000mm High
Section D) Base Ø 4750 x 2000mm High (a little less)
Section E) Base Ø 4750 x 1850mm High
Total: 9850 mm High
Fume/Dirty INLET- 2500 x 1100mm.
OUTLET includes horizontal eliminator.
Down to twin fan sets 55kw, 35,000 CFM each.
Plus, Exhaust chimneys.
Currently in a bunded outside plinth - 9,000 x 20,000 (W x L) mm external.
Acoustic Panels: 1250 x 4150mm (H x L) x 9 layers high (Currently Not included – May be available by separate negotiation).

Print / Download Surface Finishing Equipment Ltd. Twin 55kW Centrifugal Fans and Control Panel Originally from Vertical Fume Scrubber Datasheet
Additional files
Photographs taken prior refurbishment. Our refurbishment service is not available on all machines.
Machines & equipment for sale
Machine
Alert
Get the latest machines emailed directly to you as they become available to buy online sign up
Close Menu