Machines & equipment for sale
Equipment Support Company Large Target Conformal Coatings Sputterer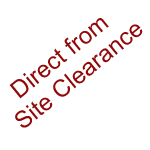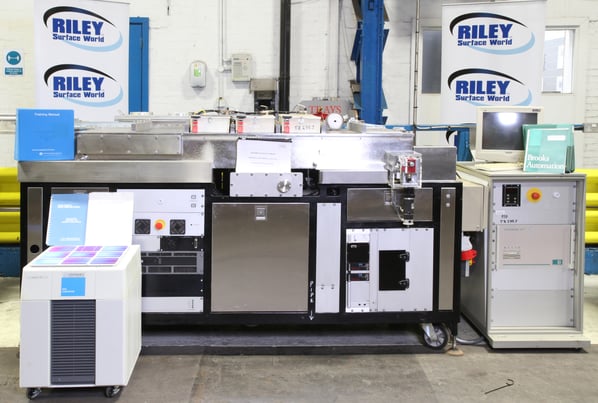 Direct From Site Clearance
Direct Site Clearance Price

[?]

Part of a Direct Site Clearance

Condition

From a working environment, Excellent Condition
Stock No

TZ275J

Manufacturer

Model

ELAS RF/DC

Condition

From a working environment, Excellent Condition

Work Envelope (WxDxH mm)

[?]

1800 x 700 x 177

Process Stages

Multiple passes in single process step

Other Info

Target 450 x 450mm. Used for R&D Only

Location

Our Central Warehouse, Aldridge, UK

Weight (kgs)

1450

External Dimensions (WxDxH mm)

[?]

2000 x 2600 x 1500
Description
Equipment Support Company Elas RF/DC Sputterer
The ESC ELAS RF/DC Sputtering System is designed for high-rate DC Magnetron Deposition and, in addition, for RF Magnetron and RF Diode operation.
High-rate DC Magnetron sputtering, single-pass or multiple-pass deposition and the dual­ level high vacuum pumped load lock make the ELAS a versatile high throughput in-line production system.
The ELAS is completely computer controlled, and offers advanced mechanical and electrical features which result in excellent process control with immediate notification of out-of-preset-tolerance performance. The microprocessor's hard disk guards against
inadvertent loss of process programs and the interactive touch screen display allows for easy operator input and monitoring of process parameters. The system is flexible enough to accommodate multiple processes and is highly reliable and easy to maintain.
The scanning mechanism is designed to operate bi-directionally, left or right, and is also capable of multi-pass deposition. Scanning speeds are in the range 3-350 cm/min. with 0.1 cm/min. steps.
The ELAS features:
High vacuum in load lock
Bi-directional scan
Multiple passes in a single process step
In-process radiant heater
Bi-directional scan
Multiple passes in a single process step
In-process radiant heater option
Ether net connectivity
Auto cryo regen-programmable
Vacuum controller with programmable set points
This event is a complete working cell of equipment used in the manufacture of the BP Solar Saturn Cell (Laser Grooved Buried Contact) for solar concentrator systems by Solar Capture Technologies, UK. This successful R&D process is now being industrialised and this unique collection of machinery is surplus to requirements.
Significant Benefits for you
Huge price discount compared to new
Available now - No manufacturer lead times
Moved to our central warehouse for convenience of sale and viewing

Individual pieces or full cell available to purchase
// Available as a whole for discounted cost of just £175,000 including spares //
// Individual machinery pieces listed for a total £300,000. Priced to sell! //
// Mesh belt furnaces by separate negotiation //
Standard Elas Specifications Summary
Chamber
Rectangular, heliarc welded.
Material:16 mm 304 stainless steel plate.
Viewing port: Pyrex window
Pump-out Port: 225mm diameter.
Size: 177 mm High x 700 mm Length x 1800mm Wide
Cover: Top plate hinged at rear and hydraulically lifted.
Load Lock
Two-level elevator, non-coated pallets are loaded on the upper level; processed pallets unloaded from the lower level, Access to pallets is through a door on the front of the load lock chamber. The door is sealed by Viton O-ring.
Feedthrough: Linear bellows, Magnetically coupled feedthrough.
Drive: Hydraulics; low pressure drive.
Motion: Vertical motion accomplishes to position the pallets for loading and unloading.
Controls: Fully-automatic computer controlled.
Timing: Venting, unloading, reloading and re-pumping of the load lock occur while the pallet min the chamber is being coated.
Pallet
Square, flat pallet (supplied with system). Pinned pallets are recommended for scan speeds in excess of 75 cm/min.
Material: Stainless steel.
Capacity: 6 - 150mm diameter wafers
4 - 200mm diameter wafers.
Coating Speed: 3-350 cm/min, bi-directional.
Vacuum System - Main Chamber
High Vacuum pump: CTI-10 Cyro Pump
Etch Platform
Moves vertically to engage/disengage the pallet (supplied standard).
Cooling: Water-cooled.
Material: Stainless Steel.
Seals: Viton O-rings and bellows; no water-to-vacuum seals .
RF Generator
1KW continuously-rated and specifically designed for sputtering applications.
Operates on the ISM frequency of 13.56 MHz and is designed to meet or exceed FCC and OSHA specifications,
as well as those of the Verband Deutscher Electrotechniker e.v. (VOE). 3 and 2 kW power supplies optionally available.
System Dimensions
Exclusive of DC Power Supply, Mechanical Pump and cryo-pump compressors.
Width: 2000 mm
Height: 1500mm
Depth: 2600 mm
Weight: 1,450 kg
System Performance Specifications
Process Parameter Control Ranges:
Minimum Maximum Units
Sputtering Pressure 1 90 Millitor
Scan Speed (bi-directional) 3 350 cm/min
DC Sput 100 12,000 Watts
RF Sput 0.02 2.10 KV
0.1 2.00 kW
Etch Revel 0.02 1.50 KV
0.1 1.50 kW
Mechanical Construction
The ELAS system has a horizontally-oriented vacuum chamber, approximately 2000 mm wide x 1500 mm high x 2600 mm deep. The top plate is hinged in the rear and opens to provide full access to the chamber interior.
The chamber is heliarc-welded of 16mm stainless steel (304). The load lock is mounted at chamber left. Four cathode assembly positions are provided on the top plate.
The high vacuum pumping stack mounts at the 1O" diameter port in the centre of the clamber base plate. The etch station is located to the right of the high vacuum stack. A large viewport is provided on the right side of the chamber.
Material Handling System
The ELAS is a two pallet system; i.e., one pallet of substrates is processed while the second undergoes pump down or venting in the load lock. When the first pallet has completed the deposition process and the load lock has been evacuated, the two pallets are automatically exchanged in the system; the pallet that has been coated is transferred to the load lock, while the fresh pallet is transferred to the main chamber. After the load lock is vented, the coated pallet can be removed and a fresh pallet placed inside. With a pump down reinitiated, the cycle is complete.
Pallet
Pallets are held within the ELAS on a square-shaped pallet carrier. Pallets are 458mm square by 4mm thick.
Deposition System
Sputter Positions
The ELAS system has positions for three sputtering cathode/target if fewer than three cathodes are installed, the unused positions are blanked-off.
At each of the four positions the following modes of sputtering are available:
DC Magnetron
RF Diode
RF Magnetron
Control System
The ELAS control system is located in the lower right hand section of the lower frame. The centre sections houses a tilt-out operator control console.
The ELAS utilizes a Brooks Automation based computerized control system with a colour touch screen mounted in the tilt-out operator control console. Pass word protection is standard. The microprocessor-controlled system assures performance reliability and repeatability and enables complete system monitoring. Pre-programmed processes may be called automatically by specifying a desired program and depressing the start key on the console screen.
The operator may create programs using a Process Menu listing program steps:
1. Sput 1
2. Sput 2
3. Sput 3
4. Etch
5. Chamber pause
6. Etch pause
7. Heat (Option)
8. Hi-Vac
9. Co-sputter (Option)
Any combination of steps can then created operator determines the process parameters The tilt-out diagnostic panel provides control of the vacuum valves (gate, rough, vent, etc) as well as most mechanical motion. The panel has meters for DC, RF and Heat, and also has controls for adjusting RF matching input capacitors.

Print / Download Equipment Support Company Large Target Conformal Coatings Sputterer Datasheet
Additional files
Solar Panel Wafer Manufacturing Process Equipment
Photographs taken prior refurbishment. Our refurbishment service is not available on all machines.
Machines & equipment for sale
Machine
Alert
Get the latest machines emailed directly to you as they become available to buy online sign up
Close Menu