Machines & equipment for sale
Pollution Control Products Pyrolysis Organic Coating Cleaning and Burn Off Furnace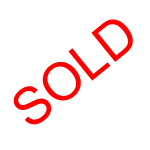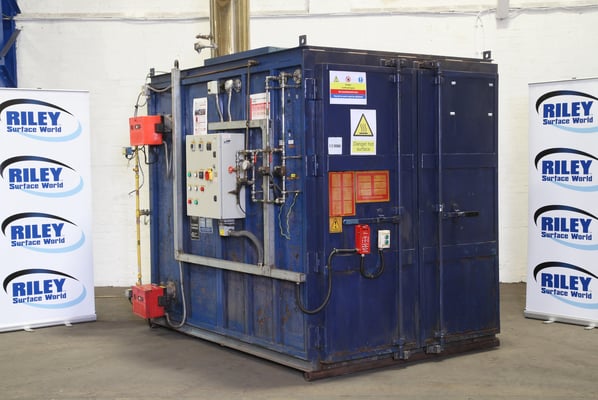 Stock No

OZ2124

Manufacturer

Model

PTR 150

Year of Manufacture

2007

Serial

1345

Condition

Excellent Condition

Internal Size (WxDxH mm)

1300 x 1520 x 1600

Max Temp

Primary 480°C, Secondary 850°C

Other Info

Exceptional Condition

Location

Our Central Warehouse, Aldridge, UK

Weight (kgs)

1690Kgs

External Dimensions (WxDxH mm)

2030 x 2560 x 2190
Description
This is a modern second hand Pollution Control PTR 150 fully automatically controlled pyrolysis gas fired cleaning industrial furnace that is designed to remove cured organic coating such as hydrocarbon coatings from metal parts (jigs, fixtures, hanging trees, hangers, or component parts etc.
Scope of use:

Burn-Off Ovens are a specialised type of process equipment specifically designed to remove organic material from metal parts.

These ovens operate at temperatures of 600 to 900ºF (315 to 482ºC) inside the primary cleaning chamber.
The primary heat input burner fires into a combustion chamber, which contains the flame so that only heat is
discharged into the work area containing the parts so no flame actually contacts the parts.

Other than the air required for combustion of the input burner fuel, no additional air is added to the oven. Therefore, the oxygen content within the oven is reduced to a level which prevents the material from catching fire.

The heat causes the material to decompose into smoke and pyrolysis gases. These gases are then drawn through the afterburner to be burnt off and completely eliminate any harmful emissions from being discharged out of the exhaust stack. The gases are discharged safely to atmosphere, which consists primarily of water vapour and carbon dioxide, which are invisible, odorless and harmless.

Technical specifications:

Afterburner input 58 kW Primary burner input 58 kW, Nat Gas 18mbar input 10m³/hr.
Controls inculde: digital furnace temperature & set point, digital stack temperature & set point, Over temperature water spray system with timer, plus process cycle timer.
PCPC's Controlled Pyrolysis® models have a highly effective patented system that anticipates and prevents overheating. The ovens have a highly sensitive control system for added protection and operational flexibility. These furnaces can remove the same combustible materials as Dry Cleaner models, but in greater quantities: 2% to 15% by weight.
Controlled Pyrolysis Cleaning Furnace
Process details
Included in the oven are primary and back backup water spray systems with multiple built in safety features.
Located in the afterburner stack, this sensitive system monitors the rate of smoke emission from the parts by measuring the stack temperature. When the stack temperature reaches a preset point, the stack controller turns on a water spray mist to cool the parts, lowering the smoke emission rate before it reaches an ignition state. The water spray also activates if the oven temperature exceeds its set-point temperature by 30°C.
A backup water spray activates should the water spray nozzles become clogged or malfunction in anyway. Additionally, a manual-reset high limit temperature controller turns off the primary burner if the oven temperature controller should fail.
Controlled Pyrolysis® Model Features
Patented Controlled Pyrolysis® Water Spray System controls the rate of smoke emissions preventing damage due to ignition or over-heated in the furnace.
The natural gas Riello 40 Primary Burner heats the cleaning chamber to 800°F (427°C). Volatile materials are driven off as smoke. The burner flame is confined to the combustion chamber never touching the parts.
The natural gas Riello 40 Afterburner operating at 1400°F (760°C) burns the smoke consuming the pollutants, leaving only invisible, odorless and harmless water vapor and carbon dioxide to exit the exhaust stack.
Diagnostic Panel indicator lights reflect the operational status of the oven and its controls. Indicator light failure pin-points the problem.
Specifications and Data
Cabinet: Heavy-gauge sheet steel supported by structural steel angles and channels. All-welded construction with sealed seams to prevent leakage give maximum fuel economy.
Floor: Hard castable refractory, reinforced with structural steel channels. Allows easy removal of ashes.
Doors: Equipped with cam-type lock assemblies with safety interlock fitted, tadpole sealing gaskets and open to approx. 270° for easy access.
Explosion Relief: Unique gravity-sealed top relief automatically opens to relieve excess pressure, then closes, preventing air from reaching combustible material.
Insulation: Walls, ceiling, and doors covered with two-layered lightweight ceramic fiber blanket insulation anchored on stainless pins, wire mesh and locking washers. Contains no asbestos. Perforated metal liner protects insulation from mechanical damage. Furnace insulation rated at 2300°F (1275°C).
Vent Stacks: Made in long lightweight sections for easy erection. Stainless steel metal exterior lined with high-temperature ceramic fiber in hard form. Sections snap together.
Fuel: Natural gas
Electrical Service: 50-60 hertz, 240V single-phase.
Water Supply: Minimum pressure 40 psi; maximum 100 psi for water injection system. Maximum flow rate 5-7gpm (liter/min.)
Normal Cycle time: 3-5 hours plus cooling time. Timer adjustable 0-12 hours with dual frequency dial for 50 and 60 hertz. (Automatic features available)
Normal Cycle Temperature: 750°-800°F (399-430°C)
Pollution Standards: Meets latest E.P.A. Standards.
Safety and Health Standards: Meet latest O.S.H.A. Standards.
Anti Corrosive Vapor Barrier: Prevents corrosive vapors from condensing on inside furnace walls. Greatly extends useful life of furnace.
Combustion Chamber Protection Guard: A heavy-duty steel barrier, built around the upper and lower combustion chambers, protect from errant or careless loading.
Commercial Riello Gas Burners: Designed specifically for incinerator and other similar applications.
Features including superior no-clog nozzle design, easy maintenance, and heavy-duty construction. Burners are equipped with a patented automatic self-cooling system that inhabits burner damage.
Includes:
Afterburner input 58 kW Primary burner input 58 kW, Nat Gas 18m bar input.
Controls include: digital furnace temperature & set point, digital stack temperature & set point, Over temperature water spray system with timer, plus process cycle timer.

Print / Download Pollution Control Products Pyrolysis Organic Coating Cleaning and Burn Off Furnace Datasheet
Additional files
Photographs taken prior refurbishment. Our refurbishment service is not available on all machines.
Machines & equipment for sale
Machine
Alert
Get the latest machines emailed directly to you as they become available to buy online sign up
Close Menu