Machines & equipment for sale
CC Hydrosonics Solvac 1000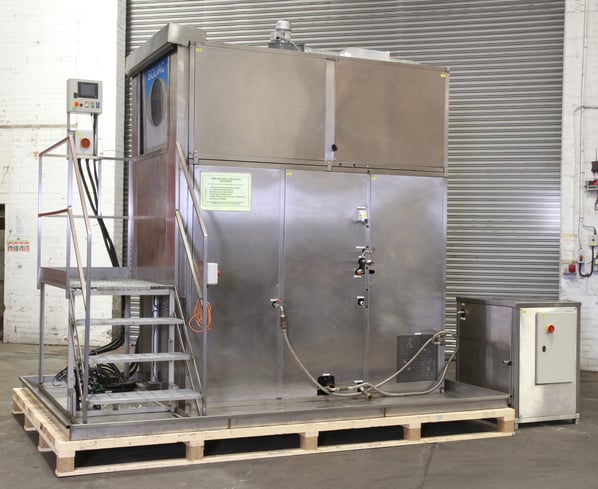 Stock No

DY1291R

Manufacturer

Model

Solvac S1000

Year of Manufacture

2007

Serial

489072007

Condition

Excellent Condition, Seen powered at RSW

Work Envelope (WxDxH mm)

[?]

800 x 780 x 270 (liquid depth 450 mm)

Process Stages

3 Stacked USC Immersion vapour rinse/dry

Other Info

Formeca Solutex Distiller Included

Location

Our Central Warehouse, Aldridge, UK

External Dimensions (WxDxH mm)

[?]

3600 x 2250 x 3000
Description
CC Hydrosonics Solvac S1000 Cleanseal Ultrasonic Solvent Degreaser
The Solvac S1000 Mono-Solvent system manufactured by CC Hydrosonics has three vertically stacked process stages comprising:-
A) Ultrasonic immersion cleaning
B) Followed by vapour phase rinsing
C) Freeboard vapour drying.
D) Additional optional hot air drying
The Solvac S1000 enclosed machine has been designed to meet the rigours of a production cleaning environment. They feature superior, ultrasonic cleaning performance, high throughput capability, outstanding solvent efficiency, Mitsubishi PLC full system control offering automated process control.

'Cleanseal' machines incorporate isolation chamber technology to ensure maximum operator safety and their flexible design means that they are suitable for use with a range of non-flammable solvents such as perchloroethylene, methylene chloride, HFE and HFC.

At the heart of the 'Cleanseal' machine is the ultrasonic, immersion cleaning process capable of satisfying even the most demanding, precision cleaning applications.

'Cleanseal' machines are designed to ensure minimal solvent emissions to atmosphere, making them safe for the operator and the environment. Not only that, they have one of the smallest carbon footprints in this class of equipment.

This process is intended for applications with light to medium contamination levels and typical applications include, precision cleaning of bearings, aerospace and medical components, cleaning of pneumatic and hydraulic components and, in the electronics sector.

The Solvac S1000 ultrasonic cleaning and vapour degreasing machine comprises of a single stacked immersion processing sump and includes an offset vapour generator sump to produce a constant layer of controlled vapour for rinsing with freeboard vapour dry.
Physical cleaning tank wall to wall 800 deep and 810mm wide

Features and benefits of the Solvac S1000 range

The machine is fitted with 2 x powerful Martin Walter Powersonic MW1500 30kHz ultrasonic generators with push pull transducers

The Solvac S has proven solvent retention features that provide economic benefits as well as effective use of HFE (hydrofluoroether) or HFC (hydrofluorocarbon) solvents.

Solvent retention features of the Solvac S include a double refrigerated system with coil reflux vapour control, vapour break, 100% freeboard, auto top-up and solvent monitoring. These ensure that system is safe and complies fully with the current environmental and safety legislation.

These design features also mean that Solvac S systems are able to operate with, predictable low solvent usage and running costs.

Typical Applications

Aerospace
Automotive industry
Surface treatment industries
Trade coatings
General manufacturing
Additional Information from the seller
There is one main tank for submersion with an adjacent boil sump.
There are Ultrasonics.
It is still full of Perc and operational so you can see it running (see video)
The approximate Perc usage is 9 to 10 barrels of 200 litres per year. (3,000 kg) Based on running 24 hours 6 days a week.
Some of our components pull out quite a bit of solvent which increases the usage.
It is possible to keep below the 2,000 kg usage, without a permit, with less usage and good management.
The post is just an anchoring point for a harness if you need to lean into the tank.

The basket depth is 270mm. It is 780mm deep and 800mm wide.

The liquid/working depth is approximately 450mm from the heaters to the boil sump lip.
Useable wall to wall internal dimensions are 800 deep and 810mm wide. This is just a small amount bigger than the basket as it needs to miss the primary and secondary coils.
The hot air drier uses a tank of heated water that is then pumped through a fan assisted radiator. The tank needs a water supply.
It cannot be moved in one piece. It will need to be partially dismantled. It looks like the "top half" comes off.
The size of the core enclosure of the machine is 2.5m deep x 1.4m wide x 2.96m high
The lowest structural beam we have enroute to the exit is 2.78m high
A FORMECO Distiller is included with this unit. Please see model number, KW rating, Year of Manufacturer and a short description below. Images are also included of this unit.
Type: SVM25AXC2U 2KW 2007
MICROPROCESSOR BOARD HSE 002 / V20 SOLUTEX
TECHNICAL DATA

Installed electrical power

Heaters

kW

2

Control Board

kW

0.75

Installed total power

kW

21

Electrical supply

Three phase

Volt

400

Frequencv

Hz

50

Electrical supply for boiler lamp

Fuses

A

---

Electrical box for aux. supply

Fuses

A

6.3

Installed power

Tot.

A

6

LOADING VOLUME

Boiler loading

Maximum volume

Litres

25

Max. % of residue

15%
2. FRONTAL OF THE CONTROL BOARD
1) Compressed air pressure control gauge Pl-AC.
Shows the pressure in the compressed air circuit of the unit.
2) Distillate vapours thermometer Tl-VS.
Shows the temperature of the vapours produced during the distillation.
3) Diathermic oil thermometer Tl-O.
Shows the temperature of the diathermic heating oil.
4) Control board QC.
On the control board are the Main Switch and the program buttons for setting the process parameters.
5) Cooling water pressure control gauge PI-W.
Shows the pressure in the cooling circuit
** Full operating manual and electrical drawings are available **

Print / Download CC Hydrosonics Solvac 1000 Datasheet
Additional files
Photographs taken prior refurbishment. Our refurbishment service is not available on all machines.
Machines & equipment for sale
Machine
Alert
Get the latest machines emailed directly to you as they become available to buy online sign up
Close Menu