Machines & equipment for sale
Plating Engineering Ltd 9 Station Stainless Steel Pre-Treatments Plant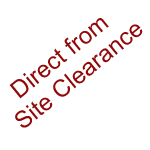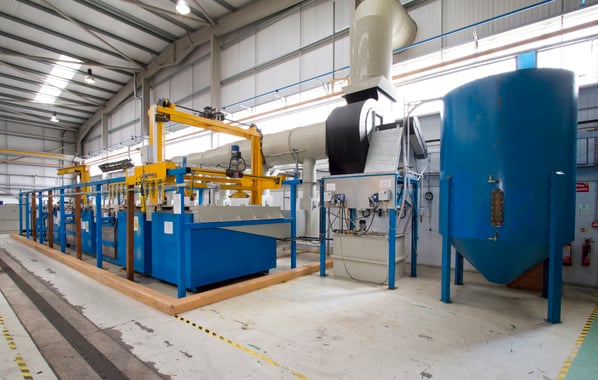 Direct From Site Clearance
Direct Site Clearance Price

[?]

£ 27,500 (+ VAT)

Clearance ends

09 January 2019 15:01 GMT while stocks last

Part of a Direct Site Clearance

Condition

From a working environment

Location

Aberdeen, Scotland, UK
Stock No

HUN400

Manufacturer

Model

Single Transporter Plant

Year of Manufacture

Oct 2011

Serial

2622

New or Used

Used (Second Hand)

Work Envelope (WxDxH mm)

2000 x 1200 x 1220

Process Stages

7

Other Info

Little used and in excellent condition

Location

Aberdeen, Scotland, UK

External Dimensions (WxDxH mm)

4600 x 20000 x 3500
Description
Plating Engineering Ltd 9 Station Stainless Steel Pre-Treatments Plant
This modern little used 7 process station Stainless Steel Pre-Treatments Plant, can be employed for a number of post and pre-treatments in the surface finishing industry. Simple process such as soak and electro-cleaning, through to zinc phoshating can be applied with this common line up of heated and cold water rinse process tanks.
This system, was designed, constructed and installed by Plating Engineering Ltd and comprises of seven stainless steel tanks, each designed to hold approximately 4m³ of solution. Automation from the PLC controls the movement of a rail mounted strap crane, which is rated to 500kg capacity and moves the parts basket between the tanks at the correct time intervals.
The process treatments plant is complete with chemical dosing systems for treatments stations, both electrical and gas fired heating systems, chemically resistant fume extraction plant with monitoring and a pH adjusting, sludge compaction effluent system.
The original use of the plant was tailored for the use of manganese phoshating of oil industry drill couplings to effectively perform against the key areas of anti-galling, corrosion protection, and friction protection. The owner company Hunting Energy services, then went on to develop a new and innovative specialist process called Hunting Clear-Run® contributing in making this in-house manganese process redundant after only a short period of time after installation.
Phosphate Coating & The Phosphating Process
Phosphate coatings are a crystalline conversion coating for steel and other metals that is formed on a ferrous metal substrate. The process of Phosphate coating is employed for the purpose of pre-treatment prior to coating or painting, increasing corrosion protection and improving friction properties of sliding components. In other instances, phosphate coatings are applied to threaded parts and top coated with oil (P&O) to add anti-galling and rust inhibiting characteristics.
The phosphating process relies on the basic pickling reaction that occurs on the metal substrate when the process solution comes in contact with the metal. The main benefits that phosphating provides is strong adhesion and corrosion protection. Typically, phosphate coatings used on steel parts but can also be used on aluminium.
Manganese Phosphate Coating
Metal Coatings offers black manganese phosphate coatings and dark grey manganese phosphate coatings used for corrosion protection, anti-galling and lubricity. Of the numerous phosphate coating available, manganese phosphate coatings are the hardest, while providing unbeatable corrosion and abrasion protection.
In comparison to zinc phosphate coatings, manganese phosphate coatings offer continued wear protection after the breaking in of components that are subject to wearing. These coatings are applied only by immersion. Uses for manganese phosphate applications include the production of bearings, bushings, fasteners and other common industrial products. Use of manganese phosphate is especially useful in projects that require sliding of parts, such as automotive engines and transmission systems.
Plant overview
Hunting have maintained this plant in a near original condition, by using a comprehensive routine maintenance, inspection and cleaning plan, including the replacement of the lifting web straps on the transporter, and the servicing of the gas burners through a gas safe approved engineers every 6 months.
All pre-treatment SS tanks have usable dimensions of 2000 x 1200 x 1220 with 50 mm tank rim lips and reinforcing bands
The two larger SS gas fired process tanks due to the internal heating tubes have internal dimension of 2000 x 1500 x 1350 mm to allow the same usable space of 2000 x 1200 x 1220, and again with 50 mm tank rim lips and reinforcing bands.
Supplied with 4 x Stainless steel work baskets with internal dimensions of 1700 x 900 x 700 mm
Heated stations are built with 50 mm of insulation and are fully encapsulated by painted stainless steel sheets.
The control panel for transporter operation incorporates a programmable UNITRONICS Vison 120 logic controller for the process control. The UNITRONICS Vison 120 logic controller is a mono HMI, with on board keypad, LCD display and data connection port that can hold a number of programmes for various processes. The control of the Konecranes transporter includes both speed and timed step control for all of the stored programmes.
All Heated stations have fitted lip extraction ducts with drain points and flow baffles built into the end manifolds, and are fed to a common supply 15kW Black Polypropylene chemical resistant fan located at the end of the plant.
Process temperature control for the heated stations is provided by localised Omron E5CSV dual display digital temperature controllers.
Effluent system comprising 1 x segmented paddled pH adjustment tank, pH monitoring with associated 100 ltr chemical storage dosing tank and metered dosing pump, Conical bottomed sludge compaction and settlement tank with clean water outfall.
Originally constructed and installed in 2011, but has been standing idle for the last 24 months.
Complete with ancillary support equipment including, Bunded chemical store, Emergency shower, and fluid transfer pumps.
Current process line up
Station 1 Load / unload station
Station 2 Holding station
Station 3 Tank 1 Dewatering oil ( Gardorol CP 8015)
Station 4 Tank 2 Electrically Heated Soak Cleaner 36kW Stainless steel immersion heaters ( Gardoclean S5147)
Station 5 Tank 3 CWR Cold Water Rinse
Station 6 Tank 4 Electrically Heated Refiner (activating and passivating agent) 36kW Stainless steel immersion heaters (Gardolene V6563)
Station 7 Tank 5 CWR Cold Water Rinse
Station 8 Tank 6 Manganese Phosphate (Garbobond G4098/10)
Station 9 Tank 7 Spare Phosphate tank.
Current operating sequence, tanks -2-3-4-5-6-1
Dimensions

Print / Download Plating Engineering Ltd 9 Station Stainless Steel Pre-Treatments Plant Datasheet
Photographs taken prior refurbishment. Our refurbishment service is not available on all machines.
Machines & equipment for sale
Machine
Alert
Get the latest machines emailed directly to you as they become available to buy online sign up
Close Menu