Machines & equipment for sale
Nordson Powder Coating Spray Booth, Guns & Extraction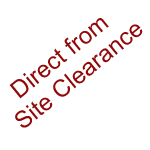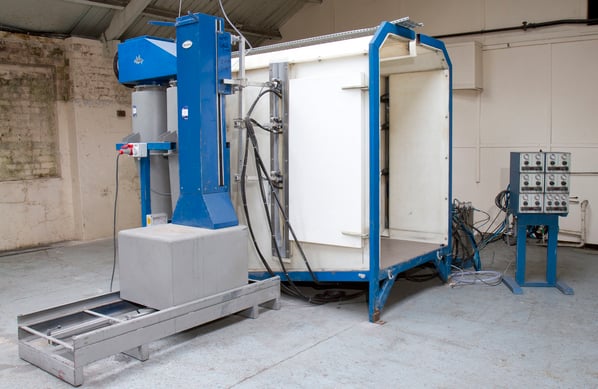 Direct From Site Clearance
Direct Site Clearance Price

[?]

£ 17,500 (+ VAT)

Clearance ends

21 November 2018 16:00 GMT while stocks last

Part of a Direct Site Clearance

Condition

Seen working by RSW

Location

Birmingham, UK
Stock No

POW300

Manufacturer

Model

Powder Coating Spray System

New or Used

Used (Second Hand)

Work Envelope (WxDxH mm)

900 x 2800 x1500

Other Info

Dustcheck Dust Extraction Plant

Location

Birmingham, UK

External Dimensions (WxDxH mm)

2.8 x 1.37 x 2.2 metres high.
Description
Nord
son Econocoat automated powde
r paint application plant:
Here we have on offer the major components for a high specification automated powder coating facility that was manufactured using premium components from the UK's foremost powder coating spray equipment supplier Nordson.
This installation was originally employed in the application of powder paint to products for the rail, aerospace, defence, aircraft support, marine, and industrial markets.
The system was designed around the Nordson Econocoat automatic spray application booth and all of the associated equipment to produce a first class result under heavy production demands.
Powder coating system:
With Powder Coating, only the Paint solids are sprayed onto the product, in an atomised powder form. The Powder is drawn to the product and adheres to the product due to an electrostatic charge applied to the Powder during spraying.
The Product, thus covered with the Powder Paint is then heated (to around 200 degrees Centigrade) in an Oven, wherein the powder fuses (melts) on to the product and thus forms a smooth, tough and resilient coating.
Because the powder is fused onto the product, it has excellent scratch resistance properties. It also has a pleasing 'smooth' appearance and forms a sealed skin around the product thus minimising corrosion risk.
Recoverable. Unlike wet paint, 'Over spray' powders can be collected and re-used through the attached twin cyclone reclaimers. When you consider that in any paint spraying system, only around 50% of the paint for powder actually lands on the job, then large savings are clearly possible if the over spray can be re-used.
Benefits of the powder coating system:
Simple Automation. Because powder is applied electrostatically, is fully recoverable and is easily cleaned away, powder is ideally suited to simple, automatic application thus minimising labour requirements.
One coat application. For most applications, a single thick powder application is quite possible. This eliminates the need for primers, multi-coat-wet painting and for rubbing down between coats.
Environment friendly with no Solvents. It is therefore, safer to use and more easily complies with all current and proposed environmental legislation.
Components of the automatic powder coating system
Nordson Econocoat System:
The first requirement of any Powder Coating System is a Spraybooth in which to apply the Powder. This serves a number of functions:
1) It ensures that oversprayed Powder is ventilated away from the Operator(s)
2) It provides extraction to prevent Powder escaping into the factory areas
3) It collects the Powder and can provide facility for reclaiming over-sprayed Powder
Powder Spraying System:
The Spraying System is the device that applies the Powder. This is often called the 'Powder Gun' and serves the following functions:
1) It has a system for storing new and recycled Powder.
2) It fluidises the Powder i.e. it gently blows air into the Powder, effectively bestowing it with the characteristics of a liquid.
3) It has a nozzle system which allows the Powder to be blown onto the product.
4) It has an Electrostatic charging system which charges the Powder Particles causing them to be attracted to the part requiring coating.
Nordson 2.8mtr Econocoat Engineered Powder Spray System
The Econocoat powder spray system is an efficient, powder application and recovery system.
Several system features minimise powder-in-process, promote easy booth cleaning, and provides fast powder-supply-system changes.
The integrated approach of the Econocoat system substantially reduces labour costs, downtime and material waste in powder coating applications. With this enhanced operating flexibility, powder coaters are able to manage smaller batches to fit just-in-time production schedules to achieve zero inventory requirements.
Overview of the Econocoat system
Colour Change
Uniquely designed, easy to clean, twin cyclones facilitate complete cleaning without cross contamination.
Precision Engineering for Optimum Performance
Econocoat booth accommodates two automatic gun slots and a manual opening touch up window for operating flexibility.
Booth design allows for the shortest spray-to-waste time after colour change to accommodate varying requirements and maximum reclaim efficiency.
Streamlined Canopy and Booth Design
The booth's streamlined canopy is constructed from polypropylene for higher system efficiency, structural strength and minimal powder retention/attraction to the booth.
The polypropylene design enhances rapid powder recycling, easy cleaning and improved color-change time.
The stainless-steel booth floor provides improved durability and provides grounding of operators during cleaning for improved safety
Uses Nordson Spray Technology
The Econocoat booth has been configured with a Nordson spray application technologies, Versa-Spray® II, automatic spray guns.
Reciprocators
The Nordson reciprocators each have adjustable arm mounts which carry three Versa spray II guns, each of the movement parameters both stroke and speed can easily be adjusted for varying spray pattern and coverage. The space-saving design of the in-line, multi-position gun mount provides virtually unlimited freedom in positioning the gun in any direction. Mounted on a travelling rail allowing the guns to be positioned at the optimum distance from the work and withdrawal whist cleaning.
Versa-Spray II Automatic Powder Coating Gun
The Versa-Spray® II automatic powder spray guns features innovative Automatic Feedback Current control to deliver superior transfer efficiency and finish quality. It gives coaters the ultimate flexibility to precisely control powder flow, air flow, and electrostatic parameters in automatic coating applications.
With the Versa-Spray® II automatic powder spray gun, finishers can achieve the outstanding coating coverage, pattern uniformity and transfer efficiency needed to effectively coat parts with very complex geometries and deep recesses.
Features and Benefits
Automatic Feedback Current control ensures consistent, optimum transfer efficiency.
Superior Faraday-cage penetration accommodates wide range of coating requirements.
Maximum electrostatic performance delivers highest transfer efficiency.
Specially engineered materials used in powder-contact parts minimise wear and impact fusion.
Meets all applicable approvals to assure maximum operating safety.
Easy-access, friction-fit powder pathway design makes routine cleaning and maintenance fast and uncomplicated.
Largest selection of nozzle choices available in the industry.
Optional nozzle extension with electrode cleaning air keeps charging electrode clean for consistent charging efficiency.
Optional ion collector device draws excess ions from spraying zone for enhanced coverage and finish appearance.
Dustcheck Dust Extraction Plant
Dustcheck industrial air filtration solutions are industry leaders, pioneering effective filtration together with efficient processing through clever innovative design and efficient manufacture.
The dust collectors is ideal for applications where a ductwork system draws product back to a centralised filter as they extract air borne contaminants to produce air quality of the highest standard.
The air is cleaned through a collection of 5 x paired pleated cartridge filters which are kept in optimum condition by being cleaned with compressed even whilst running. The Dustcheck's innovative cleaning system which utilises a rotating double wing spray bar which ensures that the whole length of the filters are cleaned evenly and at at lower pressure than in the more conventional ram jet method.
Filter Cleaning Process
Efficient cleaning needs research, Duchcheck's cleaning system matches the filter elements ensuring optimum operating conditions for air volume, energy and element life.
Explosion Protection
Dustcheck has always complied with the state of the art knowledge and legislation, and provided explosion protection, on this machine in the form of rear mounted explosion relief panels for the safe venting of fumes in the unlikely event they are needed.
Technical information:
Supplied for an air volume of 4200cfm / 7100 m3/hr at fan static pressure of 16.7" / 425 mm wg.
10 cartridges in total with a filter area of = 100 m2
Dimensions
Dust Extractor size;
2.7 x 1 x 3.4 metres High.
Booth Size;
2.8 x 1.37 x 2.2 metres high.

Print / Download Nordson Powder Coating Spray Booth, Guns & Extraction Datasheet
Photographs taken prior refurbishment. Our refurbishment service is not available on all machines.
Machines & equipment for sale
Machine
Alert
Get the latest machines emailed directly to you as they become available to buy online sign up
Close Menu