Machines & equipment for sale
Loeser RP+S 336/8 8 Station Centreless Grinding/Polishing Machine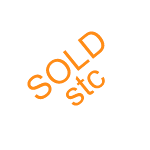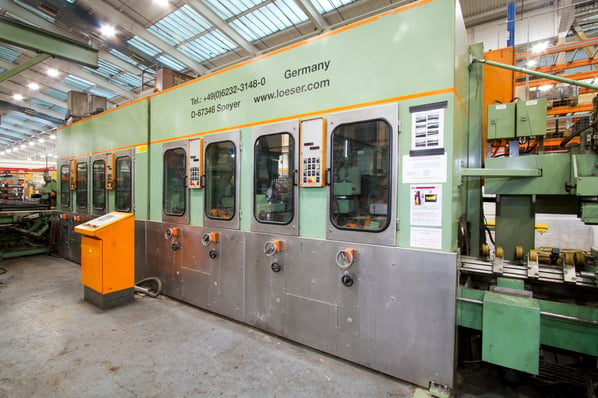 Stock No

JCB025

Manufacturer

Model

RP+S 336/8

Year of Manufacture

2003

Serial

JCB 4991

New or Used

Used (Second Hand)

R.P.M.

1500

Hp/Kw

10 / 7.5

Other Info

Universal abrade and polish machine

Location

Uttoxeter, Staffordshire UK

External Dimensions (WxDxH mm)

11900 x 3100 x 2900 + 16000 outriggers
Description
Model RP+S 336/8 is an 8 Station Continuous Centreless Belt Grinding and Polishing Machine. Configured with 4 abrasive belt heads and 4 Buffing Heads with Capacities to Ø150 mm
Bar finishing after hard chrome plating.
The tube and bar finishing line has 4 pressure controlled belt grinding stations and 4 adjustable angle buffing stations. The wet belt grinding is used for the stock removal and dimensional sizing of the bar and the mirror finish buffing wheels with automatic sprayed compound system to achieve high Ra finishes
Application range:
The belt grinding and polishing machines from the Loser range are designed to improve both the surface finish and dimensional accuracy of small, to large tubular parts; hydraulic, pneumatic and pressure cylinders; spindles, cylinders and rollers; engine components, stamped and sintered parts; deburring and edge finishing; processing before and after coating, etc.
Surface improvement and conditioning for: plating, descaling, decorative grinding, finishing, linishing, degreasing, cleaning, calibrating, deburring, satin finishing, brushing, polishing, mirror finishing, steel finishing, Metal polishing, Tube and bar polishing, removing defects, edge rounding, levelling, decorative finishes, and slag grinding.
Grinding
Abrasive belt grinding offers the efficient surface finishing for tubular and stock bar products. The abrasive bands can achieve cutting capacities of up to 1.2 mm per meter and a surface finish to Ra 0.1 levels.
Polishing
Mop polishing offers the efficient surface finishing for tubular and stock bar products. The polishing mops can achieve a surface finish to Ra=0.04 µm / Rz = 0.6 µm.
Combined belt grinding and polishing with hard chrome bars
In combination with a multi belt sequence and multi polishing mops, enhanced corrosion resistance of the polished bars will be achieved due to the pressure controlled grinding and polishing, which enhances the micro crack density of the chrome layer along with temperature treatments of the chrome layers by induction for improved longevity of the finished bar.
Materials:
The machine can be used with hard chrome-finishes, Stainless steel, steel alloys, copper, brass, aluminium, zirconium, plated and sprayed coatings, ceramics, synthetics, etc.
Scope of use
Abrasive belt grinding is a "step-by-step" process and requires multiple passes to achieve the required finishes. The further away the desired finish is away from the raw finish will dictate how many belt heads are ideally needed.
With a single headed machine, several passes using various abrasive belt grains and polishing mops would be required, but in this twin four headed finisher, bar and tube can be taken from processed bar to a mirror finish in a single pass.
Typically, high levels of material removal can be achieved with a 40-60 belt grain, average rates of material removal can be achieved within the range of 80-240 belt grain. These grains, however, leave a very rough surface structure. A visually more aesthetic finish is achieved with a belt grain of 280-400. Work pieces which are processed with the finest abrasive belts 400-600 grain belts are ideally suited for chrome-plating.
Further polishing to mirror finish is achieved with polishing mops of differing hardness and polishing compounds to achieve the desired level of micro surface finish.
For example:
Piston rods with a plated initial surface finish, which require an end finish of 0.4 to 0.6 µm Ra with a combination of the following grinding grains:
320 or 400
600 or 800,
Sisal mops
Airflow mops
Benefits
Advanced inbuilt features such as: current sensing pressure control of the applied force, with wear compensation which extends the lifespan of the consumables.
Quick and easy to set up and operate with its Siemens PLC controls and Siemens MP270 operator interface.
Manual adjustments for initial set-up
Manual offset with auto settings
Fully variable control of both speeds and feed.
Head relief setting to plunge the heads back for ease of belt changing
Pneumatic tensioning of belts
Multi-station systems perform several operations economically and quickly in a single pass.
The multi-station system increases the capacity and reduces the handling cost considerably, since several working cycles can be completed in a single pass.
The multi system is modular and so can be expanded as production rates demand by adding and integrating up to 4 additional heads at a single time.
This enclosed version is complete with noise, water and dust proof cabinets to maximise operating comfort and comply with highest safety standards.
Machine size changeover can be done manually or fully automatically through the PLC system, minimising the setup time and maximising the production and profit.
First class build components - all spindles, screws and bolts are made from stainless steel. This guarantees the maximum life span of the machine.
Limitations of the process
Precise machine adjustments allow for surface finish roughness to Ra 0.04-0.06 but with differing base materials it is possible to achieve a surface roughness of up to Ra 0.08 with an experienced operator.
Dry grinding increases the material removal, however, this cannot be used in many cases, since the grinding temperatures generated increases too high. This can cause bending in the bar, which prevents the maximum contact pressure being available. Dry grinding also reduces the service life of the grinding belt.
Working with water/emulsions when grinding provides greater benefits
Eases the contact of the grinding belt
Reduces the temperature of the work piece
Reduces the risk that the pipe or bar becomes distorted
Extends the service life of the grinding belts,
Reduces the noise and prevents the development of dust
Polishing compounds
Polishing compounds for high lustre applications are applied by high velocity sprays guns mounted over the wheels and directly onto the polishing mops. The mops are enclosed in a wheel housing and are extracted to atmosphere for the removal of the fibrous elements which are generated by wear.
Handling:
Handling of the pipes and bars are as important as the grinding process itself. Unnecessary handling considerably inhibits the economy and speed of the system, so this system has been designed and built with a magazine feed, and combined with an automatic loading and unloading system, which qualifies the installation for fully automated operation.
---------------------------------------------------------------------------------------------------------------------------------------------------------------------------------
Technical details of Centreless grinding machine model RP+S 336/8
Diameter Range Ø10 - 150 mm
Belt and mopping motors 7,5 kW / 10 HP
Belt dimensions 150 mm wide x 2500 mm long,
Mop dimensions Ø 450 x 200 mm wide
Workpiece transportation system by roller guides with a pinch roll drive system offering secure and precise transportation which eliminates any risk of spinning tubes
Patented current sensing pressure controlled operation of all working heads
--------------------------------------------------------------------------------------------------------------------------------------------------------------------------------
Ancillary Equipment
Paper band filter
The gravity fed filtration unit is firstly equipped with a drum type magnetic separator to filter the metal debris from the coolant flow, the metallic filtered solution is then flowed over the filter bed of the paper band filter to achieve a filtration level of 10 - 50 micron. The collected solution is then pumped returned to the machines belt stations via secondary "Micromag" filters units for a final polish of the coolant.
Key features
Various grades of filter media available
Integral coolant pump for distribution directly to the grinding heads
Automatic indexing of the paper filter when fully loaded.
Easy disposal of the waste directly from the catchment tray.
Advantages
• Low running costs
The power required is minimal, as the filter only operates when the filter medium is contaminated, so only operates a few times a day. Rolls of filter paper may last many months and are competitively priced.
• Easy to install
The unit is free-standing and only needs a feed from the machine, and a mains electrical connection.
• Liquid life
Coolant life is greatly extended with reduced top up. Bacterial growth is inhibited by the efficient removal of contamination.
• Labour saving
The roll of filter paper and collection bin only require occasional attention.
Carter Environmental Cyclovent Scrubbers
The units are a self contained wet dust scrubbers that generates a self induced solid water curtain which entraps and washes the dirty air removing any contaminates as it passes through. A second stage eliminator then removes any water droplets that are carried over before allowing the cleaned air to be discharged back into the area.
Normal and more traditional extraction units using filtration media, would struggle to deal with the sticky nature of the gas stream from polishing machines due to the sticky nature of the polishing compounds used. This sticky dust would blind the traditional filtration media making it ineffectual in a very short time.
For this reason, the Cyclovent wet extraction units has been selected as the wet scrubbing action of the Cyclovent require no filter media to remove the solid and sticky particles from the gas stream.
Features
Self-induced spray wet collector
Efficiency levels up to 99.7%
Suitable for hazardous application
Manufactured from heavy gauge sheets
Complete with for chemical dosing pumps for water treatment
Low energy usage

Print / Download Loeser RP+S 336/8 8 Station Centreless Grinding/Polishing Machine Datasheet
Additional files
Photographs taken prior refurbishment. Our refurbishment service is not available on all machines.
Machines & equipment for sale
Machine
Alert
Get the latest machines emailed directly to you as they become available to buy online sign up
Close Menu