Machines & equipment for sale
Proserpol Waste Rinse Water Effluent Treatment Plant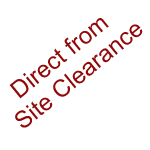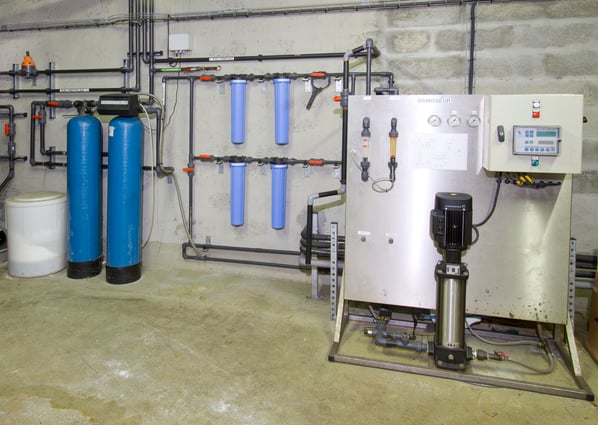 Direct From Site Clearance
Direct Site Clearance Price

[?]

£ 27,500 (+ VAT)

Clearance ends

26 October 2017 14:00 GMT while stocks last

Part of a Direct Site Clearance

Location

Bordeaux, France
Stock No

SMJ009

Model

Raw water and effluent control

Year of Manufacture

2003

Serial

5169-P-01

New or Used

Used (Second Hand)

Process Stages

Multiple

Location

Bordeaux, France
Description
Waste Water Treatments & DI Water Generation Plant
As a key to ecological and economic process optimisation this system provides industrial waste water recycling using a recirculation system and targeted partial flow to minimise wastewater and sewage treatment. The system incorporates the latest technology to offer zero trade waste from rinse waters to drain by vacuum evaporative recovery, filtration and mixed bed water treatments facilities.
Scope of operation
The treatments plant has two primary functions, The first is to generate high quality stain free water for both process solution make-up, clean water rinses and sealing station recycled feed waters. The generated water is stored in 10,00 litres Polyethylene storage vessels and is called upon as requested by the systems process control.
Secondly the used chemical and contaminated waste rinse waters from both the acid and alkali streams are treated through a neutralisation and Ph adjustment tank before entering the vacuum evaporative water recovery unit. The recovery unit evaporates the water from the waste stream solutions to provide an ultra low discharge environment for the concentrated waste. The evaporated and cleaned water is returned for reuse within the rinse circuit, while the contamination residue is diverted to a storage vessel for later safe disposal.
Proserpol - Raw water treatments & Rinse water recycling effluent Plant
Made up of the following major component parts. (See attached effluent diagram)
Raw water treatments:-
1) Raw Mains Water Feed - into:-
Epuro Reverse Osmosis Pure Generating Plant including pre-treatment towns water filter, twin bed water softener, and standby and duty activated carbon filters.
RO Plant purified and recycled water bulk storage (RO7)
10,000 litre black polyethylene tank
Effluent control:-
2) Return flow from process plant Acid cleaning rinse stages (RO1)
Rinse waters 300 litre bunded black polyethylene tank inc. Duty and stand by distribution pumps.
3) Return flow from process plant Alkali cleaning rinse stages (RO2)

5000 litre black polyethylene tank inc. diaphragm feed pump
4)

Return flow bulk storage from process plant acidic anodising stages (RO3)

10,000 litre tank inc. diaphragm feed pump
5) Naoh Bulk Storage (Sodium) (RO5)
1250 litre Black polyethylene tank with dual distribution pumps for solution make-up and Ph neutralisation.
6) H₂SO₄ Bulk Storage (Sulphuric acid) (RO6)
2000 litre Black polyethylene tank with distribution diaphragm pump for solution make-up
7) PH Neutralisation (RO4)
5000 litre Agitated Black polyethylene tank inc. mechanical paddle mixer and recirculation pump
8) Bulk Storage of Concentrated Waste Solutions
10,000 litre Black polyethylene tank inc. diaphragm feed pump. For the collection of the waste chemical process streams and concentrates from the evaporative recycling system.
9) Waste Water Evaporator Recycling Plant .
KLC Loft Prowadest Model P120 a 120l/hr capacity water evaporator recycling plant. Including a secondary coalescing filter for oil, grease and flocculant removal.
10) Treated Water Final Filter and Polish.
Supplied from RO7 recycled water storage, a twin cylinder , mixed bed filter unit.
Constituent components
Vacuum-Distillation Unit, the effective wastewater evaporator
The KLC Loft Prowadest Model P120 offers efficient, environmentally friendly and freshwater-saving solution evaporator system, allowing ultra low waste liquid discharge in industrial production water streams.
Efficient vacuum distillation
The Prowadest Model P120 evaporator system feature ultimate operational safety combined with ultra high distillate quality. In the system a closed heat cycle ensures high efficiency and low energy consumption. A special pump creates a forced high velocity flow circulation, making this system ideal for treating heavily foaming process waters. The multi-stage separation system, called cyclone separator, features optimum wastewater cleansing results and ultrahigh operational safety of the vacuum pump and the system as a whole.
Applications
Treatment of contaminated and mixed process waste water e.g.
Alkali cleaning / etching rinse waters
Acidic rinse waters treatments solutions
RO Sealing waters
Vacuum distillation benefits and features.
Process – with direct concentration of the feed liquid
Closed loop energy recovery cycle leads to low net energy input Servicing
Designed for 24 h continuous running
Maintenance friendly layout with easy access to all components
Automatic cleaning and rinsing.
Base bund for leakage protection
Microprocessor controller
Simple operation
Text display of all operating parameters and process steps
Operator MMI touch panel
Rapid response to changes in waste streams
High levels of safety and reliability through control of all sensors and valves
Simple supervision of process
Electronic logging of all safety messages
How the evaporator works
The feed pump continuously feeds the waste water from the sump of the evaporator to the top of the falling-film evaporator/condenser. From which a film of waste water flows down the tube walls and evaporates.
Within the tubes, the amount of steam increases continually, thus boosting the flow rate. This turbulent flow provides optimal heat transfer and ensures the self-cleaning effect. Any waste water left flows back into the evaporator sump.
Entrained water droplets and gases are retained before the vacuum pump by a multi-stage centrifugal separator and flow back into the evaporator sump. The vapour, compressed by the vacuum pump, condenses on the outside of the tubes, transferring heat to the evaporating waste water on the inside of the tubes.
The hot distillate is then fed through the pre-heater/distillate cooler and again heat is transferred to the in-flowing waste water making a closed loop cycle.
Distillation performance:
120 l Per hour
720m³ Per annum
Energy consumption: kW/h m³ 65-75
Noise-level dB (A): 79
Weight kg: 1060
Discharge Filter Unit
Water passing through the vacuum distillation plant are polished in a multi compartment filter unit whereby flocculants, organic materials and any carried over oils and greases are removed before being pumped the bulk storage tank R07.
The filter consist of a surface skimming weir and coalescing filters. The multi chambered system permits a slowed down and extended path for the returning liquid allowing the trace oil, grease and organic matter to float to the top and be removed by the specific gravity weir.
Final Polish Mixed Bed Twin Filter Unit
A mixed bed filter unit for polishing the stored solution before returning to the process plant.
Reverse Osmosis Unit
Stand-type unit for desalination of softened treated water operating on the principle of reverse osmosis. This unit includes the water pre-treatment components. Stand-type unit with RO controller, incl. pre-filter, dual softener, activated carbon filtration and water quality monitoring.
Reverse osmosis plants use the membrane selectivity to obtain the water demineralisation and purity required for process solutions and rinse waters.
This process doesn't consist only of a physical obstacle (produced by the membrane pores) to the passage of the molecules, but it uses different chemical affinity of the solutions with the membrane, permitting the hydrophile molecules (or water-like) free passage.
This method uses the tangential filtration principle, like other separation techniques by the use of membranes as the ultrafiltration, microfiltration and the MBR membrane bioreactor
Unit design
Stainless steel base frame with plastic front panel housing the instruments and controls.
Pre-filter with 100 µm-filter cartridge, softener, hardness monitoring unit for continuous monitoring of feedwater hardness, special inlet filter, polypropylene with 5 µm- filter cartridge and pressure gauges, high pressure pump, rotary-vane type, high performance wound treatments modules with PA/PS composite membranes in GRP pressure vessels with liners.
Valves and instruments including feedwater sampling valve, solenoid inlet valve, feedwater pressure switch, permeate and concentrate flow meter, vibration-resistant pressure gauges for pump and concentrate pressure, stainless steel valves for adjustment of permeate and concentrate flow rate and concentrate recirculation.
RO microprocessor control system for fully automated monitoring and control of the reverse osmosis unit with alphanumeric display of permeate conductivity, forced stop and full tank, malfunction signals: low pressure, hard water and high conductivity, LEDs for operation and disinfection,
The units is designed for a maximum TDS of 1,000 mg/l, a water temperature of 15°C, a maximum colloidal index of 3 and free permeate outlet. Under these conditions, the units sill reach design permeate flow after three years of operation. With new units the working pressure is about 15% lower. The permeate recovery depends on the raw water quality and the type of pre-treatment applied.

Print / Download Proserpol Waste Rinse Water Effluent Treatment Plant Datasheet
Additional files
Photographs taken prior refurbishment. Our refurbishment service is not available on all machines.
Machines & equipment for sale
Machine
Alert
Get the latest machines emailed directly to you as they become available to buy online sign up
Close Menu