Machines & equipment for sale
PERS LZGB Rotary Vibratory Bowls Range with Separation and Lid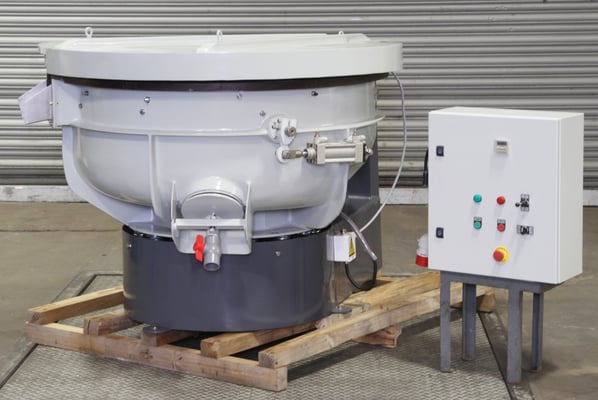 New
Price

[?]

Please call on +44 (0) 1922 45 8000

Guarantee

1 year manufacturer guarantee

Availability:

Available subject to build time
Stock No

NEW043

Manufacturer

Model

LZGB

Year of Manufacture

2016

New or Used

New

Capacity

100 - 600 litres

Type

Rotary vibratory processing bowl

Other Info

All in one plug and play machine

Weight (kgs)

650

External Dimensions (WxDxH mm)

1800 x 1250 x 1450
Brand New Machinery Sale.
10% off all Brand New Machinery, in stock or available to order, until the end of October and these machines are included
All the benefits of buying new are still available including warranties. See our sale page for details
Description
PERS Rotary Vibratory Bowls are extremely flexible and versatile mass finishing systems used in a wide range of industries for deburring, grinding, radiusing, cleaning, polishing and degreasing.
The LDGB range has a "U" shaped bowl making it perfect for treating large and bulky as well as delicate parts. The "U" shaped bottom ensures the immersion of the parts into the media mass and helps rotation to expose all sides of the part to an equal amount of force. Delicate parts can be handled gently and kept separate in the media (see our media advice service, below).
PERS use a best-in-class Dupont Class 1 polyurethane coating to line these vibratory bowls. This is hot poured to the same wider thickness than other almost any other bowl to ensure durability.
The separation system ensures efficient and rapid screening and discharge of parts. Media is returned to the bowl and components are removed ready for the next stage of processing.
The LZGB range with built in separation, discharge and acoustic lid is offed in sizes ranging between 100 to 600 litres via Riley Surface World's exclusive UK and Ireland distribution of PER's mass and vibration finishing range.
LZGB Rotary Vibratory Bowl Benefits
Flexible and versatile mass finishing systems
Adaptable to a range of components and processes
Significant savings compared to manually finishing parts
Rapid screening and discharge of parts
1 year warranty
Bowl upgrade service
Sample processing and media advice service
Media and compound available
Models
| | | | |
| --- | --- | --- | --- |
| LZG 100B / L | 100 litre | Lid | |
| LZG 150B / L | 150 litre | Lid | |
| LZG 200B / L | 200 litre | Lid | |
| LZG 200B / C | 200 litre | Converse Separation | |
| LZG 300B / L | 300 litre | Lid | Demonstration model in our showroom |
| LZG 400B / TS | 400 litre | Touch Screen (Free) | |
| LZG 400B / TS / L | 400 litre | Touch Screen (Free) / Lid | |
| LZG 600B / TS / L | 600 litre | Touch Screen (Free) / Lid | |
Sample processing and media advice service
For complete peace of mind PERS will process a sample of your product to the finish you need. Just provide a sample to Riley Surface World and you will receive a finished sample complete with media, compound and process recommendations.
This will ensure the machine you buy matches your production needs and will demonstrate the long term commitment to service the Riley Surface World and PERS partnership delivers.
Bowl upgrade service
If you purchase a PERS Vibratory Bowl and then need a larger one within 12 months of purchase RSW and PERs will swap the bowls and just charge the difference in price.
Applications
Rotary vibrators are extremely flexible and versatile mass finishing systems that have a whole range of applications in many industries. The in-built separation means these bowls can be used as part of a production line or to carry out batch processes
Excellent results can be obtained for highly delicate and small components as well as for larger mass made and robust components.
The flexibility of the LZGB means it can be used with the correct media and compound to carry out the following preparations on stampings, castings, formed, forged and saw-cut parts as well as machined components
Deburring
Grinding
Radiusing
General parts cleaning
De-scaling
De-greasing
Polishing
Vibratory finishing can be used for all metals, many plastics, ceramics, rubber, wood, stone and glass.
With such flexibility many industries such as automotive, aerospace, medical, marine, jewellery, potteries and plastic use PERS Rotary vibratory bowls.
How does vibratory finishing work?
Vibratory surface finishing takes place in a work bowl. The components are placed in the bowl with media, shaped pieces usually made from plastic or ceramic that is matched to the process needed. A liquid compound and water is often added too.
The bowl is mounted on coil springs and the vibratory energy is induced by a special vibratory motor under the centre of the work bowl. The vibration creates the movement of media against the processed parts.
The continuous feeding of water and compound – also known as soap – supports the finishing process and assists in both the cutting action and surface finish.
The LZGB includes a separation system. Once the parts and media have spent the correct amount of time in the bowl the separation ramp is lowered. The mix moves up the ramp and passes over the screen. Media falls through the screen back in to the bowl and components are passed out of the bowl into crates, conveyors or into a maize dryer to dry the compound off.
Machine Features
U shaped Bowl
"U" shaped bottom rotary vibrators are perfect for treating large and bulky as well as delicate parts. The "U" bottom ensures a perfect immersion of the parts into the media mass and induces rotation to expose all facets to an equal amount of force.
Built In Separation
A pneumatically operated unload flap and screening allows the complete evacuation of the components and separation of media from parts. The separation screen can be changed to suit the size of the media and parts.
Top of the range lining
PERS use a highly durable hot-poured Dupont Class 1 polyurethane coating to line these vibratory bowls. Not only is this a best-in-class lining but it is poured at a consistent thickness across the whole bowl to improve longevity.
Flexible control system
LZGB models are supplied with a control panel giving easy to use and complete control of all operations and the fixed speed drive.
Optionally the control system is can be upgraded to include an OMRON CP1L PLC, a best in class compact machine controller and touch screen HMI (free upgrage on 300 litre or larger models).
This upgrade supports a variable speed drive. It offers an easy user interface to adjust the process variables of speed and time as well as controlling all of the basic machinery movements and interlocks.
The PLC can be matched with a touch screen HMI for a flexible and user-friendly user interface (free on model over 300litres). The Omron NB5Q TW01B HMI has a 5.6 inch, TFT LCD, LED backlit operator touch screen with a resolution of 800x600 and 16-bit high colour. The HMI has inbuilt RS-232C, USB and Ethernet Ports for flexible monitoring, operating, logging and remote access. Programming is supported by Windows operating systems.
Technical details:
100-660 litre volume models
"U" bottom processing channel
Pneumatically operated acoustic lid
1500 rpm process speed at 50 Hz
Easy and safe lubrication of the bearings
Adjustable imbalance weights allow different grinding intensities
Extra thick wear resistant hot-poured Dupont Class 1 polyurethane linings
Media, unload plug with integrated effluent drain located 290mm high
Flexible design of control panels and compound dosing system
Range of internal process channels depending on model
Unload heights 710-1090mm depending on model
1.5-7.5kW vibratory motor depending on model
Optional extra's available
Fully automated separation with process timer
Range of matching vibratory dryers
Variable speed drive system
Magnetic separation system
Water and compound recycling plant
Waste water filtering and compression systems

Print / Download PERS LZGB Rotary Vibratory Bowls Range with Separation and Lid Datasheet
Additional files
Photographs taken prior refurbishment. Our refurbishment service is not available on all machines.
Machines & equipment for sale
Machine
Alert
Get the latest machines emailed directly to you as they become available to buy online sign up
Close Menu