Machines & equipment for sale
Guyson International /SMS/ Motorman Robotic Twin Gun Shot Blast Cell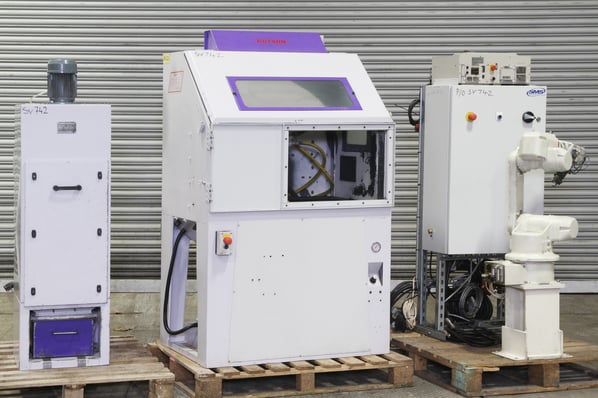 Stock No

SV742

Manufacturer

Model

EUROBLAST 6SF PLUS Motorman HP3 Robot

Year of Manufacture

2010

Serial

909603

New or Used

Used (Second Hand)

Work Envelope (WxDxH mm)

970 X 760 X 800

Work Handling Method

Fully automatic robotic system

Other Info

Motorman HP3 Integrated Robot system

Location

Our Central Warehouse, Aldridge, UK

External Dimensions (WxDxH mm)

1130 X 870 X 1700
Description
2010 Guyson 6SF and Motorman HP3 robotic cell
Here we have a well known and established Guyson 6SF blast cabinet that has been paired with a Motorman 6 axis robot to provide a fully automated cell for the surface treatment of small components.
The robot is currently configured to manipulate the component in front of twin blast guns to offer fast and precise surface finishing. Currently the Robot selects the component from a cassette tray fixture storing a number of items for batch processing from within the cabinet. After the batch has been processed the trays can be exchanged and the process restarted.
Alternatively the robot can withdraw from the unit to pick up and replace the components from any fixture, machine or conveyor that may be in use within the production process. This alternative usage is better suited to flow process applications and singular longer items requiring only partial surface finishing.
The cabinet is sealed to the robot with a flexable membrane that allows the robot to move without allowing the dusts to escape. For applications that require the robot to withdraw from the cabinet, an interlocking collar can be employed to maintain the seals integrity.
The motorman robotics can be used with propriety software that allows the programming of the robotic movements from CAD software drawings, eliminating the need for trial and error programming through the teach pendant, meaning differing configurations can be quickly and accurately changed from one product to the other.
Alternatively the teach pendant can be used to create the programme in a mimic mode coping the manual movements of the operator then allowing the software to smooth the actions and adjust parameters such as speed, angles of approach and blast intensity.
The interface of machine and robot is governed by an SMS system panel, which includes all of the required safety cell interlocks and services supply control along with expansion capabilities to allow these units to be modified to suit a customers individual needs.
Manual VS Robotic blasting:
Guyson Manual blast cabinets provide a cost effective and flexible solution to providing a surface finish on a varied mix of component sizes and shapes with the human operator adjusting the manipulation of the gun or product according to the varied mix of component, shape, size and complexity to deliver a perfectly acceptable result most of the time.
Alternatively automated blast machines, are employed when high volumes of components are to be processed or when a higher degree of surface consistency and quality is required.
Automated blasting improves on all those areas that are weak in manual blasting and brings key process parameters under control and provides a high degree of repeatability.
For volume complex alike precision components, robotically controlled blasting delivers an outstanding range of benefits. It delivers a precise blast stand off distance for the surface contour of the most complex shapes coupled with the minimum of overspray and the maximum of blast efficiency.
Benefits include:
Precise blasting profiles acurately adhered to
Repeatable surface treatment
Simplified blast validation
Fast set-up and recall of blast profiles to match differing components
Lower running costs compared to multiple blast gun systems
Elimination of RSI and VWF operator injuries
Unatendeded blast procedures possible f

reeing up operator personnel for other duties.
Robotic blasting with advanced motion programming has a dramatic effect on surface quality and repeatable results, even when blasting components of the most complex shape, the correct angle, offset and surface speed are constantly maintained.
Operator errors in blast gun and part manipulation can be overcome, resulting in a major improvement in the degree of consistency in quality.
Robots also enable the blasting of hazardous substances or working with unpleasant materials. Other obvious benefits of the conversion to robotic blasting are labour and re-work savings, and the fact that human operators are freed for other work that demands their intelligence and judgement.
By the elimination of wasted motion, process cycles can usually be reduced to a fraction of the time required for manual blasting. For a repeatable surface treatment, a single robotic blast system can out-produce several hand blast cabinets.
2009 Motorman HP3L Robot and NX100 controller.
Compact, Powerful, and Economical running, the Motoman HP3 is a small, high-speed robot that requires minimal installation space. The HP3 features a 701 mm (27.6") reach and offers the widest work envelope in its class. Mathed with its Advanced NX100 Controller which features a Windows® CE programming pendant, fast processing, easy-to-use INFORM III programming language, and robust PC architecture.
The NX100 offers four security levels of password protection (user, editor, maintenance and supervisor) for up to 100 individual users. Password use restricts access to the production programs and the controller logs any changes.
The programming pendant features a color touch-screen display that can be configured as a custom HMI with buttons and status indicators. Dual-channel safety features include enhanced E-Stop functionality, integrated speed monitoring, manual brake release. The NX100 also offers connectivity through standard Ethernet and other network options: DeviceNet, ControlNet, Profibus-DP and EtherNet/IP. for remote monitoring and editing
Robot specifications
Structure

Vertical jointed- arm type

Controlled Axes 6
Payload 3 kg (6.6 lbs)
Vertical Reach 1,469 mm (57.8")
Horizontal Reach 859 mm (33.8")
Repeatability ±0.04 mm (0.002")
Maximum motion range
S-Axis (Turning/Sweep) ±170°
S-Axis Wall Mount ±30°
L-Axis (Lower Arm) +150°/-45°
U-Axis (Upper Arm) +235°/-144° +
R-Axis (Wrist Roll) ±190°
B-Axis (Bend/Pitch/Yaw)

±125°

T-Axis (Wrist Twist) ±360°
Maximum axis speeds
S-Axis 250°/s
L-Axis 180°/s
U-Axis 225°/s
R-Axis 375°/s
B-Axis 375°/s
T-Axis 500°/s
Approximate Mass 49 kg (108 lbs)
Brakes All axes
Power Consumption 1 kVA
Allowable movement
R-Axis 7.25 N • m
B-Axis 7.25 N • m
T-Axis 5.21 N • m
Allowable movement on inertia
R-Axis 0.3 kg •2 0.3 kg • m
B-Axis 0.3 kg • m
T-Axis

0.1 kg • m
NX100 Controller specifications
Structure Free-standing, enclosed type
Dimensions (mm) 650 (w) x 1,200 (h) x 650 (d) (25.6" x 47.2" x 25.6")
Approximate wieght 150-250 kg (330.8-551.3 lbs.)
Cooling System Indirect cooling
Ambient During operation: 0° C (32° F) to 45° C (113° F)
Temperature During transmit and storage: -10° C (14° F) to +60° C (140° F)
Relative Humidity 90% max. non-condensing
Primary Power Requirements 3-phase, 240/480/575 VAC at 50/60 Hz
Grounding Grounding resistance: ≤100 ohms Separate ground required Digital I/O Standard I/O: 40 inputs/40 outputs consisting of 16 system NPN-Standard inputs/16 system outputs, 24 user inputs/24 user outputs PNP-Optional Enabled to 1,024 inputs/1,024 outputs
Position Feedback By absolute encoder
Drive Units Servo packs for AC servo motors
Accel/Decel Software servo control
Program Memory 60,000 steps 10,000

ladder instructions

Pendant Dim. (mm) 199 (w) x 338 (h) x 60 (d) (7.8" x 13.3" x 2.4")
Pendant Playback buttons Teach, Play, Remote, Servo On, Start, Hold, Emergency Buttons Stop, Edit Lock (Play Mode Enabled on Controller)
Concurrent I/O Ladder 10,000 Instructions
Multi Tasking Up to 8 concurrent jobs
Fieldbus Device Net Master/Slave, AB RIO, Profibus, Interbus-S, M-Net, CC Link, EtherNet IP/Slave
Ethernet 10 Base T/100 Base TX
E-Stop Controlled stop Safety Dual-channel Emergency Stop Pushbuttons, 3-position Enable Switch, Manual Brake Release Meets ANSI/RIA R15.06-1999 and Canadian safety standards

Print / Download Guyson International /SMS/ Motorman Robotic Twin Gun Shot Blast Cell Datasheet
Additional files
Photographs taken prior refurbishment. Our refurbishment service is not available on all machines.
Machines & equipment for sale
Machine
Alert
Get the latest machines emailed directly to you as they become available to buy online sign up
Close Menu