Machines & equipment for sale
PERS Semi-automatic High Energy Centrifugal Disc Finishing Systems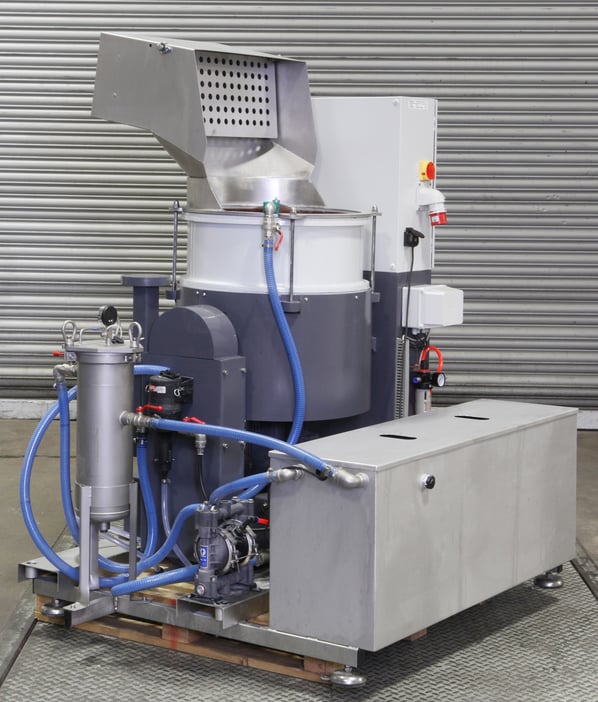 New
Price

[?]

Please call on +44 (0) 1922 45 8000

Guarantee

1 year manufacturer guarantee

Availability:

Available subject to build time
Stock No

NEW045

Manufacturer

Model

LDGB, LDGS, LDGSU

Year of Manufacture

New

New or Used

New

Capacity

50-230 litres

Type

High energy spinning disc m/c
Description
These 'All New' High Energy Disc Systems have been developed for the polishing, deburring and radiusing of small parts in the shortest possible processing time.
Each semi-automatic centrifugal finishing bowl has a powered turnover to empty the bowl of media and components. The LDGS and LDGSU include a built in separation screen making these machines very compact yet highly efficient.
PERS started designing these high energy disc finishers by analysing machines in the marketplace and designing out shortfalls. This includes, amongst many improvements, a simpler disc wear adjustment system that isn't labour intensive to maintain.
Achievable processes range from gentle surface smoothing to polishing through to aggressive grinding. Compared to the more conventional vibratory finishing equipment, the centrifugal disc finishing technology offers an advantage of between 10 to 30 times higher performance.
High Energy Centrifugal Disc Finishing Machine Benefits
Short process time for deburring, polishing and radiusing
Ideal for small and medium size work pieces
Highly durable hot-poured Dupont Class 1 polyurethane coated work container and disc
Omron digital touch screen operator panel with process timer
In built separation screen (on some models)
Self-contained water and solution re-circulation system (on some models)
1 year warranty
Sample processing and media advice service
Media and compound available
Models
LDGB Semi-automatic – Motorized Discharge
| | | |
| --- | --- | --- |
| LDG 50B | 50 litre | |
| LDG 50B / L | 50 litre | With Lid |
| LDG 80B | 80 litre | |
| LDG 80B / L | 80 litre | With Lid |
| LDG 120B | 120 litre | |
| LDG 230B | 230 litre | |
Options: Compound and Water Re-circulation (LDGBU models)
LDGS Semi-automatic – Motorized Discharge
–
Separation Screen
| | |
| --- | --- |
| LDG 50S | 50 litre |
| LDG 80S | 80 litre |
| LDG 120S | 120 litre |
LDGSU Semi-automatic – Motorized Discharge – Separation Screen

Compound and Water Recirculation
| | | |
| --- | --- | --- |
| LDG 50SU | 50 litre | |
| LDG 80SU | 80 litre | Demonstration model in our showroom |
| LDG 120SU | 120 litre | |
Sample processing and media advice service
For complete peace of mind PERS will process a sample of your product to the finish you need. Just provide a sample to Riley Surface World and you will receive a finished sample complete with media, compound and process recommendations.
This will ensure the machine you buy matches your production needs and will demonstrate the long term commitment to service the Riley Surface World and PERS partnership delivers.
Applications
High energy centrifugal disc finishing is ideal for deburring, surface grinding, edge breaking/radiusing and polishing of stampings, castings, forged or machined parts. The applications are practically unlimited ranging from very delicate, thin shim washers to heavy gear components.
High energy centrifugal disc finishing has a particular application with non metallic parts like rubber and plastics as well as part-on-part finishing.
The centrifugal force of the rotating spinner (up to 180 RPM) accelerates the components and media up the stationary wall of the work bowl. As the mix moves up the wall of the bowl it loses energy and the parts and media fall back onto the rotating disc. It is then accelerated back up the wall again and the process repeats.
The process can be tailored to a range of applications by varying the rotation speed of the disc, the volume of the water/compound solution and the media type. These parameters change the intensity of the process and can result in either gentle surface smoothing, polishing or even aggressive grinding to suit the component.
Compared to the more conventional vibratory finishing equipment, the centrifugal disc finishing technology offers an advantage of between 10 to 30 times higher performance.
Machine features
Great design
PERS has packed their machines full of great design features to increase reliability and reduce servicing time and costs. For instance, in most centrifugal finishers the bearing housings sit below the work bowl so are prone to water ingress and difficult to access. PERS eliminated both of these trouble spots by placing the bearing in the centre column and incorporating an adjuster so that the disc wear can be easily maintained by simply accessing the adjuster through the top cover.
Another example is the top of the range Dupont Class 1 polyurethane bowl lining that can be refurbished on site by an engineer without the need for it to be sent back to PERS.
High quality construction
The disc finisher work-bowl and disc itself are manufactured with performance and durability in mind from a high carbon steel outer one piece chassis, cast with hot poured DuPont HE high grade class 1 polyurethane wear resistant lining, formed into a dodecagon shape with ribbed grooves for increased grinding action.
The rest of the machine is manufactured to the same standards with material and construction built for a heavy working environment.
Flexible control system
The control system is designed with simplicity in mind and based around the OMRON CP1L PLC, a best in class compact machine controller.
It offers an easy user interface to adjust the process variables of speed and time as well as controlling all of the basic machinery movements and interlocks.
The PLC is matched with a touch screen HMI for a flexible and user-friendly user interface. The Omron NB5Q TW01B HMI has a 5.6 inch, TFT LCD, LED backlit operator touch screen with a resolution of 800x600 and 16-bit high colour. The HMI has inbuilt RS-232C, USB and Ethernet Ports for flexible monitoring, operating, logging and remote access. Programming is supported by Windows operating systems.
Loading and unloading
On all semi-automatic machines have a motorized discharge that tips the bowl.
The LDGB model doesn't include a separation screen. This might be appropriate to the process running, unloading onto conveyor systems, during part-on-part finishing or so a dual screen can be used to grade worn media.
On the LDGS and LDGSU models a separation screen mounted directly onto the lip of the work bowl. The chute contains a swinging grading screen that allows the media and parts to be separated in the unload position, so the parts are easily removed by hand. The media is then automatically returned to the process bowl when brought back to the vertical rest position.
Compound and water re-circulation system (on some models)
The LDGSU model includes a compound and water re-circulation system neatly built onto the machine frame. The advantages of the re-circulation system include significantly reduce labour costs due to the semi automation of the process.
The water and compound dosing re-circulation system incorporates a stainless steel twin section holding tank with level control and auto top-up. The feed water is connected through a Kabi 10-50% hydraulic piston dosing pump allowing the correct percentage of compound solution to be added to the in-feed water at make-up.
The mixed process solution from holding tank two is pumped to the process bowl via a submersible Calpeda GX RH 9GF stainless steel pump. The process solution is drawn through the process bowl to the underlying sump tank.
The used process solution is then pumped via a Graco Husky 716 air operated diaphragm pump through the attached stainless steel filter bag housing, removing the bulk of any waste debris. The filtered solution is then returned to holding tank one, which in turn overflows back to tank two to complete the cycle.
As the process solution is depleted the level control switches automatically top up the system adding the correct amount of chemical additive, so the system is always primed and ready to go.
Come and view a demonstration
As well as a warm welcome and great coffee Riley Surface World offers a show room with several PERS finishing systems on demonstration.
Call us on 01922 45 8000 or email to book a demo or to discuss your requirements.

Print / Download PERS Semi-automatic High Energy Centrifugal Disc Finishing Systems Datasheet
Additional files
Photographs taken prior refurbishment. Our refurbishment service is not available on all machines.
Machines & equipment for sale
Machine
Alert
Get the latest machines emailed directly to you as they become available to buy online sign up
Close Menu