Machines & equipment for sale
Vacublast (Wheelabrator) Special Vector 325P AXT Robotic Blasting Machine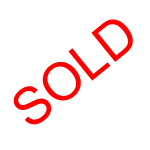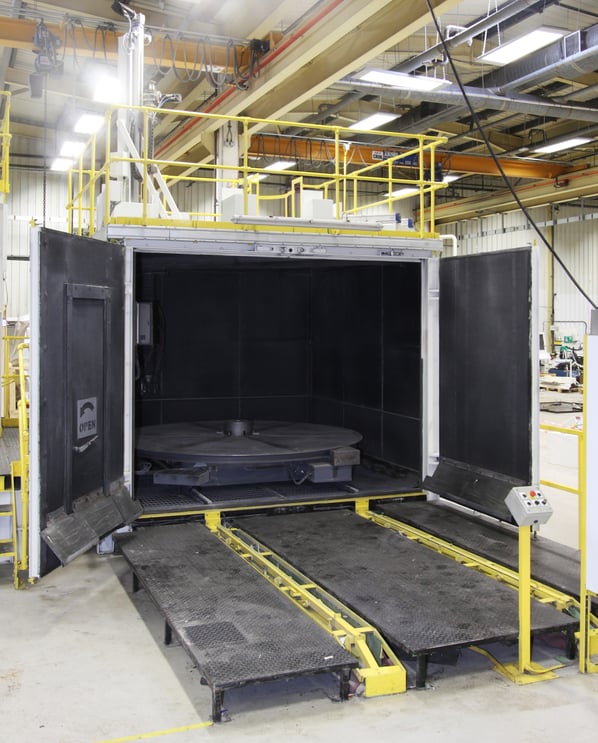 Stock No

SU695

Manufacturer

Model

Special Vector 325P AXT Etching Machine

Year of Manufacture

2003

Serial

300604

New or Used

Used (Second Hand)

Work Envelope (WxDxH mm)

4400 x 3580 x 3500

Work Handling Method

Automatic contour profiling blast unit

Other Info

NUM CNC Robotic Work Processing

Location

Our Central Warehouse, Aldridge, UK

External Dimensions (WxDxH mm)

10000 x 8500 x 6000 overall as displayed
Description
This Vacublast unit was designed for complex, intricate and accurate cleaning and blasting operations with its fully computerised control and robotic 3 axis movements. The comprehensive package of twin nozzle pressure fed blasting and with its on-board storage of three different grades of blast material means any specification can be met to the highest of aerospace standards.
With the grading system employed it would easily lend itself to be adapted to peening operations for such industries as turbine blade manufacture.
General process overview
This Vacublast facility incorporates an acoustically lined enclosure, a removable power-driven turntable, a three axis roof mounted nozzle manipulator, a Vacu-Blast power pack incorporating media size classification, a high performance dust collector and a programmable controller based control system.
This facility has been designed to be installed within a processing environment including vibratory polishing and washing equipment. Special measures were taken to prevent noise, media and dust escape from the design onset.
Processing takes place inside the enclosure with the components presented on the rotary worktable so that the manipulator mounted nozzle array can access the area to be processed.
The blast nozzles mounted on the multi-axis manipulator are moved across the worktable. The combination of component rotation and manipulated nozzle path ensure that the full surface of the component to be processed is accessible. (Some components may require a second blast cycle with the component inverted in order to access areas masked by contact with the worktable).
Sensors, mounted within the enclosure, ensure that in the unlikely event of the turntable drive failing the process will fail-safe. The blast process will be interrupted and the operator alerted.
The blast enclosure incorporates a Vacu-Blast Waffle Floor recovery system through which ventilating air and spent media are recovered and directed back to the power pack. The enclosure incorporates acoustic control measures in order to reduce noise breakout.
Within the processing enclosure the media is fed from two pressure fed blast nozzles onto the exposed area of the component to be processed. The nozzles are located in individual universally adjustable mounts for optimum positioning of the media streams. The enclosure accommodates a three axis roof mounted manipulator to position and move the nozzle array over the area to be processed.
Discharged media is swept in to the Waffle floor mounted in the base of the enclosure by the ventilating air stream where it is pneumatically and mechanically conveyed back to the power pack for cleaning, storing and recycling. The power pack is mounted adjacent to the processing enclosure in order to reduce the floor space required by the plant.
A freestanding dust collector with a recovery fan on its clean side generates the ventilating and media recovery airflow. The dust collector structure incorporates an over pressure relief panel to release expanding gasses safely in the unlikely event of a sudden build-up of pressure within the structure.
A command console mounted adjacent to the operator's position houses the control system for the facility. The system incorporates a NUM CNC based operating unit for automatic operation and process repetition.
Features include:
A PC based NUM Axium power,control system with H.M.I. with intuitive icon operation of primary machine functions and a hand held robotic positioning teach pendant.
This system offers unlimited storage of part programs which are written via an axis control unit with push button positioning acceptance of the (Z,Y,X) robotic axis nozzle manipulation.
Technical system specifications and included components
Cabinet module
Working chamber dimensions of 4400 x 3580 x 3500

Diagonal roof manipulator

2 x Blast nozzles and hose assemblies

4 x Air purge nozzles and hose assemblies

Rim driven turntable

Driven carriage

Turntable and carriage air purge

Emergency stop pull chain

Blow down gun

Operator platform

Manual inspection viewing window.

Double door assembly with operator access door

Waffle floor / manifold recovery

8 x roof mounted air inlet assemblies

4 x roof mounted sodium lights

NUM CNC operator control panel with teach pendant

NUM CNC Electrical control panel
Power pack modules
Reverse pulse dust collector with explosion relief and Hepa filters

Dust collector bin level sensors

Steel and vacuum hose recovery duct

Full flow reclaimer

Intermediate storage hopper

Conical vibratng screen assembly with debris take off duct

Vacuum break assembly

Belt and bucket elevator (0.6 ton/hr duty)

Size classifier 30" / 5 deck with "Divert to waste" facility

Screw conveyor (inclined at 30° / 0.6 ton/hr duty)

3 x 160L storage hoppers (60°Cone)

Storage hopper drain facility

120L N/C pressure vessel system

Air lnlet assembly

Twin air outlet assembly

Pressure gauge and transducer

Level probe

Twin manual adjustable feed valves

Twin blast hose compressor assembly

Aeration block

Media drain assembly

Pneumatic control panel
Blast nozzles
2 x Boron Carbide 8mm bore convergent / divergent
Blast hoses
Roof manipulator
Horizontal (X) 3300 stroke

Horizontal speed 1 to 3000 mm/min

Vertical (Y) 1700 stroke

Vertical speed 1 to 3000 mm/min

Wrist (Z) +170° from datum (nozzle straight down) - 130°from datum
Turntable
Diameter 3000 mm

Max load 300 kg

Rim drive speed 1 to 5 rpm

Carriage speed 3000 mm/min
Dust collector
Farr Tenkay mkIV 10D (6000cfm @ 22"WG total)
Noise levels
75dB(A) max operator position

Print / Download Vacublast (Wheelabrator) Special Vector 325P AXT Robotic Blasting Machine Datasheet
Photographs taken prior refurbishment. Our refurbishment service is not available on all machines.
Machines & equipment for sale
Machine
Alert
Get the latest machines emailed directly to you as they become available to buy online sign up
Close Menu