Machines & equipment for sale
Guyson International Multiblast RSB SF Shotblast Unit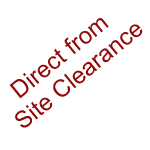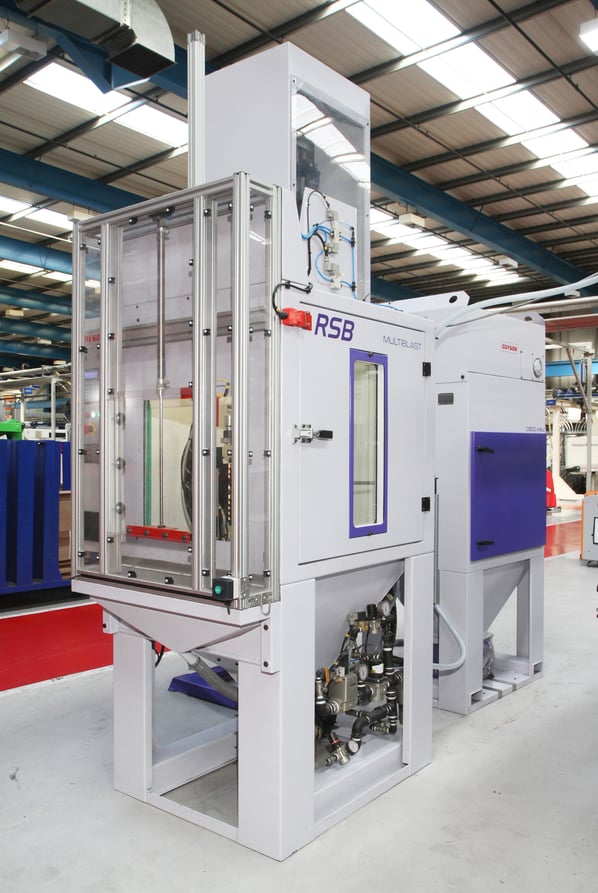 Direct From Site Clearance
Direct Site Clearance Price

[?]

£ 27,500 (+ VAT)

Clearance ends

27 March 2017 15:00 GMT while stocks last

Buyer's Premium

[?]

5% BP will be added to your invoice

Part of a Direct Site Clearance

Location

Huddersfield, West Yorkshire
Stock No

FORT001

Manufacturer

Model

Multiblast RSB SF Shotblast

Year of Manufacture

2014

Serial

804564

New or Used

Used (Second Hand)

Work Envelope (WxDxH mm)

880 x 1080 x 1020

Work Handling Method

Manual loading, Autoblast

Other Info

As NEW, used in trials only

Location

Huddersfield, West Yorkshire

Weight (kgs)

900

External Dimensions (WxDxH mm)

3300 x 3600 x 3200
Description

** Sale price now vastly reduced **
Guyson offers the rotary spindle blast (RSB) as a first step on the automation ladder. Rotating components in front of fixed or moving blast guns and nozzles produces a quality of surface finish coupled with high productivity, which cannot be achieved in manual blast systems.
The Guyson RSB machine delivers consistent, cost effective finishing results adding value to your components.
The component sits on a rotating spindle (though it can be static if that suits the component) and the blast guns are arranged to produce the precise coverage required. Options are available for both vertical and/or horizontally traversing guns and turntable.
The automated blast cycle can be controlled by an optional PLC/HMI control system. This gives full operational control over virtually all machine variables and enables through a simple menu system for a 'recipe' to be set-up with differing process requirements such as traverse, oscillation and airwash speed, start and finish gun positions etc. These 'recipes' can be recalled and used to speedily reset-up the machine so as to enable a range of varied components to be processed in a repeatable fashion.
Compact in size and easily adapted for robot loading.
Inside the blast chamber of a Guyson Multiblast® automated blast finishing system, component surfaces are treated by the impact of media (angular or spherical particles) fired through precisely positioned adjustable air operated blast guns and nozzles.
The Rotary Spindle Blast (RSB) Multiblast® machines provide continuous, selective or overall surface treatment or finishing of components produced in volume. Rotating components in front of fixed or moving blast guns delivers a consistent quality surface with high productivity that cannot be achieved in manual blast systems.
A suction or pressure feed media delivery system, media separator and dust extraction system make up a complete free standing installation which is specified to match each application.

Typical applications include:
• Deburring
• Cosmetic finishing
• Shot peening
• Deflashing
• Glass etching
• Surface preparation

Cyclone & C800 Dust Collector
The quality of the surface finish produced on components is influenced by the condition of the recirculating media. All blast media changes its size, weight and shape after repeated impacts on the components and a consistent mix of particle size is required to maintain uniform results. This is achieved by specifying an appropriate cyclone reclamator. This allows heavier re-useable media to continuously recirculate to the blast guns whilst removing the under size particles and dust.
By using high efficiency cartridge filters the latest generation of Guyson dust collectors provide good visibility in the blast chamber and a clean operating environment in the workshop. The extracted airflow drawn by the dust collector is carefully balanced with either the media reclamator or directly with the cabinet to ensure that a minimum of reusable blast media is removed.
75/16 Cyclone Separator

More effective and economic use of blast media
• Improved process and environmental control
• Higher consistency of part finish
• Improved cabinet visibility
• Essential for many of the more critical operations
including peening
• Adaptable for most types of blast media
• Ideal for plastic media blasting (PMB)
• For use with abrasive as well as non-abrasive media
• A cyclone can be specified for use with all Euroblast SF
blast cabinets with appropriate dust collector models
• A free standing model can be retrofitted to existing
Guyson installations
A cyclone separates the lighter spent media and
dust from the heavier re-usable media which
is recirculated. The lighter spent particles are
carried over to the dust collector.
Model C800 Dust Collector
Filter area: 20m2
Airflow: 22m3/min variable by closing an inlet baffle
Filter type: 2 off Micronic polyester filter cartridge
Filter cleaning system: Automatic reverse compressed air pulse
Phase: Three
Voltage: 400
Cycle (Hz): 50
Power (kW): 1.50
Full load current* (amps): 3.6
Dimensions** (H x W x D): 2275 x 700 x 950
Cabinet
Cabinet height 3100mm
Cabinet width 1250mm (Including Control Panel)
Cabinet depth 1700mm
Cabinet outlet diameter 100mm
Cyclone
Cyclone Height 2100mm
Cyclone Width 880mm
Cyclone Depth 700mm
Cyclone Inlet 100mm
Cyclone Outlet 150mm

Dust collector C800
Dust collector height 2260 mm
Dust collector width 700 mm
Dust collector depth 950 mm
Dust collector inlet 150 mm
Dust collector outlet Open exhaust
Number of filters 2
Maximum compressed air supply pressure 50 psi

Blast
Blast gun 1 x 900 Gun
Nozzle 9.5 mm bore Boron
Airjet 4.8 mm bore Tungsten sleeved
Air demand See air consumption tables

Airknives
Air wash 1x150mm Anti-static Airknife
1x300mm Anti-static Airknife

Electrical supply
Supply type 3+N~50Hz 400/230V
Full load current 24.42A
Full load kVA 16.9kVA
Max motor Amps 5.8A
Isolator capacity 28kVA
Control voltage 24V DC
Air consumption
Air flow measured in m³/hr at different pressures measured in bar
Air-jet bore (mm) 4.8
Guyson gun type 900
Blast pressure (bar)
2 - 30.6
3 - 42
4 - 53.4
5 - 66
6 - 77.4
Air flow measured in CFM at different pressures measured in psi
Air-jet bore (mm) 4.8 ~
Guyson gun type Blast pressure (psi) 900
30 -18
40 - 22
50 - 27
60 - 32
70 - 37
80 - 42
Guyson blast finishing uses compressed air to propel blast media directly at the component through a blast gun or nozzle. These clean and safe operations are housed in an illuminated cabinet from which dust is constantly removed and the blast media recycled to provide a continuous and reliable cleaning and finishing system.
There are two types of Guyson blast finishing installations, both capable of using a wide selection of blast media at alternative pressures.
Pressures low enough to blast delicate parts and high enough to handle the most demanding cleaning and finishing operations.
Suction feed or venturi systems are generally selected for light-to-medium production.

Print / Download Guyson International Multiblast RSB SF Shotblast Unit Datasheet
Additional files
Guyson RSB Multiblast System Assembly
Photographs taken prior refurbishment. Our refurbishment service is not available on all machines.
Machines & equipment for sale
Machine
Alert
Get the latest machines emailed directly to you as they become available to buy online sign up
Close Menu