Machines & equipment for sale
Wheelabrator HB 32 Schlick Hanger Type Blast Cabinet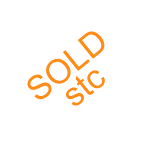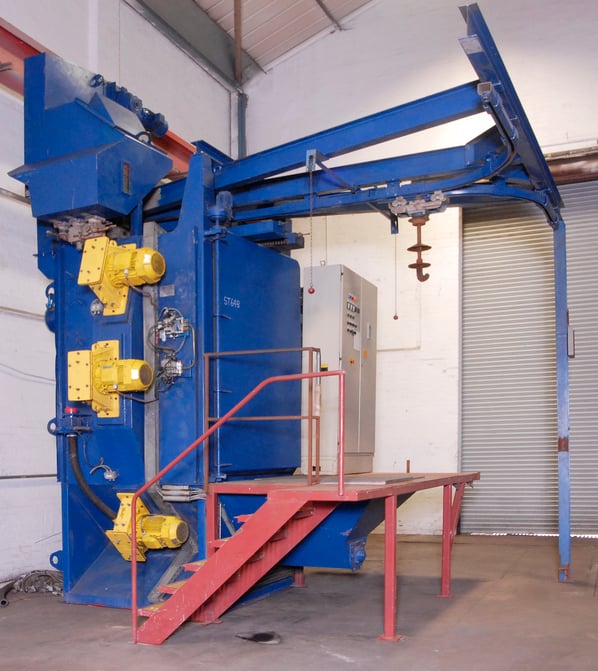 Stock No

ST648

Manufacturer

Model

HB 32

Year of Manufacture

1998

Serial

70266

New or Used

Used (Second Hand)

Work Envelope (WxDxH mm)

Ø1200 x 1800 mm drop

Work Handling Method

Manual load auto blast

Other Info

Recently refurbished with new wheels

Location

Our Central Warehouse, Aldridge, UK

Weight (kgs)

3000kgs

External Dimensions (WxDxH mm)

3800 x 3600 x 5600mm*
Description
Wheelabrator HB Hanger Type blast machines provide total flexibility in your shot blast operations. Whether you are cleaning welded structures and fabrications, cleaning and deburring castings, or shot peening dynamically stressed components, the range of applications is almost endless.
Wheelabrator overhead rail shot blast machines can be used for a wide spectrum of applications and workpiece shapes and sizes.
Characteristics
• Versatile transport technology
• Highly efficient blast wheels
Applications
• Removal of mill and forge scale as well as rust
• Removal of burrs and scales
• Removal of moulding sand
• Increase of surface roughness
• Shot peening to increase fatigue strength
Applications include blast cleaning welded steel fabrications, deburring and homogenising diecast parts, and peening dynamically stressed components. Batches of small components or singular large, heavy workpieces can be treated. This flexibility is achieved by several special features:
GN Wheels
The GN wheels were purchased from Straaltechniek group in 2004.
The 3 x blast wheels provide a very efficient abrasive pre-acceleration, which allows for short treatment times, high performance and a superior blast process.
Rotation and oscillation
To achieve complete coverage, the workpiece carrying hooks rotate and stop automatically at three automatic workpiece feed different points in the blast cabinet. This rotation and oscillation process means that even highly complex workpieces, with hard to reach surfaces, can be safely and accurately treated.
Straaltechniek International
Straaltechniek International, the innovator in shot blast applications, has designed a new shot blasting GN WHEEL® that is optimized compared to every other wheel in the industry. The GN WHEEL ® is equipped with forward curved blades for high shot blasting efficiency and full width blade support. The innovative design improves the shot-flow, extending the lifespan of the wheel significantly. When eventually replacing the blades becomes a necessity, downtime is minimized thanks to the possibility to replace the blades easily and in situ.
The GN WHEEL ® is equipped with the latest TRIPLE F technology:
-Forward curved carbide blades
-Full width blade support (patent pending BE 2012/0244)
-Flow optimization
In short, the costs of ownership for the GN WHEEL ® are extremely low, while efficiency and uptime have never been so high.
Optimized performance compared to traditional wheels:
-Reduced stresses on blades (10 x less)
-Up to 70% more blasting efficiency
-Shot-flow optimization up to a factor 7
-Lifespan of support disks up to 3 times higher
-Lifespan of the blades is over 10 x longer than tool steel blades
-Lifespan of the blades is 30% longer than carbide blades of any competitor.
Full width blade support
Traditional blade supports result in severe peak- and bending stresses within the blades. Therefore, Straaltechniek designed a revolutionary blade (patent pending BE 2012 / 0244) equipped with a support bracket over its entire width. As a consequence, stresses are reduced by a factor 10 compared to competitors' wheels. This pays off in unsurpassed uptime, saving considerable costs of ownership.
Shot-flow optimization
The symmetrical sandwich construction (double-disc) of the GN WHEEL ® channels the blasting abrasive efficiently through the wheel. While traditional wheels loose blasting power due to vortexing abrasives, power is optimized in the GN WHEEL ® since connecting bolts are assembled within the revolutionary support brackets. This further reduces your cost of ownership.
The innovative design of the GN WHEEL ® accounts for a shot-flow optimization up to a factor 7 compared to competitors' wheels. Energy efficiency is increased by 5% and the lifespan of support disks is increased by up to a factor 3 compared to competitors.
Forward curved blades
Straaltechniek incorporated the beneficial principle of forward curved blades into its revolutionary blade support concept.
By design, collision speeds are reduced at the entrance leading to decreased wear of both blades ánd abrasive. Along with the shot projection angle, this allows the projection speed to increase with 25 %, leading to a significant decrease in abrasive usage compared to wheels equipped with radial blades. The efficiency of the GN WHEEL ® is up to 70% higher than traditional shot blasting wheels.
Special Features and Options
The Process
The workpieces are transported manually on rotating hooks on an overhead rail system into the blast cabinet. The blast cycle runs in accordance with the preset programme and blast time.
Standard machine:
overhead rail shot blast machine
Used abrasive and fines fall through the abrasive collection hopper beneath the blast cabinet and are transported via a screw conveyor to a bucket elevator and to the abrasive reclamation unit. In the reclamation unit, the used abrasive is separated from fines and contaminants and returned to the abrasive silo.
Manually Operated Monorail
As standard, the monorail system is designed in a Y-shape and equipped with two carrying hooks made from manganese steel. The workpiece batches are manually pushed to the door of the shot blast machine where they are automatically taken by a feeding system.
Lifting Gears (optional extra)
Depending on the workpieces to be treated, and the preceding and subsequent processes, it may be advantageous to combine the carrying hooks with a chain hoist so that workpiece batches or heavy parts can be easily picked up.
The chain hoist is operated directly at the loading/unloading station of the overhead rail system.There is another advantage of using lifting gear with large machines: to provide an ergonomic loading/unloading process the machines without lifting gears are often placed in a foundation pit to lower the position of the workpiece carrier. When a lifting gear is used the foundation pit is not necessary.
TITAN Blast Wheel
The wheel is the heart of the shot blast machine and its design determines the performance and profitability of the machine. In this overhead rail shot blast machine, TITAN blast wheels are used as standard.
In addition to the excellent blast performance and the unbeatable service life of the main wear components due to the use of hardened tool steels, the TITAN blast wheel has a higher wall thickness of the wear liners compared with other wheels. This creates a hermetically sealed casing within the wheel housing and is very easy to maintain.
Many variations are available, making the TITAN blast wheel ideally adaptable to your application.
Blast Cabinet with wear resistant lining
The blast cabinet of this machine is completely made from manganese steel. The advantage of manganese steel: it is hardened by the impact of round abrasive from 35 HRC to more than 50 HRC, so it has extremely good wear characteristics.
Wear plates around the "hot spot" provide additional protection for the cabinet. Made from 10 mm thick manganese steel, they overlap, suspended on a carrying system. To seal the cabinet, a slot seal is integrated in the machine roof to avoid the escape of abrasive from the monorail slot.
The sealing system consists of a manganese steel labyrinth with a double rubber lip and additional strip brushes.
Abrasive Removal
During the blast process, dust, broken abrasive and other solid particles or contaminants (fines) are generated by the rust and scale removed from the workpieces. The fines are separated in the abrasive reclamation unit which is individually adjustable to the different types and sizes of abrasive.
The Abrasive reclamation unit consists of an impact separator and a reverse pulse cartridge filter. The impact separator removes the fines from the abrasive and serves as a certified spark extinguisher and meets all ATEX regulations.
The cartridge filter provides the necessary negative pressure to remove dust. lt is installed separately beside the shot blast machine. The filter is automatically cleansed by compressed air pulses which are adjustable in intensity and duration. All elements of the filter unit are free from ignition sources.
Alternatively, wet filter units can be used for the necessary dust removal. This is often applied in aluminium die casting.(optional extra)
Technical data
Machine type: HB 32
Max diameter of workpiece batch Ø 1200 (mm)
Max workpiece height (mm) 1800
Max workpiece weight (kg) 800
No. of wheels x power (kW) 3 x 7.5
Wheel option (kW) 3 x 11
Machine footprint (inc. Y overhead rail, exc. filter) mm 3800 x 3600 x 5400mm

Print / Download Wheelabrator HB 32 Schlick Hanger Type Blast Cabinet Datasheet
Additional files
Photographs taken prior refurbishment. Our refurbishment service is not available on all machines.
Machines & equipment for sale
Machine
Alert
Get the latest machines emailed directly to you as they become available to buy online sign up
Close Menu